Post-Grad Tips for Job Hunting in a New City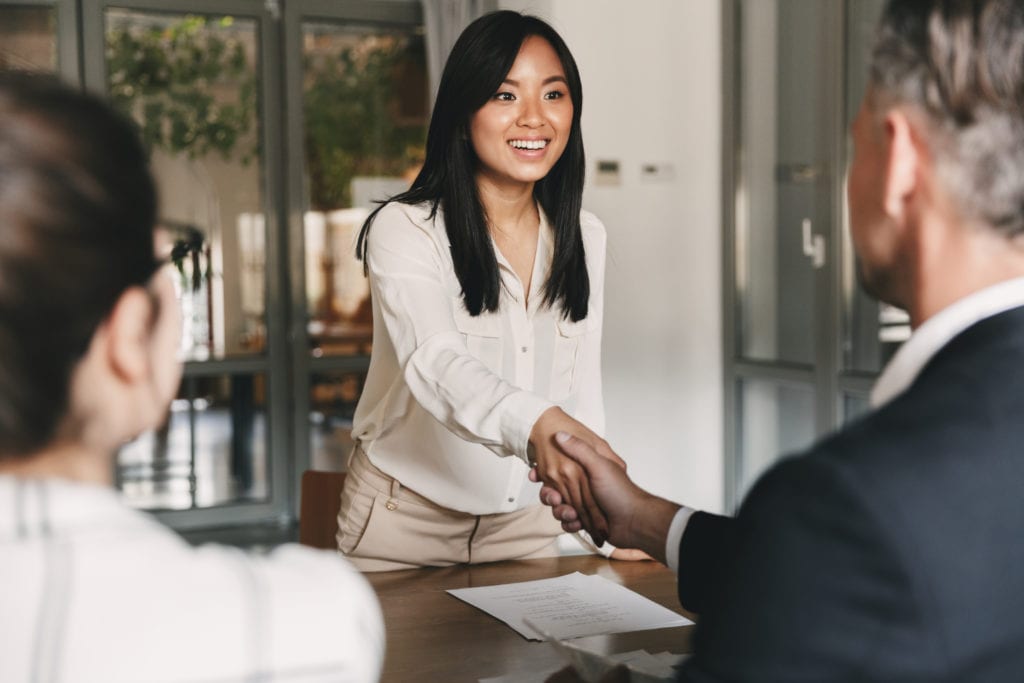 Graduating from college is a huge accomplishment. Pat yourself on the back, enjoy some downtime with friends, and maybe even take a trip somewhere to clear your head, because soon enough, you'll have to face the next chapter of your post-grad life: finding a job.
Research shows it takes the average college grad anywhere from three to six months to land a job. And depending on where you went to school and where you plan to live after graduation, most newly minted graduates find themselves searching for jobs in a new city — making an already daunting task even more challenging.
To improve your odds of landing your dream job — and to help you relocate with confidence — use these post-grad tips to help you hit the ground running with your job hunt in a new city.
Start job hunting remotely
If you know the city you'd like to move to after graduation, your first step is to start searching for job opportunities remotely. The key to successfully doing this is to create a digital presence that lets recruiters know your intentions, experiences, goals, and career aspirations.
Today's job market is extremely competitive. Use these tips to help you make an impact right off the bat:
1. Update your resume to the city you're searching in
You want your potential employers to know you reside (or plan to reside) in the city they're in, so updating your resume to the city you plan to relocate to is an important step.
Make the change on your printed resumes, but also on any online job profiles you have. When recruiters search for eligible candidates in your new city, your name has a chance of popping up.
2. Set your LinkedIn location to that city
The latest LinkedIn statistics show over 51% of all U.S. college graduates use the platform for networking and job-searching. Additionally, there are over 100 million job applications on LinkedIn every month, and more than 90% of recruiters use LinkedIn regularly. So updating your location on your LinkedIn profile is a top priority.
Gaining visibility where you plan to live is the ultimate goal. To accomplish this, start by updating your LinkedIn profile to match your new location. Then start connecting with industry contacts in that city.
3. Make yourself available on multiple job websites
It's important to create profiles on all of the top job search websites, so you can extend the reach of your resume and expand your pool of active job opportunities in your field. Start by creating or updating your professional profile on:
Google for Jobs is also a resource worth mentioning, as it pulls job listings from a variety of sources — offering an aggregated list of opportunities from around the web.
Overall, the wider you cast your net, the greater the possibility of finding a career you love in your new city.
4. Connect with recruiters in your city that specialize in your field
After you get your profiles up and running, connect with industry recruiters in your city.
For example, if you're searching for jobs on LinkedIn, at the top of the homepage (after you log in), click on the tab that says "Me" and use the drop-down menu to view your profile. On your profile page, there's a box under your name and location that asks if you're open to recruiters. Toggle this option on your profile to allow job recruiters to view your credentials and to connect with you about open job opportunities.
The goal is to engage with recruiters who have a firm understanding of the positions available in your prospective city. Start by researching the recruiting agencies that have the greatest impact in your city. Browse connections on LinkedIn to see what agencies may be a good fit, reach out to connections you've already made, and ask for recommendations on recruiters. You can even reach out to a recruiter or agency on Twitter to get their attention instantly.
In most cases, recruiters show what locations they operate in, but if one reaches out to you, never hesitate to ask them where they are and what their track record is like for finding gainful employment for candidates.
5. Don't forget to network online
Online networking is essential for remote job searching. When you find a job that interests you, check your LinkedIn connections, your Facebook friends, your Twitter followers — every online network you have. If you know someone who works there or has any sort of connection there, reach out and ask that person to help get a conversation started or your resume into the hands of the right person.
Take time to discover what other professionals in your industry are doing with their careers, too. Follow discussions on LinkedIn, share interesting articles, and engage with other professionals in that space. You can even wish people a "happy birthday" or give them a "thumbs up" on their latest work anniversary.
The idea is to develop a sense of community with your peers in your target industry and location. Digital networking allows you to build relationships online that could lead to a valuable connection down the line.
In addition to joining conversations on LinkedIn, sign up for Facebook groups related to your industry, follow brands and companies on Instagram, or connect with people on Twitter who have similar career goals as yours.
Moving before you get the job offer
If you end up moving to a new city right after graduation — before you've landed a job — here are some helpful tips to consider.
1. Make sure you budget accordingly
Moving, finding a new place to live, and getting your job search started all costs money. Expenses you'll need to budget for include:
A place to live that's affordable and (ideally) located close to where you want to work
Finding a top internet service provider in your area, and signing up for the best plan with a fast internet connection
A phone plan with data and a strong connection to conduct phone interviews
Transportation to get around (buying a used car, or leasing a car and making payments)
Other expenses, like food, insurance, gas, clothes, etc.
2. See if there's a grace period for paying back student loans
If you're struggling to find a job, see if you can delay student loan repayment. In most cases, new college grads have six months after graduating before they need to start repaying their student loans. Contact your loan servicer and work to delay those repayments as long as you can.
3. Get a part-time job to build your resume (and pay bills)
While searching for your dream job, consider getting a part-time job. Look for part-time work that allows you to use your skills and learn something new. You can pay the bills while also adding relevant experience to your resume.
4. Consider remote/freelance jobs
Freelance work can also help keep you afloat financially while bolstering your resume. As a bonus, freelance/remote work also provides more flexibility in your schedule for job hunting. Some places to look for freelance opportunities include:
What to know when relocating to set yourself up for success
Moving to a new city for a job has its own unique challenges since you're often operating on an expedited timeline to make sure you're settled and ready to start working right away. Here are some things to keep in mind before you move:
1. Will your new employer offer relocation assistance?
In some cases, an employer may assist you with moving expenses after offering you a job. That assistance can include:
A stipend to cover moving expenses
Reimbursement for moving-related expenses
It's important to remember that covering moving expenses or offering assistance is not mandatory, but it's within your best interest to ask your employer if any kind of compensation is available.
2. Take time to research your new neighborhood
Before you move, do some research, get to know your new neighborhood, and make sure you're prepared to hit the ground running when you arrive. Some things you might want to consider are:
What will the cost of living be like in your new location?
Am I better off renting an apartment or buying a house/condo?
According to Business Insider, some of the cities with the lowest cost of living in the U.S. have monthly rents below $1,000, so searching for job opportunities in those locations may be ideal for keeping expenses low. However, if you plan to live in expensive U.S. cities like New York, San Francisco, or Boston, you can expect to live paycheck to paycheck for a while — until you've established a solid rhythm at your new job.
Whether you decide to rent or buy property, it's important to establish what utilities and services (gas, electric, water, internet, cable) come with your property, and what new services you may need to set up before you move in.
Keep in mind: If you need cable and internet services for work or job hunting immediately, it typically takes two to three days to schedule an installation appointment. Make sure to plan accordingly.
3. Take advantage of other neighborhood resources
Community apps like Nextdoor are a great way to connect with peers in your area and share information. You can also attend meetings at your local city hall or rotary club to learn more about what's going on and how you can get involved with community activities. Take time to read your local newspaper, visit nearby coffee shops, and connect with neighbors to learn more about your new home.
When to know relocation may not be the best choice
Before deciding to pack up and chase down a new job opportunity, it's also worth noting the reasons why relocating may not be the best choice.
At the end of the day, only you know what's right for your future, but if any of the following considerations ring true for you, it may be time to rethink your decision:
1. You're unsure about your career path
Moving for a job might not be the best idea if you're not completely confident and passionate about the opportunity. If you're unsure, think hard before taking the plunge.
2. You don't have any money
There are a lot of expenses associated with moving — especially if you're moving without a job lined up. If you have limited funds, consider picking up a part-time job and delaying your move until you've managed to save more cash.
3. The area isn't right for your industry
Sometimes there's a disconnect between where you want to live and where job opportunities in your industry are. Choosing a city that aligns with your future career goals is important. If the area you're considering doesn't match these goals, you might want to hold off on making the leap and reconsider your next step.
Finding a job you love is more than possible
Searching for work remotely after graduation and planning your next big move requires a positive and proactive mindset. This means actively looking for jobs in your new location, setting up the right channels to make connections, and budgeting for the necessary expenses that come along with relocating.
Weigh your options and find a job that aligns with your future goals, and you'll be able to thrive no matter where you end up.