College Move-in Day: Tips to Help You Prepare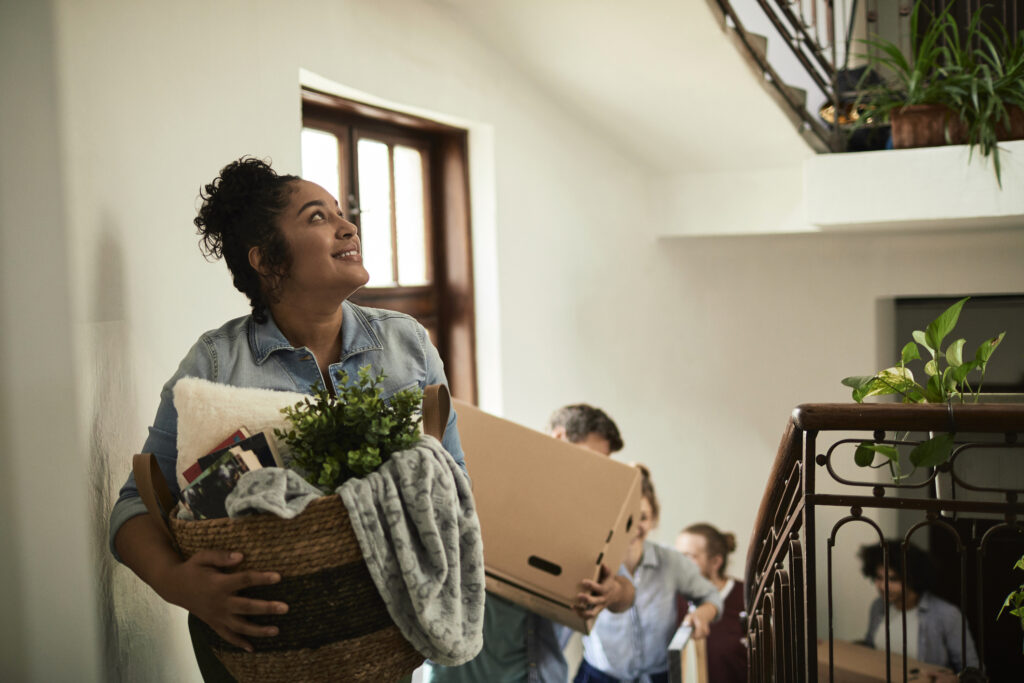 Your dorm room shopping is complete, and your boxes are packed. The next (and most exciting) step? Moving into college! Before you go, check these ten essential college move-in day tips to help you prepare like a pro.
10 tips to make your dorm move-in a breeze
Tip #1: Triple check college move-in details
You've filled out a lot of paperwork over these last several months. Among that pile of documents is a student housing contract. Every school runs their college move-in day differently, so be sure to re-read the contract along with any other school communication sent about your dorm move-in. You'll need to know your dorm location, room number, and how to access your building.
Other key details to look for: Your designated time slot, rules around item drop-off, and elevator access. When in doubt, contact residential housing, and they can guide you in the right direction.
Tip #2: Label all of your boxes and bins
Keeping everything organized will alleviate dorm move-in day stress. Before packing up the car, make sure you mark all of your boxes and bins with your name and dorm room number. This way, if anything gets lost in the shuffle, it can find its way back to your room.
Brightly colored labels will help your information stand out. Take your college move-in organization to the next level by using tags to detail the contents of each box so you can quickly locate and unpack the essential items first.
Tip #3: Dress comfortably
Comfort is critical during college move-in day. Dress in lightweight clothing that's not constricting. You're going to be doing a lot of bending and lifting, so keep that in mind as you pick out your "first day on campus outfit." Wear breathable cotton clothing to combat the end-of-summer heat.
Comfort goes for socks and shoes as well. Avoid flip flops or open-toed sandals, and opt for sturdy sneakers. Depending on the location of your dorm room, you may have to climb several flights of stairs throughout the day.
Tip #4: Check out your room before unpacking
Note that can charge you for damages to the room or the cost of item replacements when you move out. Before unpacking and settling in, take the time to survey your entire dorm room for pre-move in scrapes and marks.
Be on the lookout for red flags such as carpet tears or stains, drywall dents, and furniture issues. Check the windows and screens, doors, and lighting — anything that will need repair — and make a note of it. If you're unsure if a room item is considered damaged, touch base with your resident advisor (RA).
Tip #5: Plug in your mini-fridge
Plug your mini-fridge in as soon as possible to make sure it's working correctly. The faster your freezer and fridge are at the right temperature, the sooner you can store perishable groceries like milk, yogurt, and that post-move celebratory pint of ice cream.
If your dorm comes with a mini-fridge and microwave combination, test out the microwave as well. If anything is malfunctioning, you can alert your RA right away.
Tip #6: Bring a toolkit
While basic furniture such as a bed, wardrobe, and desk are usually provided by the college, you may want to bring other items that need assembly. For example, nightstand and headboard kits and adjustable chairs will need the proper tools. Check the assembly instructions for any "put together" items before you go, and be sure to pack any tools you'll need.
Along with a toolkit, bring a pair of scissors, a roll of tape, a flashlight, and a tape measure. These items won't take up too much space, so it's better to have them on hand instead of searching for one to borrow or having to go to the store in a new place.
Tip #7: Pack water and portable snacks
Moving is hard work. Stay hydrated and don't overexert yourself (or your parents). Stainless steel water bottles with wide-mouth lids are perfect as many colleges have water bottle refilling stations on dorm room floors.
Calories will undoubtedly be burned during college move-in day. Pack a soft, collapsible cooler with a variety of grab-and-go snacks to refuel in between trips. Mini bags of pretzels, trail mix, and protein bars are perfect snack options.
Tip #8: Bring a first aid kit
You'll be on the move during dorm move-in day. Despite the right socks and supportive sneakers, blisters can happen. Have a first aid kit on hand with band-aids along with aspirin and ice packs.
Once you complete your move-in, keep the first aid kit in your dorm for emergencies. While your RA will have a first aid kit in their room, make sure to have something you can easily access.
Tip #9: Save the bed for last
You've spent time picking out the perfect bedding for your dorm. Don't make the mistake of getting your soft sheets and cozy comforter dusty or dirty by making your bed as soon as you enter your dorm. Instead, use your unmade bed as a staging area for unpacking with ease.
Once you've unpacked all of your boxes, wipe down and disinfect your unmade bed. Now it's time to create the dorm sleep space you've dreamed of.
Tip #10: Capture the moment
Moving into your dorm can be both physically and emotionally exhausting. Pause and take a deep breath during this exciting new beginning. Before your family or friends are ready to leave, take a snapshot to document the day.
The bottom line
Avoid dreaded college move-in day stress by planning ahead. You'll be settled into your dorm room in no time with a little pre-move preparation. Make sure you know your college's move-in day rules. Don't be afraid to ask upperclassmen for tips on making the process as painless as possible.
Frequently asked questions
How do you move into a dorm? 
Check with your college on how the move-in process works. Find out when and how to access your dorm room, if there's a designated area for unloading and parking, and how you will be able to move in your stuff.
How do you figure out your college move-in day? 
Student housing will notify you of your college move-in day. If you have a set move-in time, you'll receive those details as well.
What should I wear for college move-in day? 
Dress comfortably in light, loose clothing. Skip the flip flops and opt for a pair of sneakers and supportive socks.
What happens if you miss move-in day? 
If it's not possible to move in on your designated day, contact student housing right away. Depending on the college, you will be assigned a new move-in day, time, or "move in by" date.