The Most Offensive Pet Odors That Send Homebuyers Running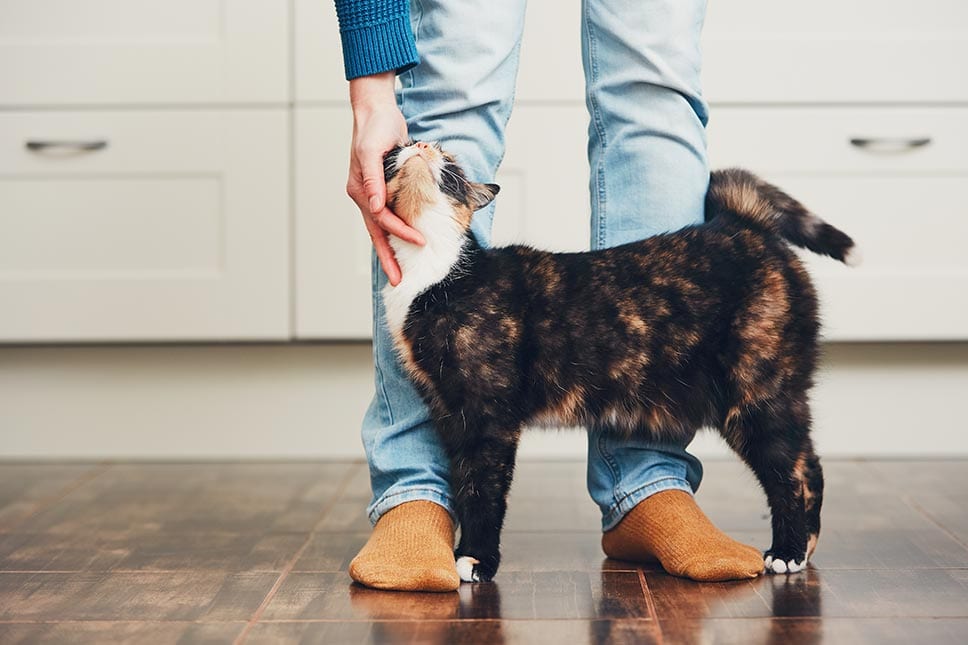 "It smells like a dog lives here," isn't the first impression you want to hear from a prospective homebuyer. "The reaction is usually to leave," says Jane McAuley, a realtor at Coldwell Banker. Cleaning out ever-present pet odors and allergy issues before putting your home on the market can be a financial concern, but, thankfully, it's fairly inexpensive to get rid of offensive pet odors when you have the right know-how, the right tools, and a little elbow grease.
Here's a look at the top five most common pet odors that send homebuyers running, and how you can help alleviate them.
Pet Urine
Dogs:
Sometimes a dog will pee in spots that temporarily go unnoticed—that is, until you start prepping your house for sale.
"You might be surprised to learn that clean-up techniques differ based on whether the urine is still wet or has already dried," says Michelle Schenker, founder of CanineJournal.com.
As dry dog urine is usually the trickiest to tidy, here's how to tackle it:
Use a UV flashlight to find the exact location of urine.
Rinse the stain with water, or use a wet vacuum to saturate the carpet and suck up the dirty water. Don't use a steam cleaner, as they set the stain and odor.
Apply a pet odor neutralizer such as Nature's Miracle (test on a hidden area of the carpet first to make sure any product doesn't stain the carpet). Allow the spot to completely dry. By the way: this product works on treated hardwood and laminate floors, too.
Natural hardwood floors are a bit more complicated. "If the boards have not been warped due to the urine moisture, sometimes sanding and then re-staining will do the trick," says real estate broker and property renovator Nancy Wallace-Laabs. But if the hardwoods are saturated, they'll need to be replaced otherwise the smell will return during humid and wet seasons.
Although vinegar is highly regarded as a natural deodorizer, The Humane Society suggests not using it, as the strong odor may encourage your pet to mark their territory and pee there again.
Cats:
Because cat urine is more concentrated than dog urine, it's even smellier and often more difficult to clean by yourself. According to Jeremy Strickland, General Manager of Randy's Carpet Care, it's because of the ammonium salts that form in the residues. "Urine can stay damp under the carpet for years, so even if the cat hasn't been in the home for five years, there may still be some damp spots." A DIY clean involves pulling up the carpet to get to the floor pad, and sometimes even the subfloor. Once you consider the time and effort this entails, it's probably worth it to schedule a professional cleaning.
Lingering Litter Box Odors
When your house is on the market, scoop the poop daily (and, obviously, right before a showing) and change the litter weekly. Jennifer Gregory, Brand Manager of Molly Maid, a Neighborly company, recommends sprinkling baking soda on the bottom before adding fresh litter, as well as vacuuming or sweeping the area around the litter box often. Clean the floors and walls surrounding the litter box for added assurance.
Stinky Pet Beds
Some perspiration emits from your pet's hair follicles, contributing to the stink factor. "It is very important to get as much dog hair as possible off the bed before washing, as dog hair sticks to wet fabric," says Gregory. Toss the pet bed cover in the wash according to the care instructions. If it's too big for your washing machine, take it to the laundry mat. Always use a pet-safe detergent. Once dry, vacuum often until moving day.
"Dog Smell"
The sofa (or other favorite spots of your furbaby) contribute to the overall "dog smell" of your house. The first step in your DIY clean: vacuum to remove hair. Next, Gregory suggests sprinkling the area with baking soda. It's generally safe to use, but test a hidden spot first. Let it sit for 20-30 minutes and remove the baking soda.
Boost the Freshness Factor
Try an ozone generator if the pet odors are stubbornly hanging on. "These nifty little machines neutralize odors by adding an extra oxygen molecule to the air. It runs continuously overnight, or in 2-3 hour bursts overnight. The process does not generally require more than a night or 2 for individual rooms to receive individual treatment, but there are always exceptions," says Strickland.
Of course, all this cleaning and moving prep may make your dog a little anxious. Here's what your dog wants you to know before moving day.