4 Ways to Make Your Home Smell Great for Your Open House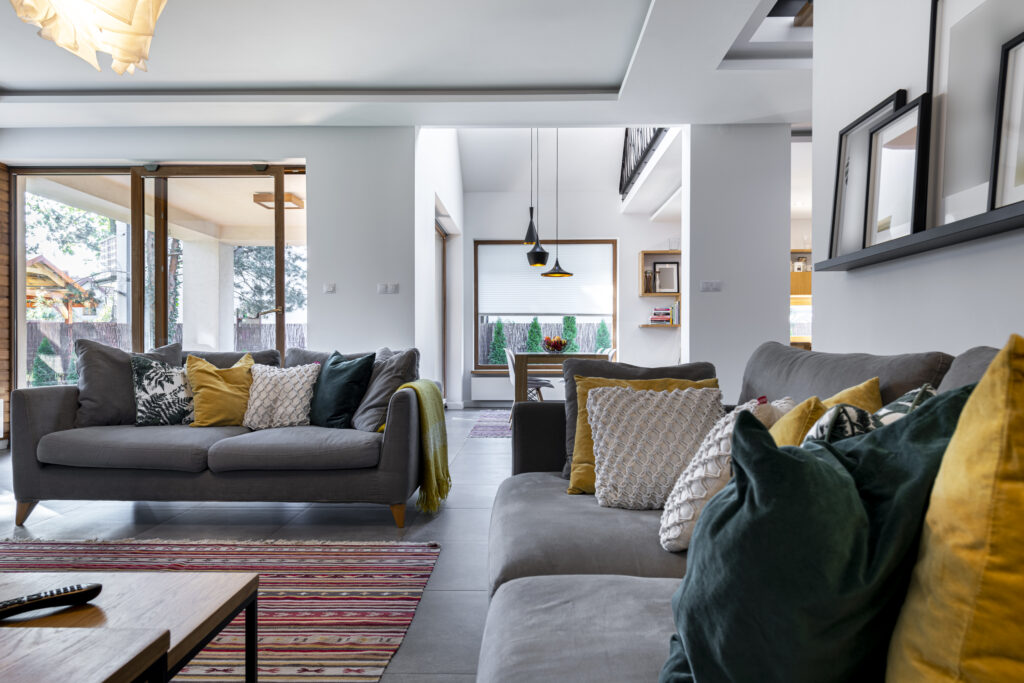 We hope you like the products we recommend. Just so you are aware, Freshome may collect a share of sales from the links on this page. 
There's a lot to do before an open house. You need to clean top to bottom, spruce up your home decor, remove any hyper-personal touches and emotionally prepare yourself for a bunch of strangers poking around your closets and cabinets. With so much to consider, it's easy to overlook the little details. But one of those small details – how your home smells – can turn off a potential buyer the second they walk in your front door. It's worth putting in the extra work to make your home smell great before an open house.You know the old classics. Open your windows. Take out your trash. Clean your toilet. It seems pretty simple. If you really want to make your home smell great, though, we've got some tips and tricks for you. These all take 30 minutes or less to set up and will leave your house with an inviting, buyer-enticing scent.
Create an aromatically blank slate by using baking soda and vinegar. Shop These Products Now: Sectional Sofa – Throw Blanket
1. Bust out the baking soda
Before you start adding pleasant scents to your home, you need to make sure there aren't any underlying smells that could give your new aroma a funky edge. One of the biggest culprits of odor absorption? Fabrics. Fortunately, you don't need to rent a heavy-duty steam cleaner to get rid of any lingering smells. Fight absorption with absorption. While fabric pulls in and holds smells, baking soda is even more absorbent and pulls them right out. Sprinkle baking soda over your carpets and couches. Let it sit for 15 minutes, then vacuum it up. You'll be left with an aromatically clean slate. You can also sprinkle a little of this magic dust over your trash to cut down on any emanating odors.For hard-to-sprinkle smell trappers like curtains, you can make a deodorizing spray of equal parts water and vinegar. Just make sure you use this spray about a day in advance; the vinegar smell will disappear, leaving you with odor-free fabrics, but it will take time.
Seasoned realtors use this cookie trick to make an open house more inviting. Shop These Products Now: Dinnerware
2. Cue the classic cookies
There's something about the smell of freshly-baked cookies. And because you're going for the smell, rather than the cookie itself, you can minimize your legwork. Just buy some pre-made cookie dough at the store. When you make your cookies, time it so that they finish baking right before your open house starts. It's best to pull them out before potential buyers start arriving, so you don't risk burning the cookies if a really exciting prospect draws your realtor away from the timer. Looking for a faster way to give your kitchen that warm, freshly-baked scent? Buy some cinnamon raisin bread. Pop a few pieces in the toaster before guests come and the gentle cinnamon aromas will linger. Plus, you just made yourself a little snack!
A simmer pot is a foolproof way to make your kitchen smell great. Shop These Products Now: Pot Filler – Fruit Bowl
3. Simmer some scents
If you want to minimize the risk of burning food, turn to a simmer pot. All you have to do is boil a pot of water on the stove, reduce it to a simmer and add some easy pantry ingredients. Do this an hour before your open house and your kitchen will smell fantastic. Real Simple has a great simmer pot recipe that works well in any season. It includes citrus, herbs and vanilla. If you're hosting a fall or winter open house, you can choose more seasonal scents by adding orange slices, cloves and cinnamon sticks to your simmer pot. Start playing with your recipe a week or two before your open house and you'll find a fun blend to wow buyers.
Diffusers can help you scent each room individually. Shop These Products Now: Towels – Flower Pot
4. Double down with a diffuser
If you're serious about scenting your entire home, invest in a few diffusers. Simple reed diffusers are effective in small spaces like bathrooms, but an essential oil diffuser makes a much more significant impact in larger, open rooms. If you plan to scent multiple rooms in your home during your open house, choose a single scent for every room or think carefully about how each scent will work with the others you've chosen. You don't want to confuse peoples' noses as they move from room to room.One important note: Make sure you choose crowd-pleasers. You might love the smell of cloves, but they might not serve you well at an open house in the summer. And a highly floral home might turn off buyers who are serious about finding a space with a masculine feel. Light citrusy or herbal scents please a wide audience.Are you prepping for an open house? How do you plan to make your home smell great? Let us know in the comments!