What are Home Construction Loans and How Do They Work?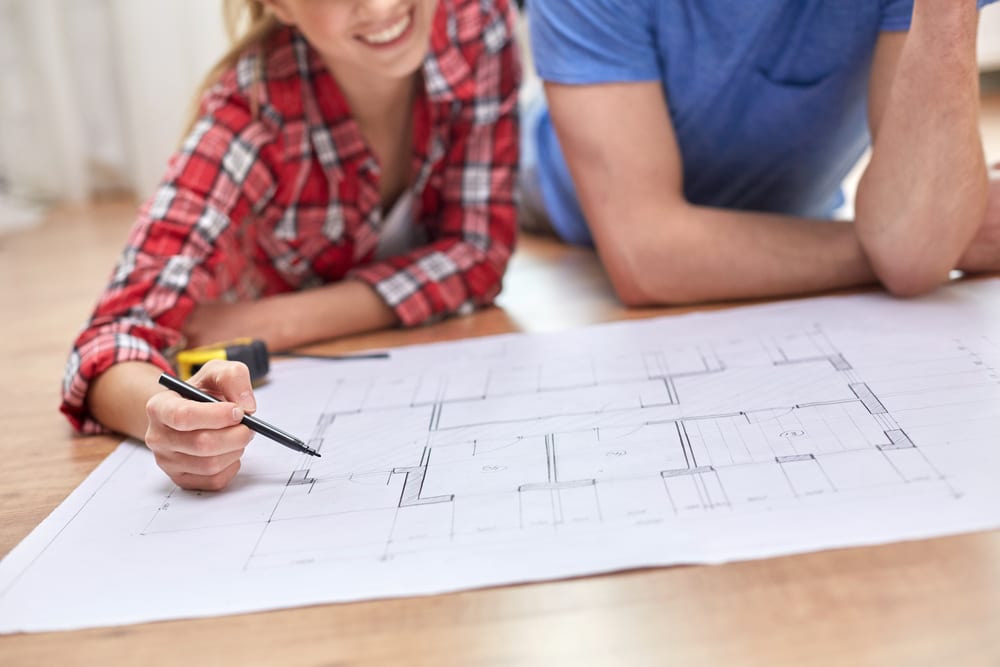 What is a home construction loan?
A home construction loan is a short-term loan used for financing a new home build or a real estate project on an existing property. These are often referred to as self-build loans.
Home construction loans cover specific projects, and borrowers typically use them for real estate improvement or new builds. This article lays out how construction loans work, from the beginning process of applying to how they are dispersed and used.
How do construction loans work?
These kinds of loans are typically taken out by those in the building industry but can also be useful for a home buyer that is building his or her own custom-made house. They generally are dispersed and meant to be repaid in one year. You can add them to a permanent mortgage at the end of the year, or you can take out a new loan to pay off the construction loan.
Regarding the payment of the loan, there are generally two types of payment methods that a lender chooses. You, as the borrower, may only need to make interest payments during the period of the building project. The other option the lender may require is that the full loan is paid off by the completion of the project.
How are home construction loans paid out?
How a lender pays out a home construction loan is dependent upon the lender as well as the type of project for which you take out the loan. If you intend to use it for building a new home, the lender may choose to disperse the funds to the contractor of choice instead of you as the borrower.
Regardless of who receives the funds, you will work out an agreement with the lender regarding whether the payments will be made in installments along with the stages of construction development, or all in one large chunk.
What do construction loans cover?
New construction loans should cover the expenditures coming from labor and materials for a project or new home build. Estimated amounts for the paid work goes into this amount as well as the type and amount of necessary supplies.
You may also use them to cover permits, framing costs, and interior finishes, along with the other miscellaneous costs accrued while building a home. The total consideration for what will be included is a decision made between you and your lender.
What are the different types of home construction loans?
Construction-to-permanent loan: Construction loans taken in this form function as a conversion loan. Receiving this type of loan starts with you borrowing the money to pay for the costs of building your home. Upon completion of the project, the loan converts into a permanent mortgage.
Construction-only loan: When you have a construction-only loan, you take out the money for the building process but need to pay it back in full without adjoining or converting it into a mortgage. You may need to pay it by the end of the project, or you might be able to pay interest payments until the conclusion of the project.
Renovation loan: A renovation loan is for smaller projects instead of a full house build. It comes in a variety of forms, depending on how much money the project needs.
Owner-builder construction loan: You can take out this kind of construction loan if you are acting as the home builder as well. Lenders may not offer this due to the complexity of building a house, and thus the increased risk without a licensed professional.
End loan: An end loan functions as a mortgage, essentially. This type of "construction loan" is taken out after the construction is complete.
What are the requirements for a home construction loan?
As with any other loan, you must first apply in order to qualify for a home construction loan. The process is similar to how you might apply for a standard mortgage. Some lenders consider a construction loan to be a higher risk than mortgages, so the requirements may be even stricter than on other similar loans or when you apply for a mortgage.
To get a home construction loan, lenders will review:
Your income based on tax returns
Current debts
Debt-to-income ratio
Credit history
A profit-and-loss statement if you run your own business
The property value of the build area
How to apply for a construction loan, step by step
Step 1: Figure out which type of loan is right for you
Each type of construction loan is a little bit different, as seen in the descriptions above. Since each borrower's situation is also different, be sure to scrutinize your options to pick the right one.
Step 2: Find the best lender
A lot of the agreements and requirements for this type of loan depend on the lender. There are many different lenders you can choose from, so take the time to research construction loan rates and shop around.
Step 3: Gather all of the necessary documents
Typically, you need documents that prove your identity, your most recent pay stubs, proof of income, tax returns, bank statements, current rent or mortgage payments, and a source for the down payment.
Step 4: Receive pre-approval before buying
If it is possible in your situation, attempt to get credit and income pre-approval with your lender before investing in the project.
Step 5: Create a timetable and budget
To finish all of the details of a construction loan, you need to make a timetable for installments or the projected end date of the build. Having a budget will help you ensure your loan matches your needs for the project.
Step 6: Secure the contract
Once you have all of the work done on your side, and you have supplied your lender with the required documents and information, move toward finalization. This process will involve signing the construction contract and loan agreement.
Construction loans pros and cons
Pros
Conversion to a permanent loan: This option gives you the ability to secure the money when you need it, but then, at the project's fulfillment, add it to a mortgage or create a mortgage-like loan instead of paying it back immediately.
Interest-only payment option: If you qualify for this option, it keeps the building period very inexpensive.
Scrutiny means preparedness: Although the level of scrutiny the lender performs may seem stressful, it ends up helping you. By being prepared, you end up with fewer unfortunate budget surprises and more control over the project.
Freedom of choice: Speaking of control over the project, securing a construction loan means that you also receive the freedom to choose your builder and have your home built exactly as you envision instead of purchasing one that's already built.
Cons
Difficult to qualify: Due to the asset being a future projection instead of one that's presently measurable, qualification requirements for these loans are very strict. Without good credit and a low debt-to-income ratio, it will be challenging to qualify.
Monthly payments are high: Even though interest-only payments feel great during the build, afterward, they tend to mean an increase in your monthly payments.
Interest rates are high: Construction loans usually have variable interest rates, which can mean a wide range of possible increases and decreases from the initial rate.
Is high-risk: A construction-only loan is especially risky since you need to pay the loan in full at the end of the project. Be sure that you have the funds to do this if you choose to go this route.
Frequently asked questions
Do you have to have a down payment for a construction loan?
Yes. Typically lenders require a higher down payment for more expensive builds, up to a 20% down payment on the overall total of the loan.
Is it hard to get a construction loan? 
A construction loan is more difficult to qualify for than most loans since it is riskier for the lender. You need to have a high credit score and a low debt-to-income ratio.
What banks do construction loans? 
When looking for a construction loan, start by looking into those offered by local credit unions or regional banks. Larger lenders include First National Bank, U.S. Bank, and Wells Fargo, to name a few.
What is the average interest rate on a construction loan?
Construction loans are typically offered with variable interest rates. These vary greatly based on the amount of the loan, and you can calculate it before securing the loan to get an idea of what it may be for you.