How to Have a COVID-Friendly Kwanzaa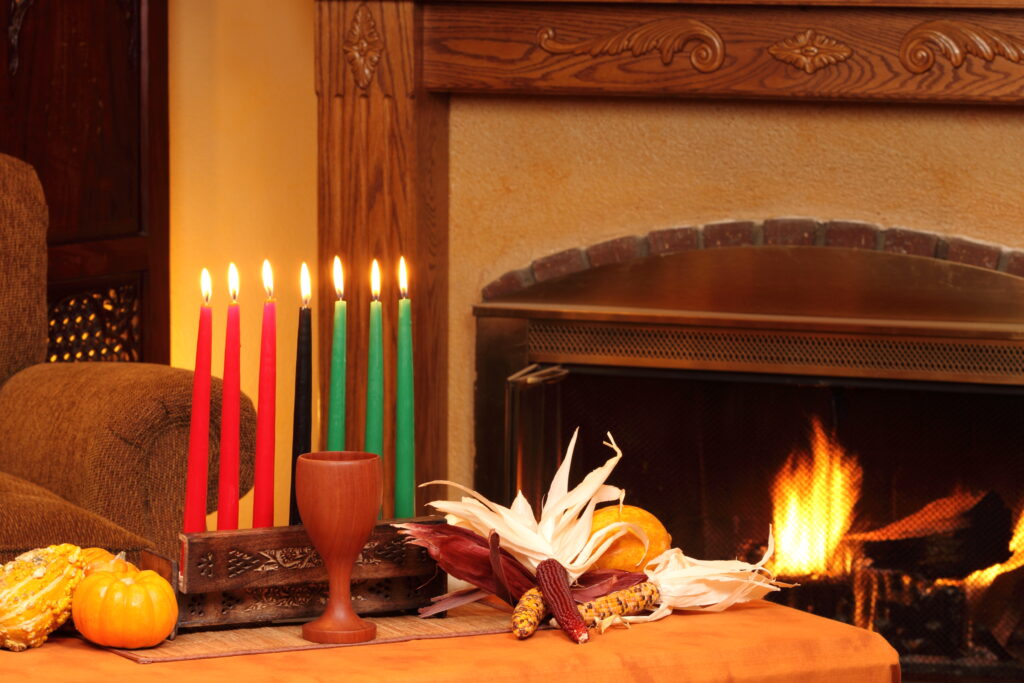 It's been a challenging year — we've had to adapt to a pandemic, which is still a threat in most parts of the world. As we move into the holiday season, celebrations this year may feel less festive than normal. It's only natural — socially distancing from loved ones is responsible, especially if you're with elders, such as aging parents and grandparents who are more vulnerable to complications from COVID-19. So how can you have a safe Kwanzaa? I have some personal ideas on how to celebrate Kwanzaa 2020.

My husband, daughter, and I celebrate Kwanzaa each year in Africa. It's not a widely recognized holiday in North Africa, but it works for our family. My husband is a Muslim Saharan nomad from the Southern region of Morocco. Although we live a fairly average life in the U.S., he is deeply tied to Africa, the desert, his family, and the tribes. As for me, I'm a first-generation American from an Afro-Cuban dad and a European mom. I was raised with Christmas, which is not celebrated by traditional Muslims. In our family, Kwanzaa is the bridge that brings together our cultures and faiths in an inclusive and meaningful way.

[deals-hub-ad]

Every year, we return home to the Sahara desert and live a simpler life of solitude, with no electricity or no running water. We sleep in tents among cattle and livestock. Kwanzaa, with its principles of community and connection to nature, works for us. Plus, it's a huge hit with the nomads who love to celebrate.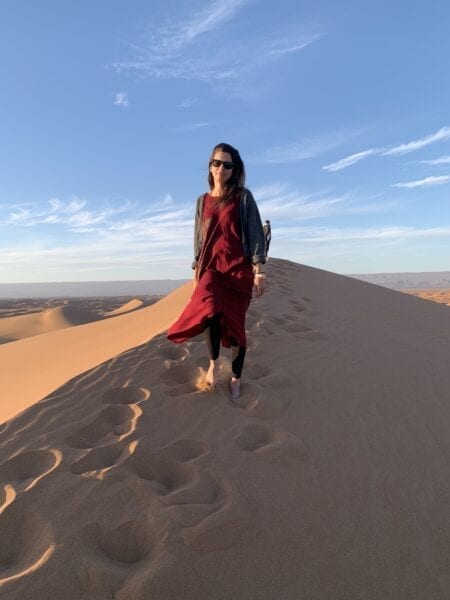 What are the CDC's guidelines on Kwanzaa celebrations?
Regardless of where you celebrate Kwanzaa, there are safety guidelines to follow. Before Africa, we spent the last couple of months in home isolation in Spain to avoid getting or spreading COVID-19. We chose to avoid air travel and drove to Africa instead, taking a ferry to cross the Mediterranean.
Before we left on our trip, we were required to present a negative PCR test taken 48 hours before the ferry. When we arrived in Morocco, we avoided cities and crowds on the way to the desert, even though the nation's numbers are significantly lower than the rest of the world. It's been a challenge to avoid friends and families while here, especially because the family units in Morocco are large. But we feel a sense of responsibility that if we are asymptomatic, getting anyone sick would be a heavy burden on our conscience — hospitals here are few and far between.
As with the U.S., other parts of the world are taking measures during the holiday season to reduce the spread of the virus. The Centers for Disease Control and Prevention's (CDC) holiday guidelines are simple and global — stick to small gatherings of family or household members. Small get-togethers should be approached with caution and should include frequent hand washing, masks, and short amounts of time together.
This works perfectly for us where we're at — we are essentially outdoors day and night and with a very small group of people. There are ways you can adapt the Sahara concept to celebrate Kwanzaa safely, wherever you may be.
7 ways to have a safe Kwanzaa celebration during COVID-19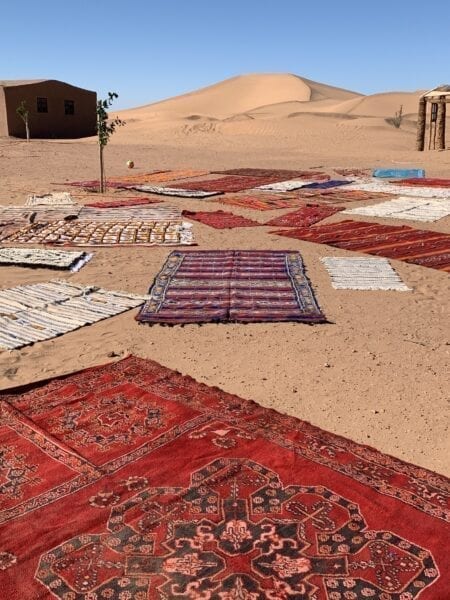 Using CDC guidelines and the principles of Kwanzaa, here are some ideas on how to still have a memorable Kwanzaa and ring in the New Year safely and responsibly.
1. Keep festivities small
Kwanzaa is about unity and inclusiveness, but some adaptation is required for everyone's health and safety. The CDC recommends limiting celebrations to members of your own household (anyone who currently lives in your home). Avoid large groups during Karamu dinner on the 31st, and if you have access to the internet, consider making your celebration virtual!
2. Focus on fresh air
Depending on the weather during Kwanzaa, holding your small festivities in your backyard or at a park could be a good way to limit exposure to the virus. A Kwanzaa table is deeply rooted in the outdoors, with natural materials, harvest products, and dried corn as part of the symbolism and decor.
Change Kwanzaa dinner to an outdoor lunch this year. Or rent heat lamps and/or a party tent to keep everyone outside where fresh air circulates. And if the weather isn't right for an outdoor gathering, be mindful of how long you're inside together.
A more intimate Kwanzaa celebration outside could be safer than one in your dining room. Still, make sure everyone wears a mask (maybe get your guests fun Kwanzaa-themed maks!), and maintain a distance of at least six feet.
3. Choose car travel
Driving may be the safest way to travel at this time. You won't be exposed to as many strangers as you would be on a flight or at an airport.
On our flight to Spain, masks were enforced for the entire flight, and the airplane was nearly empty. We each had a couple of rows to ourselves. If you do decide to fly, make sure to get tested before and after your trip, wear a mask throughout your journey, wash your hands thoroughly, and practice social distancing when in public spaces.
The CDC reminds people that the chance of exposure during any type of travel increases. "Airports, bus stations, train stations, public transport, gas stations, and rest stops are all places travelers can be exposed to the virus in the air and on surfaces," The CDC says.
When driving, you're more in control in your own vehicle, which could serve as a safe "bubble" from the virus. Consider choosing car travel to decrease your risk of exposure, and keep stops in public places to a minimum.
4. Pick outdoors-oriented destinations
Being in the Sahara for the holidays is wonderful if you like peace, nature, and solitude. There are few visitors, travelers, commuters or people in general. Are there any areas near you where you can celebrate Kwanzaa in a similar way?
It may be cold outside, but you can always "glamp" in deluxe tents complete with heating, rent a log cabin in the mountains, or head south to warmer climates and open spaces. Try to find a destination where you can connect with your loved ones — and with nature itself.
5. Promote safe habits
Another of Kwanzaa's principles is known as Ujima. It means collective responsibility. The problems of our neighbors, brothers, and sisters are all our problems as a community. The principle encourages everyone to work together.
It takes cooperation from everyone in your community and the world at large to keep the virus at bay. During our time in the Sahara, we visit the nomadic families to bring them food and supplies. We practice and encourage frequent hand washing for ourselves and others. Distance is still a challenge — people want to shake hands, but we resort to a wave and greeting from a distance instead.
6. Add COVID practices to your Kwanzaa celebration
Zawadi or gifts are typically given on the last day of Kwanzaa. Why not change up the custom this year and gift friends and family with safety products on the first day of the celebration? Sort of like a stocking stuffer, fill a Kwanza-inspired pouch with hand wash and wipes in a small personal size. Add a couple of festive masks in African fabric to your COVID Zawadi.
7. Remember the purpose of Kwanzaa — and the holidays in general
Kwanzaa is about helping each other, uniting together, and being grateful for what you have. It's not a commercial holiday, so keep it simple. Take the time each day to think about Kwanzaa's principles and how you can live them more fully. Avoid the hectic rush of shopping and entertaining and replace it with self-introspection and getting back to basics with your loved ones.
Singing, dancing, and games can be so enjoyable if you slow down and enjoy them. We don't have TV or electricity in the desert, but we look forward to sitting around a campfire every night while the men play djembes (drums) and sing old folkloric songs. My daughter loves to count the shooting stars she sees every night and has tons of questions I can't answer about the constellations she sees in the sky. I've realized during my time here how out of touch I've become with nature and the environment. Fortunately, the desert (and my daughter's curiosity) are circling me back.
If you're quarantining or can't travel, here's how to celebrate Kwanzaa without family:
Not everyone can or should travel or have gatherings at this time — you may have to quarantine after exposure or have a medical condition that would put you at greater risk for complications from the virus. There are ways to safely celebrate Kwanzaa without traveling or being around others.
1. Decorate your space for Kwanzaa.
Add the festive touches to your home with Kwanzaa decorations to uplift your spirits and keep you connected. Lighting the Kinara each day, hanging Kwanzaa ornaments and garland, or using African fabrics throughout the house can bring Kwanzaa home.
2. Tune in for a virtual Kwanzaa festival.
There are thousands of other people who will be celebrating Kwanzaa alone from home this year. The New Jersey Performing Arts Center will be holding a Virtual Kwanzaa Festival live and on-demand. Other organizations holding virtual Kwanzaa events include:
3. Check-in with loved ones virtually.
You don't have to feel alone if you have an internet connection. Besides tuning in to the number of virtual Kwanzaa festivals available, video chatting with loved ones throughout Kwanzaa can help you beat isolation. Skype, Zoom and Facebook Messenger are good platforms for connecting with friends and family — and they're fairly simple to use.
The bottom line
Celebrating Kwanzaa this year takes a little adaptation, but it's still possible to achieve with some creativity and care. Wherever you choose to celebrate, don't forget the CDC's guidelines for COVID-19. Keep celebrations small, wear a mask, maintain a safe distance from others and try to keep time together indoors with guests and visitors to a minimum.
COVID has thrown a wrench into the way we come together as friends, loved ones and community, but you could use the opportunity to dive into the meaning of Kwanzaa and the holidays, in general, to bring in a better 2021.
Frequently asked questions
Q:
Is it safe to celebrate Kwanzaa during COVID-19?
A:
It's safe to celebrate Kwanzaa if you follow the CDC's guidelines. They include limiting the size of gatherings and how long you spend indoors together, wearing a mask, keeping a social distance of six feet or more. and washing your hands frequently.
Q:
How can I know if I have had COVID-19 recently?
A:
There are a couple of tests you can take to know if you have or have had COVID-19. A PCR will tell you if you currently have the virus. You can also ask for an antibody test, which looks for the presence of SARS-CoV-2 antibodies. If you have them, it means you recently had COVID-19.
Q:
How long after exposure do you develop symptoms for COVID-19?
A:
According to the World Health Organization, it takes 5 to 6 days before you notice symptoms. However, it may take up to 14 days to see symptoms, and some people are asymptomatic, meaning they have no symptoms at all.
Q:
Can I spread COVID-19 if I have no symptoms?
A:
One in five people are asymptomatic, meaning they have COVID-19 but don't have any symptoms. They may still spread the virus. That's why it's important to exercise caution even if you don't feel sick — you may have COVID-19 and not realize it.