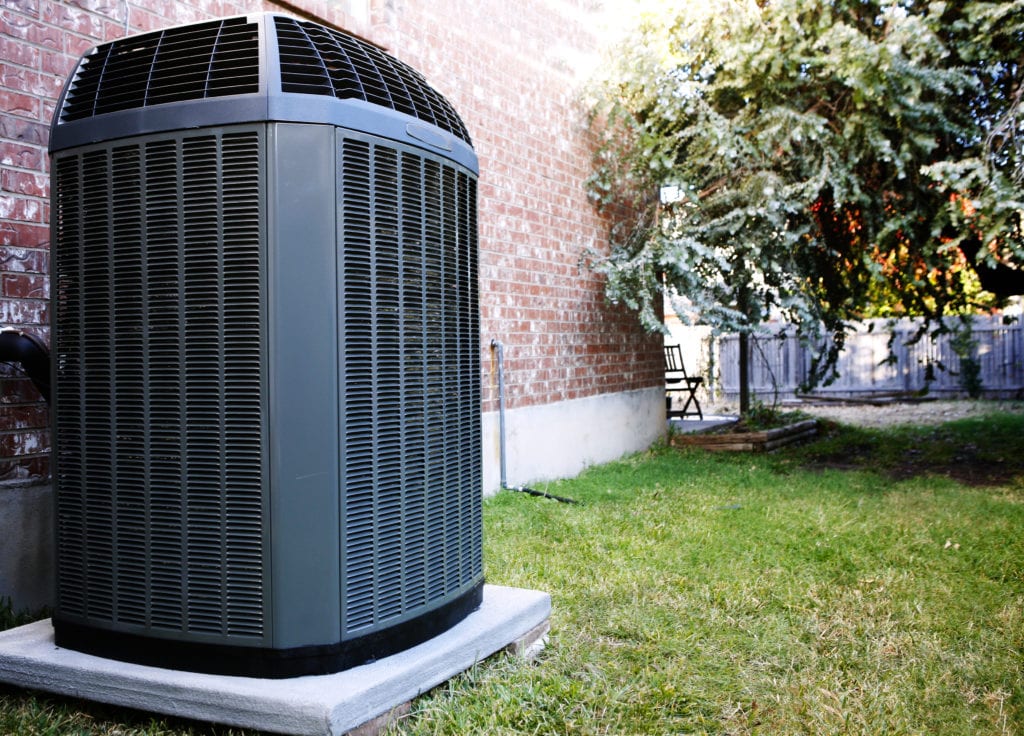 For years, homeowners bought air conditioners and furnaces separately to cool and heat their homes. Today, heat pumps are gaining popularity because they can independently heat and cool a space. Heat pumps are also energy-efficient, offering significant savings on heating and cooling costs.
However, the many heat pump models on the market can make it tough to choose the right one for your needs. This handy guide contains information on what you should look for in a heat pump, the different types of heat pumps available, and the prices you can expect, so you can make an informed buying decision.
What is a heat pump?
A heat pump is essentially an all-in-one air conditioning and heating system that works year-round to keep your living space comfortable. During the summer, it extracts heat from the inside of your home and moves it outside. During cooler months, the device reverses the process, collecting heat from the outdoor air and transferring it to the inside of your home.Even when it's cold outside, there is still some heat in the air. A heat pump pulls this heat out of the air and transfers it into your home. If outside heat is insufficient, the heat pump has an electric heater that will supplement the outdoor air to meet your heating needs.
How to buy the best heat pump
A heat pump is a major investment, so you should carefully consider several factors before making a buying decision to ensure you get the most value from it. We cover these factors in the following sections.
Types of heat pumps
There are three main types of heat pumps: air source, split-ductless, and geothermal. All heat pumps operate on the same principles but gather heat from different sources. Regardless of the type, all heat pumps should be installed by a professional HVAC technician who can determine the right size and product for your home and climate.
Air source heat pump
Air source, also known as air-to-air, is the most popular type of heat pump. The system is comprised of an indoor and outdoor unit and works by extracting heat from the outdoor air and transferring it into the home. These heat pumps are inexpensive and take up little space. Since they use outside air as the medium for heat exchange, the units function well in moderate climates.
Split-ductless heat pump
Split-ductless heat pumps are also called mini-splits. They include two units: an outdoor compressor and a maximum of four indoor handlers. These systems do not require ductwork, circulating refrigerant through the tubing that connects the indoor and outdoor units. Split-ductless heat pumps are quiet, energy-efficient, and can be operated by remote control. They offer design flexibility and are ideal for homes without ducts.
Geothermal heat pump
Geothermal heat pumps are classified into ground and water source heat pumps. They move heat through a series of pipes that are buried in loops outdoors. In addition to controlling temperature, geothermal heat pumps also control humidity. These systems require little maintenance and work well in extreme climates.
Heat pump sub-types
In addition to the three main types of heat pumps, there are also several sub-types, including hybrid, solar, and absorption, or gas-fired, heat pumps.
Choose the right size
Size is a critical factor when considering heat pumps. Choosing the right size will help you avoid issues such as inflated energy costs, extreme temperature fluctuations, imbalance in indoor humidity, and short cycling of the system. A heat pump that is too small will work too hard to provide the amount of heat you need in your home, while one that is too big will emit too much heat, resulting in inefficiency.
When it comes to size, it is more about the unit's heating and cooling output than its physical bulk. Generally, heat pumps range from 1.2kW to over 10kW. Here are some factors to consider when choosing your heat pump's size:
Whether it will be used mainly for heating or cooling
Your local climate, including the average seasonal high and low temperatures
The level of insulation in your home
The size of your living space and the number of people who live in it.
Compare heat pump's cost
Factors that affect the cost of a heat pump include the brand and quality, size and output, efficiency, and type of unit. Installation and placement also affect the final cost. On average, it costs about $5,600 to install a heat pump. For precise pricing information, including installation costs, you should contact a local HVAC professional.
Read heat pumps reviews
Before buying a heat pump, it's helpful to research reviews. Reviews give you insight into the pros and cons of a specific unit and how it compares to other units within its range. When going through reviews, focus on performance, temperature range, energy-efficiency, sound ratings, cost, features, reliability, and warranties. You can read multiple heat pump reviews on Freshome.
Installation
There are a few different ways to install heat pump systems. To ensure optimum comfort, you should consider hiring a professional to install it for you.
Split system: This is the most common installation of any ductless heat pump. An indoor evaporative unit is placed in the attic, basement, or closet, while the condenser and compressor unit is located outside in a large metal box.
Package system: With this type of installation, all the mechanical components are housed in a large metal box outside. Only the ductwork is found inside the home.
Mini-split system: Also known as a ductless heat pump system, this system is great for homes without ducts. The system works much like air source heat pumps but on a smaller scale.
Window heat pumps are ideal for homeowners who want to manage indoor temperatures without spending too much on energy bills.
Heat pump brands
Before we review some of the top heat pump brands on the market, here are some key industry definitions:
Below we review some of the top heat pump brands on the market.
Goodman
Goodman makes their own parts, offers good warranties, and provides great value. Goodman heat pumps are also quiet and last for years with adequate maintenance. Popular models include GSZC18 and GSZC16.
The GSZC18 has a cooling capacity between 23,000 and 56,500 BTU/h and a heating capacity between 22,000 and 59,500 BTU/h. The GSZC16 has capacities between 24,000 and 60,000 BTU/h when cooling and heating.
The GSZC18 offers efficiencies of up to 19 SEER and up to 10 HSPF, while the GSZC16 offers up to 16 SEER and 9.7 HSPF.
The GSZC18 costs about $2,886 and the GSZC16 costs around $2,485.
Trane
Trane makes sturdy machines and offers better-than-average heat pump warranties. While the heat pumps are a bit pricey, they come with excellent customer service and value. Some of the best heat pumps under this brand are the XV20i and XV19 models.
The XV20i model offers efficiencies of up to 20 SEER and 10 HSPF, while the XV19 features up to 19.5 SEER and 12 HSPF.
The prices of Trane heat pumps range from $4,600 to $10,000, including installation costs.
York
York heat pumps are highly efficient and feature quiet operation to help you maintain a peaceful home environment. York divides its products into several series to fit different customer needs. Some of the top models are the YZV and YZT units under the Affinity series.
Both the YZV and YZT models have capacities between two and five tons.
The YZV heat pump has efficiency ratings of up to 20 SEER and 11 HSPF, while the YZT unit offers up to 19 SEER and 10.0 HSPF.
The YZV and YZT models cost about $2,850 and $1,700, respectively, not including installation costs.
Tempstar
Tempstar heat pumps are efficient, and their parts are readily available when you need repairs. The manufacturer also offers some of the best warranties on the market. Two of the most popular models are the TVH8 and TCH6.
Both the TVH8 and TCH6 have capacities between two and five tons.
The TVH8 heat pump offers up to 19 SEER, 13 EER, and 11 HSPF, while the TCH6 features up to 17.5 SEER, 13.5 EER, and 9.5 HSPF.
Carrier
Carrier offers a wide range of models to choose from, regardless of where you live. The units are durable and reliable, working for over 20 years with proper maintenance. Some of the best Carrier heat pump models are the 25VNA0 with Greenspeed intelligence and the 25VNA8.
The 25VNA0 has capacities between two and five tons, while the 25VNA8 has capacities between two and four tons.
The 25VNA0 delivers up to 20.5 SEER, 16 EER, and 13 HSPF, while the 25VNA8 offers up to 18 SEER, 12.5 EER, and 11 HSPF.
On average, purchasing and installing a three-ton Carrier heat pump costs about $7,690.
This list is by no means exhaustive. There are other heat pump brands that offer reliable products, quality parts, good warranties, and high value, including Day & Night, Armstrong, and American Standard, so be sure to research all of your options before making a buying decision.