Lennox Heating and Cooling
Lennox Heating and Cooling is a renowned heating and cooling equipment manufacturer based in Richardson, Texas. Lennox's product range includes furnaces, heat pumps, air conditioners, air handlers, and boilers. The company has a network of more than 6,000 independent dealers. In this guide, we review all Lennox HVAC products to make your shopping experience easier and faster.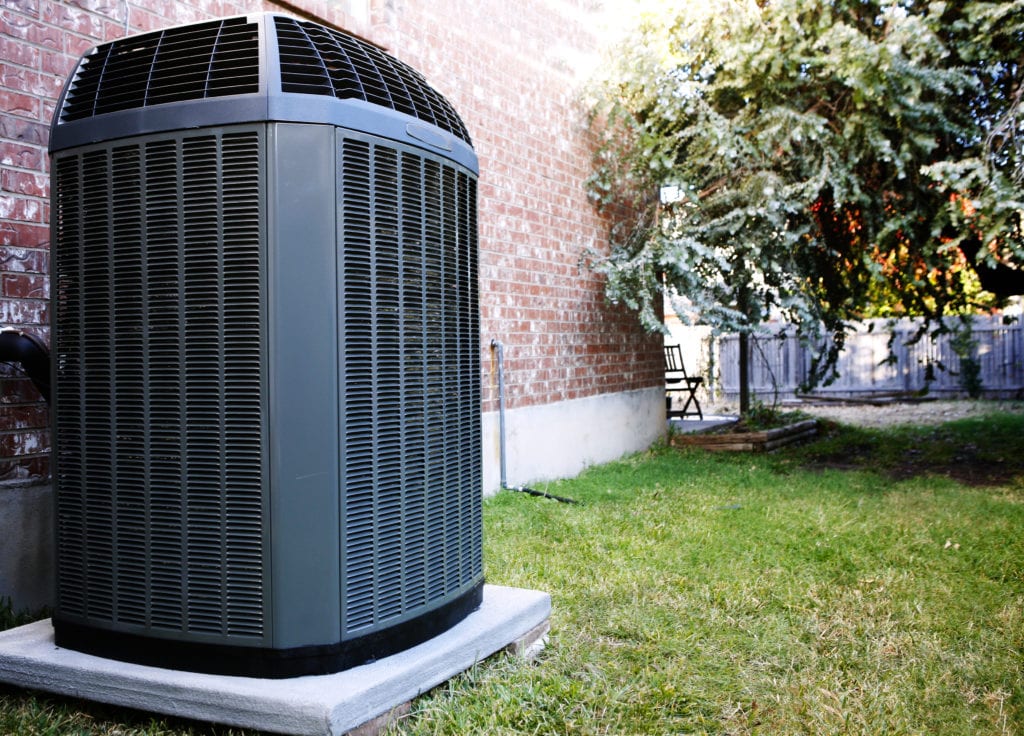 GSPhotography / Shuttershock
Key Definitions
Some of the key terms that will help you understand the efficiency of Lennox products include:
BTU – this stands for British Thermal Units. It's a critical factor when buying an HVAC unit as it correlates with the size of your room.
SEER – this stands for Seasonal Energy Efficiency Ratio. It's a ratio of an HVAC's cooling output in BTU against its energy usage in watts per hour. According to the U.S. Department of Energy, the minimum SEER rating is 13 on new air conditioners.
HSPF – this is an acronym for Heating Seasonal Performance Factor. It's the unit used to determine a heat pump's efficiency. The higher the heat pump's HSPF, the greater its energy-efficiency
AFUE – this is the Annual Fuel Utilization Efficiency, and it measures the energy-efficiency of furnaces, water heaters, and boilers. AFUE is determined by dividing the total energy consumed by the total amount of heat produced.
Lennox Air Conditioners
Lennox manufactures three categories of air conditioners: Merit, Elite, and Signature series. SEER ratings range from 14 for the Merit series to 26 for the Signature collection. The company's Merit series is the most cost-efficient. Products in this range include the 13ACX and the 14ACX, with the number indicating the unit's SEER rating. Though cost-efficient, this happens to be the company's nosiest model, operating at 76 decibels.
The Elite series features three different models, all with varying specifications. The XC13 model has the lowest SEER rating at 15.5 and operates at 74 decibels. The XC14 features a sound-dampening feature, which makes it the quietest among this series. It operates at 70 decibels and has a SEER rating of 16.2. The XC16 is the most popular model under the Elite series. It is compatible with the Humiditrol® dehumidification system, maintaining your indoor air quality and comfort.  The XC16 model has a SEER rating of 17.2 and operates at 74 decibels. Other models in the Elite series include the EL16C1 and XC20.
The company's Signature series is excellent when it comes to energy consumption and operational efficiency. Like the XC16, Signature's XC21 is two-stage equipment whose secondary power is used only on exceptionally hot or cold days. It has a sound rating of 69 decibels and a SEER rating of 21. The XC17 model has a SEER rating of 18 and is the quietest, operating at a sound rating of 62 decibels. One of the model's most outstanding features is its SunSource solar panels that can be used as an alternate power source.
Some of these models are compatible with iComfort digital thermostats, which can be programmed to improve the unit's effectiveness and efficiency.
Lennox Heat Pumps
Lennox's heat pumps are energy-efficient. They received Energy Star ratings in 2012 and 2013 for being the most energy-efficient heat pumps on the market. Just like air conditioners, you can choose from Merit, Elite, or Signature series heat pumps.
The Merit series includes 14HPX, 16HPX, ML14P1, and ML16P1 models. These heat pumps cater to budget-conscious clients seeking an efficient yet affordable unit. Efficiencies range from 7.7 to 8.2 HSPF and up to a 14 SEER rating. The most popular heat pump in this series is the 14HPX, which features a scroll compressor. This component lowers the unit's energy consumption and improves its durability because scroll compressors have fewer moving parts, making breakdowns less likely to occur. Due to this feature, this model is quieter compared to other models in the same series.
The Elite series features models with efficiencies ranging from 9.5 to 10 HSPF and 14 to 20 SEER ratings. They include XP14, XP16, XP20, EL15XP1, and EL16XP1. The most popular model in the Elite series is the XP20, which allows you to control your home's temperature through its inverter-controlled speed compressor. This heat pump has a SEER rating of 23.5 and an HSPF rating of 10.0.
The Signature series features some of the best heat pumps on the market today. The XP21 is the most popular in this line, with such features as Silent Comfort technology and two-stage cooling capacities. It is also a dual-fuel unit, which means that it can be powered using electricity and/or gas, making it suitable for areas that experience extremely cold winters. The XP21 has a SEER rating of 19.2 and an HSPF rating of 9.7. This model is compatible with the Humiditrol system. Other models in this series include XP25 and SL18XP1.
Remember that you need to use a humidifier alongside your heat pump to get rid of the dry air created by the unit.
Lennox Furnaces
Like their air conditioners and heat pumps, Lennox stratifies their furnaces according to energy-efficiency and price. The company manufactures oil and gas furnaces. Lennox's furnaces feature variable speed motors and add-on cooling capability, among other features that enhance your unit's energy-efficiency and operation.
The company's gas furnace AFUE ratings range from 80% to 98%. The G40 is the company's basic furnace, featuring an 80% AFUE rating. While the ML193 is also a basic model, its AFUE rating is 93%, which is achieved through the separation of the model's blower slot.The Elite series features single and two-stage furnace models. Due to extra insulation in this series, they are less noisy compared to Merit furnaces.
The Signature furnaces include G51, G61, G61V, and G71P models. Their AFUEs range from 92% to 98%. They are the quietest compared to the other two series due to a special kind of insulation. The best model is the SLP98V, which has an amazing AFUE of 98.2%. This efficiency can be attributed to such features as dual-fuel capability, compatibility with a digital thermometer, and a heat exchanger.
Lennox has fewer oil furnace models. The O23 and O25 models are fairly priced and include AFUE efficiency of 83%. They lack most of the features that are present in the gas models. The O23V model is more expensive due to such features as humidity control, variable-speed operation, and better insulation.
Lennox Mini Splits
Lennox's mini-splits, or ductless systems are designed for homes without pre-existing HVAC ductwork or for unconventional spaces. The mini-splits range operates through inverter technology, allowing them to increase or decrease their output as needed, which makes them extremely energy-efficient. One of the outstanding mini-split models is the MPB Mini-Split Heat Pump, which has a 24.5 SEER rating and an 11.5 HSPF rating.
Lennox Air Handlers
The purpose of an air handler is to circulate air through the air conditioning system. Lennox manufactures 10 air handler models for different home settings. The company's Elite and Merit series air handlers have a copper core surrounded by aluminum fins and tubes. The joints to the copper core are made of the same material to minimize the chances of corrosion. One of the most popular models is the CBA25UH, which is a three-speed air handler. You can connect a backup heater to this model to add to your home's warmth. Other Lennox air handler models include CBA38MV, CBX40UHV, CBX32MV, CBX32M, and CBX27UH.
Most of the air handlers from Lennox can work with a heat pump or an AC. They can also be connected to iComfort thermostats for enhanced operational efficiency.
Lennox Product Pricing Information
There are several factors that determine the price of Lennox HVAC products, including the series and model, type and size of the unit, and level of energy-efficiency. You should also consider installation and placement costs. You can learn more about Lennox pricing here.
We outline several Lennox HVAC prices below.
The Lennox MLI93 furnace costs $1,598 per unit plus an additional $3,282 installation fee. The excellent SLP98V furnace costs $2,365 per unit plus an additional $3,712 installation cost.
The average cost of a Lennox air conditioner is $3,794. This figure does not include installation costs.
The average cost of Lennox heat pumps with SEER ratings between 16 to 23 is $1,425 to $4,400, respectively.
To find out more about Lennox's product pricing, contact your local authorized dealer or a professional. They can recommend the best product for your budget, space, and climate conditions.
Lennox Warranty information
Lennox offers comprehensive warranties on its high-end products, including products under the Dave Lennox Signature Collection. These products have a 10-year warranty on the compressor and components and 20 years of coverage on the heat exchanger. With the Elite series, the warranty period drops to five years for components, 10 years for the compressor, and 20 years for the heat exchanger. All products under the Merit series have a five-year warranty for compressors and components plus a 20-year warranty for the heat exchanger.
Lennox Product Reviews
It's helpful to read product reviews before making a purchase. Product reviews inform you of the performance metrics of the unit you intend to buy and how it compares to similar units. Reviews also feature pricing information, enabling you to plan your finances better. Visit freshome.com to read Lennox pruct reviews.