How to Find a Realtor in 5 Simple Steps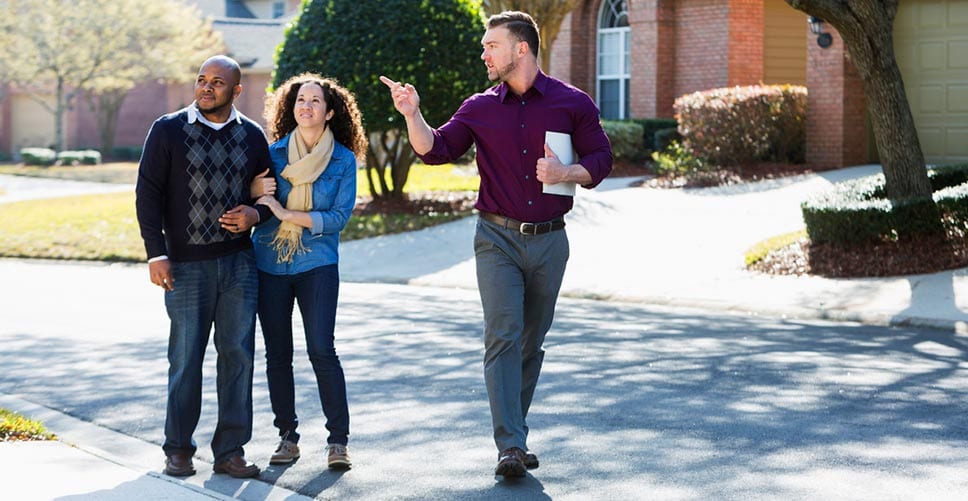 when half the people you met at the last networking event were in the business? They're everywhere!
As with most decisions, you just need to take some time and do some research.
How does it work?
In real estate, usually the seller has an agent to help them sell and the buyer has a different agent to help them buy.
Buyers' agents will comb through Multiple Listing Services (MLS) to find homes that meet your needs. They'll arrange showings, connect you with related services such as home inspectors, help in negotiations and crafting an offer, and hold your hand as much as you need through the buying process.
Real estate agents earn a commission based on a percentage of the selling price, and the sellers usually pay the fee. This is true for the agent who helps the buyer as well as the one who represents the seller. These commissions typically range between four and seven percent and are usually split between the two agents. For an average home sale of $384,800, each real estate agent will earn around $11,500.
Many buyers don't realize how much their agent gets paid for their services. Considering the amount of the commission your agent will earn, it makes sense to take time in finding a realtor who will help you get exactly what you want at the best price.
There are hundreds of real estate agents in your area, and if you choose one who isn't knowledgeable, you could miss out on your dream home – or pay more for it.
How to choose a real estate agent in 5 easy steps
For example, do you want a ranch, split level, two-story home, or a condo? How many bedrooms? Bathrooms? How large would you like it to be — what is your acceptable range for square footage? Do you want a backyard — how big? What other features would you like — garage, basement, pool, fireplace? Knowing what you want in your new home will help you narrow the selection.
Step 2. Determine where you would like to live.
Decide on your ideal neighborhood. Consider the price range of the homes in that area. Other factors involved in choosing a location are the school district, taxes, commute to work, and ease of access to shopping, dining, and entertainment. Some real estate agents specialize in specific locations, so knowing where you want to live can help you in how you pick your Realtor.
Step 3. Do the research.
Use Google and Yelp to find reviews of the real estate agencies and agents you're considering. What do people like about them? And, even more importantly, what don't they like about them?
Step 4. Be wary of using friends or family members as your real estate agent.
If issues occur, it can be more difficult to come to a resolution when you're also familiar on a personal level. If you do select someone you know, don't expect that person to give you a big discount as this is how they make a living.
Step 5. Look for recommendations.
When other people learn you're looking to buy a house, you can expect to hear that everyone has an aunt, cousin, or friend who's a realtor.While a personal recommendation is certainly a good sign, being a good relative should not be a qualification standard in your decision on how to pick a Realtor. Instead, ask for recommendations of real estate agents your friends and family members have actually worked with.
What questions should I ask potential real estate agents?
So how do you narrow the field down and choose the right real estate agent? The key is asking the right questions to each candidate.
Do you work part-time or full-time as a real estate agent?
What are your hours of availability and preferred methods of contact?
Is your license in good standing? Have you ever had a complaint filed against you? If so, what was it about and how was the issue resolved?
How many years have you been a real estate agent? What type of continuing education do you receive each year?
Do you typically work with buyers or sellers?
Do you ever represent both the buyer and the seller? If so, how can you ensure both parties get the best deal?
How many houses do you typically help people buy each year?
Have you worked in this neighborhood before? How many houses have you helped people buy there?
How many other buyers are you currently working with?
What is your policy for handling multiple offers?
When looking at houses, are you able to identify any potential issues or problems with the house?
How do you determine what type of offer I should make?
Can you provide references from buyers you've worked with in the past?
What is involved in your buyer's broker agreement and is it exclusive or non-exclusive?
What type of guarantee do you offer if I'm not satisfied with your representation?
Do you work with other vendors, such as mortgage brokers, mortgage insurance companies, or title companies and, if so, are you a paid affiliate?
As the buyer, am I responsible for paying your commission? If so, what is the percentage of the sales price?
Will I be working with you exclusively or will I be working primarily with an assistant?
How many short-sale or foreclosure transactions have you arranged?
Not all of these questions will apply to your situation, so focus on the ones that make sense and give you the information you need to help you find the right Realtor for you.
Experts are anticipating a surge in home sales once Covid-19 restrictions are lifted. So, by doing your homework on finding a real estate agent in advance, you'll be ready to get an early start on looking at homes.
The bottom line
When you decide the time is right to buy a home, don't rush into a deal with the first real estate agent you meet. Use these five simple steps to vet them so you can choose the best real estate agent for your needs. The initial time investment will pay dividends throughout the home-buying process.
Frequently asked questions
What's the difference between a Realtor and a real estate agent?
Both real estate agents and Realtors help people in the buying and selling of homes. However, Realtors are members of the industry's professional association — the National Association of Realtors.
What do I do if my real estate agent also represents the seller?
If you signed a non-exclusive broker's agreement with your agent, you could have another real estate agent work on your behalf. You could also ask your agent to transfer you to another agent in their firm. In both scenarios, one agent is working on behalf of the seller, while the other is working on behalf of the buyer.
Are Realtor fees tax deductible?
Many of the costs of selling a home, including Realtor fees, are tax deductible. Your Realtor can help you determine what and how much can be deducted.
---
Everything for your move, all in one place
Curate your personalized moving checklist, set up TV & Internet, and more with a free MYMOVE account.
Save on your move and tackle upcoming to-dos with your free MYMOVE account.