Your Guide to Moving to Seattle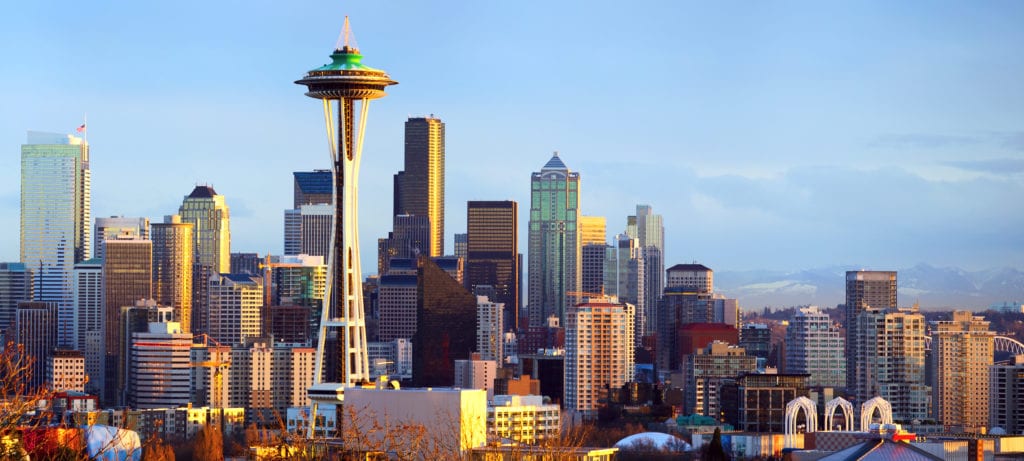 Seattle, Washington, at a glance:
Seattle has a population of more than 730,000 people, with 57 people moving to the city each day.
Seattle's cost of living is 49% higher than the rest of the country.
Starbucks, Seattle's Best Coffee, and Amazon all began in Seattle.
Famous Seattleites include Bill Gates, Kurt Cobain, Ryan Stiles, Macklemore, and Chris Cornell.
Located on the Puget Sound, Seattle has easy beach access, and Mount Rainier (a 14,411-foot-high volcano) is a mere hour away.
Moving to Seattle: The basics
What's the population of Seattle?
More than 730,000 people call Seattle home, according to the 2018 census. Seattle is a diverse city, with foreign-born residents making up 18.5% of the population. It's a pretty young city, with a median age of 35. If you're a young professional, you'll be in good company in Seattle — more than 40% of the population is between the ages of 20 and 39. There's a pretty even gender split, with 57% of the population married.
People are flocking to the city. Its population grew by 20% from 2010-2018. Seattle is a well-educated city, too, with 65% of people holding at least a bachelor's degree — a number achieved, in part, by the growth of local companies like Amazon and Microsoft.
What's the cost of living in Seattle?
The cost of living in Seattle is 49% higher than the rest of the country, according to Payscale.
To keep up with the higher cost of living, the median household income is $85,562 — significantly higher than the national median of $60,293. But since the median home value in Seattle is $605,200, homeownership can be an elusive goal for many people in the city.
If you want to wait to purchase a home, Seattle apartments win the "smallest apartments in the country" award, with the typical apartment size of 711square feet. But you won't spend less on your meager square footage. Rent for an apartment in Seattle is $2,121/mo., with overall rents increasing as much as 3.9% each year. With new apartments going in and prices going up, it's no wonder Seattleites spent $80 billion on rent in the last decade, a 70% spike from 2010.
When you grocery shop in the city, expect to pay a bit more for your essentials. Grocery prices in Seattle are 27% higher than the rest of the country, so plan on spending about $4.22 for a loaf of bread, $2.46 for a gallon of milk, and $2.29 for a carton of eggs.
To really gauge the cost of living in Seattle, compare it to a city with a slightly smaller population, like Portland, Oregon, and a bigger city, like New York City, New York. Here's how Seattle stacks up:
| | | | | | |
| --- | --- | --- | --- | --- | --- |
| City Name | Population | Cost of Living (Compared to National Average) | Per Capita Income | Median Home Price | Median Rent |
| Seattle, WA | 744,949 | +49% | $55,789 | $605,200 | $1,496/mo. |
| Portland, OR | 653,115 | +29% | $38,674 | $383,600 | $1,187/mo. |
| New York City, NY | 8,398,748 | +129% | $37,693 | $570,500 | $1,396/mo. |
*Data sourced from U.S. Census and Payscale
How's the Seattle job market?
Employment in the city remains stable, as technology continues to lead the job market in Seattle. The area sees about 3% job growth year over year, a number that has remained consistent over the past few years. The unemployment rate in the area sits at 3.2%, resting slightly under the national rate of 3.5%.
If you're job searching in Seattle, you'll be happy to know that the city boasts 12 Fortune 500 companies. Some of those top companies include Amazon, Microsoft, Costco, Boeing, Nordstrom, and Starbucks.
The average salary is around $78,000, and the minimum wage in the city is over $15/hour.
What do I need to know about Seattle education?
Seattle Public Schools is the largest K-12  school system in the state and consistently ranks high in academics and college prep. There are 104 schools in the district, with placement in those schools running on a location-based system. To figure out where your child will attend school, you can input your address (or prospective address) on the system website.
For parents of young children, you'll be happy to know that Seattle Public Schools offer a preschool program that's application- and tuition-based. Tuition is on a sliding scale, but admittance can be free for families that qualify.
If you're looking for an alternative to public schooling, there are more than 120 private schools in the greater Seattle area. There are also a number of higher ed institutions in the city, include the University of Washington, Seattle University, and Cornish College of the Arts.
What are the safest areas in Seattle?
Former Seattle mayor Greg Nickels once termed Seattle "a city of neighborhoods." If finding a safe one is a priority, consider one of the top three safest areas. Those include Bryn Mawr in the southeastern part of the city, the areas surrounding 45th Ave NE and NE 95th Street in the north, and Lake City, a neighborhood made of Victory Heights, Meadowbrook, Matthews Beach, Cedar Park, and Olympic Hills in the northeast.
According to Neighborhood Scout, Seattle is safer than just 2% of other U.S. cities. And when you compare it to areas of similar population size, you find that crime rates in the city are higher than average. But those numbers are just a high-level view of safety in the city. If you want to learn more about the crime rate in Seattle, look at reports and data on the Seattle Police Department website.
How do I get around Seattle?
If you want to take Seattle by car, expect an average commute time of 32 minutes.
But with so many transportation options in Seattle, you may not need your own wheels. With the ever-expanding Link Light Rail, you can get from Angle Lake Station to the University of Washington, with stops that go through downtown and to the airport. You can also take the King County Metro Transit, which hits downtown and surrounding neighborhoods. If you want to travel by train, you can use the app for the current schedule.
You can also take the Seattle Streetcar on the South Lake Union or First Hill Lines, both of which take you to an array of places downtown. If you don't want to stay on land, jump on a ferry that heads to Bainbridge Island, Vashon Island, or Whidbey Island.
Bikes (and bike rentals like JUMP or Lime) are encouraged, with frequent updates to the already extensive network of dedicated bike paths and roadways. Rideshare apps, like Uber and Lyft, and taxis are available, too.
What's the weather like in Seattle?
True Seattleites scoff at umbrellas, but everyone else will want them during Seattle's gray, misty days. From October to April, there's more than a 33% chance of rain on any given day. And expect overcast days to be the norm in the area, as Seattle is the third-cloudiest city in the U.S.
Still, Seattle's temperatures aren't too hot or too cold, ranging from 37 degrees Fahrenheit to 78 degrees.
What are Seattle's fastest-growing neighborhoods?
In Seattle:
Belltown
Belltown makes the list of areas with the fastest home appreciation, with a 24.9% increase year-over-year. High-rise condos offer up more housing in the area, while on-trend haunts like FOB Poke Bar and Mr. Darcy's make it an attractive destination. It's also home to a former industrial site turned art gallery at the nine-acre Olympic Sculpture Park (Seattle's largest downtown park). The median home price in Belltown is $614,750, and the median rent is $2,295/mo. (which is lower than the city median of $2,600/mo.)
South Lake Union
Home to Amazon's urban campus, South Lake Union has densified faster than any other local area. South Lake Union has seen $668 million in infrastructure improvements, from the revamped Mercer Street to a new streetcar line and upgraded parks. The median home value in the area is $576,057, and the average rent is $2,423/mo.
Ballard
What was once the second-largest city in King County, Ballard is one of the best neighborhoods in Seattle. More than 20,000 multifamily units have stimulated the growth of this already hip and happening neighborhood. With its Nordic history and range of things to see, do, and eat (like a vegan taco bar), it's no wonder people choose Ballard to put down roots. The average sale price for a home in Ballard is $725,000, according to RedFin. The average rent in the area is $2,175/mo.
Capitol Hill
Capitol Hill is a mix of modern and historical, and an LGBTQ-friendly hub. While there are incredible 100-year-old homes here, the influx of new apartment buildings in the last few years has spurred the neighborhood's growth. The median list price of homes in Capitol Hill is $580,000, and the average rent is $1,938/mo.
In the Greater Seattle Metro Area:
Bellevue 
Ten miles from Seattle and across Lake Washington sits the fast-growing Seattle suburb of Bellevue. You won't find any cost savings here: Bellevue's median home price is a whopping $998,000. But the lure of an A+ school system and jobs at companies like Microsoft, Boeing, and T-Mobile, keeps the population of 145,300, growing at 1.8% each year. Locals love the Bellevue Arts Museum (or BAM) and the Mercer Slough Park, a huge 320-acre downtown wetland. The average rent in Bellvue is $2,234/mo.
Redmond
A mere 15 miles east of Seattle, Redmond holds almost 60,000 people and is lovingly known as the "Bicycle Capital of the Northwest." Since 1939, this Seattle suburb has held the nation's oldest bike race. When not biking, Redmond locals enjoy the 29 miles of developed trails, and the 31 developed and 14 undeveloped parks spanning more than 1,345 acres. Microsoft and Nintendo are headquartered there too, contributing to its median home list price of $814,990. The average rent in the area is $2,099/mo.
Living in Seattle: The fun part
For the sports fan
Seattle still mourns the loss of the NBA team SuperSonics, who ditched the city for Oklahoma (don't even mention it). Fortunately, Seattle still has the WNBA team, the Seattle Storm. And with soccer teams like the Sounders FC and Reign FC, baseball teams like Seattle Mariners, and hockey teams like the Seattle Thunderbirds, you won't be left hanging come game day.
For the culture-seeker
With upwards of 30 museums, Seattle offers history and art in big doses. If you want some culture close to your new home, check out one of Seattle's 14 neighborhood art walks (which happen monthly). There's no end to musical entertainment, either. Rolling Stone magazine named The Crocodile one of the best clubs in the U.S., and with a plethora of concert halls, studios, and 100 theater companies, you'll have something to see or hear just about any day of the week.
If you're looking for fun for the whole family, check out The Seattle Aquarium or the Woodland Park Zoo!
For the foodie
If you haven't had salmon in the last few weeks, you probably don't live in Seattle. It's a common joke in this port city known for its fresh seafood.
Yes, coffee is important, too, with the oldest Starbucks location at Pike Place Market and local coffee shops on every corner. But the most unusual Seattle fascination has to be the Seattle Dog, a cream cheese-topped hot dog that's an absolute must-have for anyone moving to the city.
For the traveler
Seattle-Tacoma International Airport is 15 minutes from downtown, giving residents access to 91 domestic and 27 international destinations. And with 10 different cruise companies pulling into one of two cruise ship terminals, your next vacation could be closer than you think.
If you're looking to stay close to home, find a spot in the sun on one of the many strips of Seattle's beach on Puget Sound. You can also take a day trip to climb or hike Mount Rainier, which is 50 miles from Seattle but still towers over downtown.
For the outdoor explorer
Situated on Puget Sound, Seattle has one of the highest numbers of pleasure boats per capita. When you're not fishing in Puget Sound or visiting nearby Mount Rainier, you can walk, bike, and play in Seattle's many parks. Green Lake is great for swimming, and bikers will love the 27-mile Burke-Gilman Trail for adventuring through Seattle's northern neighborhoods.
What you probably didn't know about Seattle
You can thank Seattle for your favorite coffee drink. Starbucks, the world's largest coffee chain, first opened in Seattle in 1971.
Seattle is home to the longest floating bridge in the world — the Evergreen Point Floating Bridge.
There are multiple hidden bars in Seattle. Knee High Stocking Co. and Needle & Thread in Capitol Hill; Bathtub Gin & Co. in Belltown; and The Pharmacy in Pioneer Square, just to name a few.
You'll need good walking shoes: Seattle is hilly. You can thank ice age glaciers for the "seven hills" that make up Seattle neighborhoods.
Film buffs can see the actual sites of many movies filmed in Seattle. Gasworks Park, shown in "10 Things I Hate About You," the houseboat in "Sleepless in Seattle" on Lake Union, Harbor Steps Apartments downtown, and the site of "The Ring," are a few popular destinations.
Glass blowing is big in Seattle. There are over 100 glass blowing studios, where you can shop, take a tour, or participate in a workshop.
The bottom line
This might be a meaty guide on Seattle, but it barely scratches the surface of all that Seattle has to offer. Discover more about what makes Seattle a great place to move by checking out Visit Seattle, the city's tourism department, and the Seattle Parks Department. For the inside scoop, turn to the local newspapers, like The Seattle Times, Seattle Pi, or The Stranger (for a quirky look at the city). If all of the above sounds like your dream match, Seattle might be the place to call home.
---
Everything for your move, all in one place
Curate your personalized moving checklist, set up TV & Internet, and more with a free MYMOVE account.
Save on your move and tackle upcoming to-dos with your free MYMOVE account.