Your Guide to Moving to Miami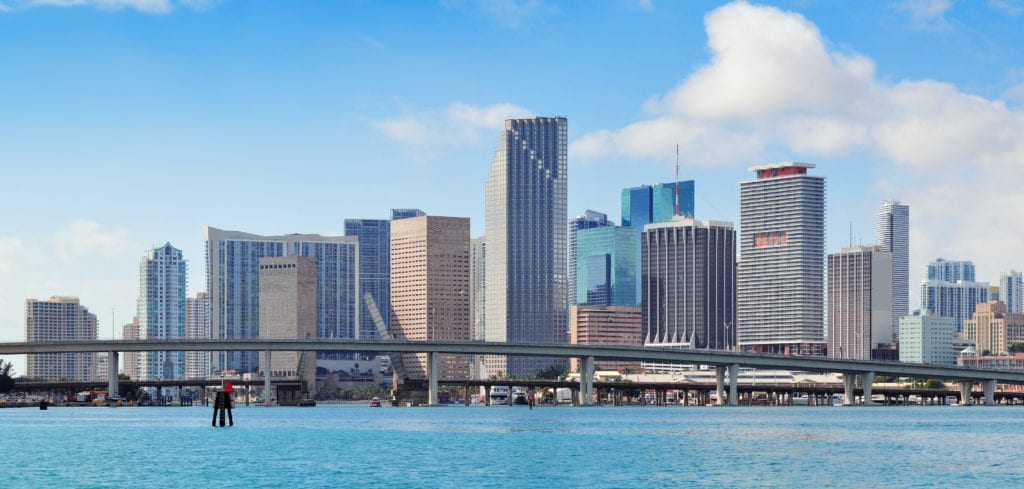 Miami, Florida, at a glance
Miami is the second-largest city in Florida, with a population of over 450,000 people. When you add in the greater metropolitan area, it's one of the largest cities in the U.S., with 6.1 million people.
The city is also one of America's most culturally diverse and is a top destination for immigrants from all over. Its metro population is 69% Hispanic, 18% black, 2% Asian, and 13% white.
The cost of living in Miami is 15.7% higher than the rest of the country.
Before COVID-19, job growth in Miami was on par with the U.S. average, with 40,000 workers joining the workforce every month. The city's top industries are education, health care services, and hospitality.
Miami's public school system is the fourth largest in the country, and the district is one of the highest-ranked.
As a cultural melting pot, Miami is a dynamic city for foodies, lovers of the arts, sports fans, and the outdoorsy. There's something for everyone to enjoy in The Magic City.
Moving to Miami: The basics
What's the population of Miami?
If you're looking to move to a major metro area, you should consider researching life in Miami. It's the second-most populous city in Florida, following Jacksonville, with a population just shy of 487,000. But when you take into account the greater metro area, Miami-Fort Lauderdale-West Palm Beach, it's the seventh-largest urban area in the country, with a population of 6.2 million.
There's a pretty even gender split in the city, and it's one of the most diverse metro areas in the U.S. The population in the urban area is 69% Hispanic, 18% Black, 2% Asian, and 13% white. But within the actual city limits, the population is 73% Hispanic.
The median age in the city is 40 years old, but if you're thinking about warm and sunny Miami for retirement, know you're not alone. About 17% of the population is over the age of 65.
What's the cost of living in Miami?
One of the bigger challenges facing Miami and its metro area is the high cost of living, especially when compared to average wages. The cost of living in Miami is about 15.7% higher across the board than the rest of the country.
As far as housing prices go, the median home value is $268,200, and the median rent is $1,257/mo., making housing values roughly 23% higher than you'd see throughout the nation.
But what does that mean for your everyday expenses? Well, grocery prices run 5% higher than the U.S. average, with a loaf of bread averaging $3.51, a gallon of milk at $2.04, and a carton of eggs costing $1.91.
The median household income in Miami is $48,982, which is significantly lower than the national median of $61,937.
While the cost of living in Miami is more expensive than the national average, it is less than other big cities of a similar size, like Washington D.C.
Here's a deeper look at how Miami compares:
| | | | | |
| --- | --- | --- | --- | --- |
| City | Cost of Living | Average Salary | Median Home Price | Median Rent |
| Miami, FL | +15.7% | $32,037 | $461,163 | $2,167 |
| Washington, D.C | +60.5% | $60,387 | $1,034,659 | $3,060 |
| Chicago, IL | +21% | $50,755 | $518,082 | $2,154 |
| St. Louis, MO | -11.9% | $43,889 | $245,627 | $869 |
*Data sourced from the Council for Community and Economic Research's Cost of Living Index
How's the Miami job market?
Before COVID-19, the Miami job market was strong, steady, and on-par with the rest of the U.S. Job growth in the area has been consistent for over two years, with 40,000 workers joining the workforce every month. Unfortunately, with the pandemic, Miami experienced a rate of job loss at 7.6%, similar to the 7.7% national job decline.
If you want to work for some of the nation's top companies, you're in luck. Miami is home to three Fortune 500 companies: World Fuel Services, Ryder System, and Lennar. It also hosts one Fortune 1000 company, Watsco.
Other notable employers include the University of Miami, American Airlines, and Carnival Cruise lines. These employers reflect some of the city's top industries, which include education, health care services, and hospitality.
Miami's unemployment rate currently sits at about 14.2%, which is in line with the nation's 14.7% rate. The average salary in Miami is $37,037, and the minimum wage follows the state level, which is currently $8.56/hour.
What do I need to know about Miami's education?
If you have school-aged children, Miami is a great place to live. The Miami-Dade County Public Schools system is the fourth largest in the country, with 392 public schools. The district gets high ratings, ranking eighth in the county.
To kick off the 2020 fall semester, the Miami-Dade County Public Schools system released a guide detailing how it planned to navigate the school year. There are currently no in-person classes, but the district is offering an online learning portal, My School Online. In order to proceed with in-person learning, the county must reach and sustain a positivity test rate of less than 10%, trending toward 5% over a 14-day period.
School assignments in the Miami system are location-based, but there are a number of magnet and other choice schools available. Enrollment for these schools comes down to a lottery, and some programs have additional criteria. To work around COVID-19, all charter schools have developed their own distance learning and device distribution plan. There are 139 charter schools in the area.
Working parents will be happy to know that Florida offers a number of free Pre-K programs for 4- and 5-year-olds, as well as federally funded programs for younger children with disabilities or students from low-income families. However, due to COVID-19, all of these school locations are temporarily closed, but distance learning is available.
Beyond these public options, there are also 185 private schools.
There are 59 colleges in the area. Florida International University, a public research university, is the largest in the city, followed by Miami Dade College, the University of Miami, and Barry University.
What are the safest areas in Miami?
The safest neighborhoods in Miami seem to be concentrated in the southwest part of the city, according to Neighborhood Scout. The site, which pulls data from local law enforcement agencies across the U.S., reports that neighborhoods surrounding the cross streets of Krome Ave. and SW 177th Ave., SW 177th Ave. and SW 168th St., and SW 42nd St. and SW 162nd Ave. are the safest in the city.
Miami does have a higher crime rate than 87% of cities in Florida, and many cities of similar population size. If you're considering a move to the city, take the time to inform yourself of local crime rates and concentrations around the city by visiting the Miami-Dade Police Department and FBI websites.
How do I get around Miami?
Commuters in Miami have several options for public transportation. Most will be able to take the Metrobus, which offers around 100 routes through the metropolitan area and beyond. Other public transit options include the city's rail lines, the Metrorail, and the free Metromover in the downtown area. Typical fares for the bus and rail lines are around $2.25 for a one-way ticket plus fees for certain transfers. Frequent riders can also buy a monthly pass for $112.50. Discounts are available for students and Medicare recipients.
If you plan to spend most of your time in the city, you most likely won't need a car. However, if you plan to live in the suburbs and travel often, a car is a must, as public transportation is concentrated mostly within city limits. If you live within the city, be prepared for a commute as the average time is 35 minutes.
What's the weather like in Miami?
If you're a beach person itching for the sand and salt or a snowbird looking to migrate south, Miami is the perfect place for you. But you have to be prepared for high temperatures. The hot season, which lasts from June to September, has daily highs above 87 degrees. The cool season, which lasts from December to March, sees more mild temperatures, with a low of 62 and a high of 76.
If you're a daily beach-goer, you'll be happy to know that the water stays pretty warm. Water temperatures average 83 degrees in the warmer months and 78 degrees in the cooler months.
As far as severe weather goes, Miami can experience storms caused by the Atlantic hurricane season, which runs from June 1 through Nov. 30. The peak hurricane season in the area tends to fall in August. Before moving to Miami, it's important for you to know proper hurricane preparation tactics and best practices.
What are Miami's fastest-growing neighborhoods?
In Miami:
This neighborhood is where a lot of the action is in Miami. Brickell is so large that 45% of the city's downtown population lives there. It's located directly south of the city center, with its southern border on the Rickenbacker Causeway. The area is a magnet for young professionals between ages 25 and 44, with its walkable, urban feel and convenient location.
But you'll pay to be in the middle of the action. The median home value in Brickell is currently $399,926, while the median rent is $2,600/mo. Given its proximity to downtown, commutes aren't bad, averaging seven minutes by car and 10 minutes by public transit.
Located to the west of the downtown area, West Brickell is growing as fast as its namesake and has been an area of intense development. It's home to the area's hospitality district and is poised to see a lot of new apartment, condo, and hotel construction over the next few years. Like Brickell, the median home value in the area is currently $399,926, while the median rent is $2,600/mo. Commutes downtown are similar to those from Brickell.
The neighborhood of Edgewater is home to nearly 8,370 residents, many of them young professionals who enjoy the area's bars, coffee shops, and restaurants, all of which provide for exciting nightlife. The densely packed neighborhood is located north of downtown, between the I-395 and I-195 interchanges.
Median home value in Edgewood and the surrounding neighborhoods is $362,322, and the median rent is $2,600/mo. Commutes are decent, with transit downtown taking around 10 minutes by car and 25 minutes by bus.
Buena Vista and Little Haiti sit directly north of I-195 and East of I-95. These two neighborhoods are filled with about nearly 20,000 residents combined. Buena Vista, in particular, is highly sought after and is where you'll find vintage homes and architecture, lots of greenery, and nearby luxury shopping. As with other metro Miami neighborhoods, this area has broad public transportation coverage, so it's easy to move around in without a car.
Median home value in the area is $321,634, and the median rent is $2,000/mo., well under the average Miami city rent of $2,450. For commuters, the area is rated as decent — about 15 minutes by car to 45 minutes by public transit, with longer times the farther north you go into Little Haiti.
This established neighborhood has nearly 20,000 residents, many of whom own their own homes. It has an artsy feel to it and has attracted many artists and writers over the years. It's extremely walkable and bikeable with lots of nearby shopping, and it's connected to the downtown and surrounding areas by the many public transportation options. It takes about 10 minutes by car and 30 minutes by public transit to get to the center city.
Coconut Grove is one of Miami's more expensive neighborhoods, though. Zillow separates listings into the northeastern and southwestern parts of Coconut Grove, with home values exceeding $698,000 in both sections. The average rent is north of $3,000/mo., though renting is less prevalent in the area.
In the Miami Metro area:
Located southwest of the city center and about 35 minutes away by car, Kendall Lakes has a population of nearly 60,000. While the neighborhood does have bus lines, including some that take you into the metro area, it's more convenient to own a car as transit downtown by bus could take close to an hour.
There are a lot of schools and colleges in the Kendale Lakes area, including Florida International University and a Miami Dade College campus, so it's popular with students. The median home value in Kendale Lakes is $273,817, and the median rent is $1,650/mo., making it one of the pricier suburbs.
Even though the neighborhood of Homestead was struck by a devastating hurricane in 1992, the area has bounced back incredibly. Even its population has risen drastically to 75,000 residents, three times its population before the storm. The area offers both modern and vintage sites, and it recently reopened its famed Seminole Theater.
The neighborhood has some public bus transportation, but a car remains the easiest way to get around. To get downtown, it takes around 50 minutes by car, but nearly two hours by bus. The median home value in Homestead is currently $253,012, while the median rent is $1,600/mo.
This northern suburb of Miami Beach is home to more than 61,000 residents and offers a more urban feel than your typical suburb. It's considered a fairly family-friendly neighborhood but still boasts of a strong nightlife.
Commutes downtown aren't terrible, but it's a largely car-dependent area. You'll need about an hour to get downtown by bus, but only 20 minutes by car. The median home value in North Miami is $262,683, and the median rent is $1,500/mo.
Living in Miami: The fun part
For the sports fan:
You can get your sports fill in Miami, with the city being home to several major league teams. You'll find someone to route for in every sports season, from the Miami Heat (basketball), the Miami Dolphins (football), the Miami Marlins (baseball), and Inter Miami (soccer). There's even hockey down there, with the NHL's Florida Panthers. NASCAR fans can also catch a race at the Homestead-Miami Speedway.
For the culture-seeker:
Miami newbies will have a fabulous time exploring the city's diverse arts, culture, 21 music venues, 38 libraries, and 36 museums. You'll find galleries like the Artechouse and Oolite Arts, as well as museums like the Lowe Art Museum and Museum of Contemporary Art. If you like live music, you can take in a show at The Fillmore, the American Airlines Arena, Churchill's Pub, the New World Center, and many more venues.
You can explore the city's diverse cultures with the Miami Heritage Guide. This will take you to historical landmarks and cultural centers, like the Haitian Heritage Museum and the African Heritage Cultural Arts Center.
If you're looking for fun for the whole family, there's the Miami Children's Museum, along with a number of wildlife attractions, and a water park.
For the foodie:
Given Miami's diverse cultural mix and proximity to the ocean, you have all the right ingredients for incredible food and drinks. There are 28 breweries in The Magic City. You'll find some of Miami's best restaurants in the downtown area, where you can enjoy seafood, classic Italian, Mexican and Cuban delicacies, Asian favorites, and more. Stubborn Seed and Joe's Stone Crab are among the city's iconic restaurants.
And while Miami isn't known for a single type of food, there's a strong Hispanic influence in the city and culture, so dishes like ceviche, Cuban sandwiches, and arepas are among some of the city's must-try items. If you want to sample a little bit of nearly every cuisine, Miami is the place to be.
For the traveler:
As a hub of international travel and a coastal town, Miami offers plenty of great options for those who want to get away for a bit. Miami International Airport is not far from the city center on the west side, and it can take you almost anywhere on the globe. Don't feel like taking to the skies? You can also hop on a cruise, with lines that can take you virtually anywhere — Canada, South America, London, Spain, you name it.
If you need a weekend getaway, you have options ranging from the city of St. Augustine to the Kennedy Space Center in Cape Canaveral. If you want to go somewhere outside the states, the Caribbean is an inexpensive getaway, as are many spots in Central and South America.
For the outdoor explorer:
Miami is home to world-famous South Beach, so sandy toes and salty air can be a daily reality for beach-lovers. But, even if you don't want to spend all of your days sunning and playing in the waves, you'll find plenty of parks and nature preserves to keep you busy in the great outdoors since there are 23 hiking trails and 176 city parks in Miami.
Some fun ideas include canoeing at Oleta River State Park, taking a peaceful stroll through David T. Kennedy Park, and learning about nature in the Everglades National Park. There are also walking and biking tours in various parts of the city and plenty of great places for a picnic.
What you probably didn't know about Miami
If you're interested in moving to the area check out our city page on Miami!
The bottom line
Miami is an eclectic town and a cultural hotbed. There's much to do in the city and the greater metro area. This guide only gives you a small snapshot of all the action. If you want to dig deeper into what Miami has to offer, Miami's official website offers an expansive view of the city, its beaches, and its attractions. Edible South Florida explores the food scene, the Miami Herald offers the daily news, and lifestyle magazine Aventura showcases more of the culture and happenings around town. Of course, you can always plan a visit if you want to experience the city first-hand before making a move.
Cassandra Alvarez, Luke Daugherty, and Amanda Push contributed to this article.