Your Guide to Moving to San Diego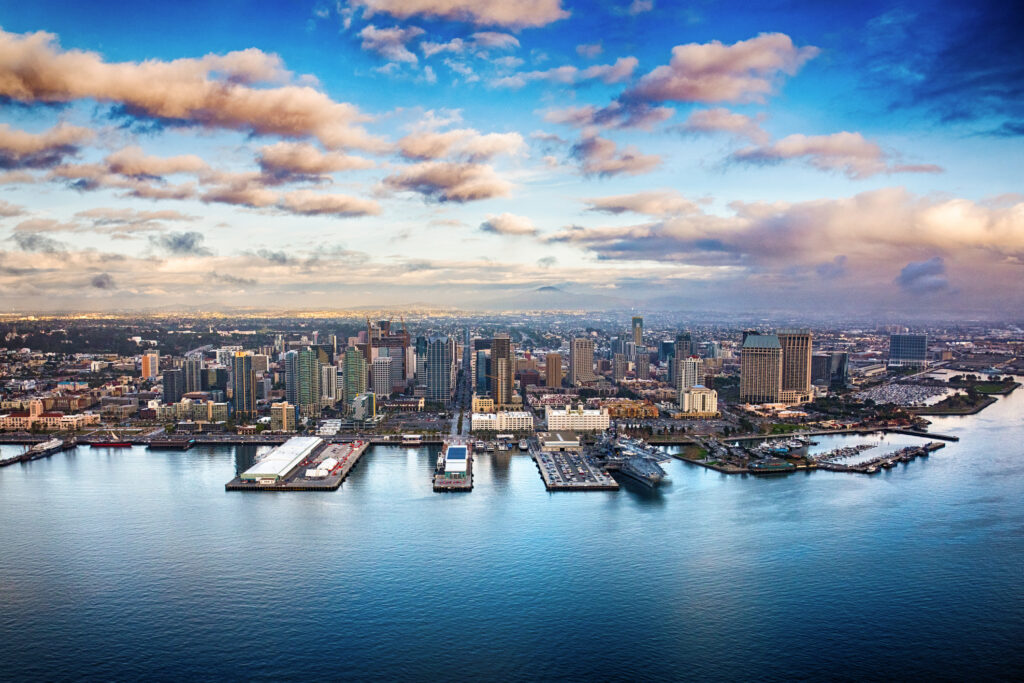 San Diego at a glance:
San Diego is one of the fastest-growing cities in the country. It's a thriving area for young professionals, with a median age of 35.
It earns its nickname "America's Finest City": San Diego has some of the best weather in the country with average temperatures in the 70s all year round.
The median household income in the city is just under $80,000.
The city is home to Qualcomm and Sempra Energy, which are both Fortune 500 companies.
Whether it's street food staples like tacos and pizza, or craft beer from more than 150 local breweries, you won't go hungry or thirsty in San Diego.
Avocado toast lovers, you're in luck! San Diego farms the most avocados in the country.
Moving to San Diego: The basics
What's the population of San Diego?
San Diego has a total population of about 1,426,000 as of the 2018 census. It's a relatively young population with a median age of 35. About 54% of the population in the city is single, and there's an even split of women and men.
If you're moving to San Diego, you're not alone. It's one of the fastest-growing cities in the country. The population increased by more than 11,500 people between July 2017 and July 2018, and about 27% of the population is foreign-born, leading to a culturally diverse community.
What's the cost of living in San Diego?
San Diego is a relatively expensive city in the U.S., with a cost of living that's 44% higher than the national average. Payscale reports that San Diego's housing costs are 136% above the national average. The San Diego Union-Tribune reports that in 2019, the median home price was $594,455, and the median rent was $1,852/mo.
For day-to-day living in the city, Payscale reports that transportation expenses like bus fares and gas are 29% higher than the national average. San Diego's grocery prices are 13% higher than the national average, while their utility prices are 15% higher than people pay nationally.
The median household income in San Diego is $79,646, while the per capita income is $40,760, according to the latest numbers from Census Reporter. That's higher than the national numbers — $60,293 (household) and $32,621 (per capita).
Payscale reports that the average salary in San Diego is $75,000.
The cost of living in San Diego is more expensive than similarly sized cities like Philadelphia, Pennsylvania, and Phoenix, Arizona. However, San Diego is significantly cheaper than big, bustling metropolises, like New York City.
Here's a look at how San Diego compares:
| City | Population | Cost of Living (Compared to National Average) | Per Capita Income | Median Home Price | Median Rent |
| --- | --- | --- | --- | --- | --- |
| San Diego, CA | 1,425,976 | +44% | $40,760 | $594,455 | $1,852/mo. |
| Phoenix, AZ | 1,660,272 | -5% | $29,310 | $217,400 | $999/mo. |
| Philadelphia, PA | 1,584,138 | +17% | $28,379 | $156,800 | $1,007/mo. |
| New York, NY | 8,398,748 | +129% | $39,589 | $570,500 | $1,396/mo. |
*Data sourced from San Diego Union Tribune, U.S. Census, Census Reporter and Payscale. 
How's the San Diego job market?
According to the City of San Diego, the sectors that make up the backbone of the local economy are international trade, manufacturing, military, and tourism.
In February of 2020 (prior to the global impact of the coronavirus), San Diego had an unemployment rate of 3.2% — which was lower than the national average (3.5%).
A January report from the San Diego Union-Tribune says the city's overall job growth rate is 2.3%, outpacing the national average of 1.4% and a statewide average of 1.8%.
The report cited that the lucrative fields of professional and business services grew the most, adding 9,500 jobs. These were in the fields of architecture, engineering, scientific research, and other technical services. Additionally, the fields of construction, government, and educational and health services added thousands of jobs to the local economy.
If you're looking to land a job in the city, know that San Diego is also home to Qualcomm and Sempra Energy, which are both Fortune 500 companies.
What do I need to know about education in San Diego?
The San Diego Unified School District is the main school district in the city and second-largest in California. It serves more than 121,000 students from preschool through high school. The student population is diverse, spanning more than 15 ethnic groups and 60 languages.
San Diego Unified is comprised of 117 elementary schools (including K–8), 22 high schools, 13 atypical/alternative schools, and five additional program sites. It also offers preschool and transitional kindergarten programs.
With most schools in San Diego Unified, your address determines which schools your child will attend. The school system also offers school choice for special application-based programs in languages, performing arts, and STEAM magnet schools.
If you don't want to go the public school route, there are also 335 private schools throughout the city.
Out of all the school districts in California, Niche ranks San Diego Unified as the 18th most diverse. It's also ranked the 55th best school district for athletes in the state, and the 123rd best overall. Torrey Pines ranks on Newsweek's list of Top 100 Best High Schools in the U.S.
What are the safest areas in San Diego?
The top three safest San Diego neighborhoods are located on the northern and western edges of the city, according to Neighborhood Scout. The site, which pulls data from thousands of local law enforcement agencies across the country, considers neighborhoods surrounding Alameda Boulevard/Palm Avenue, Black Mountain Road/Del Mar Heights Road, and Darkwood Road/Park Run Road the safest in the city.
Neighborhood Scout says that San Diego is safer than 23% of U.S. cities, compared to communities of all sizes across the country. It has lower rates of violent crimes and property crimes than both California and national medians. If you want to learn more about safety in the city, check out statistics and information from the San Diego Police Department.
How do I get around San Diego?
Most San Diegans rely on their cars to get to and from work. Their average travel time is about 23 minutes, which is just below the national average of 26 minutes. Only 3.71% of people use public transportation to get to work.
Public transportation in San Diego is known as the San Diego Metropolitan Transit System, or MTS. It consists of buses and trolleys. You can also get around the city with waterfront shuttles, pedicabs, and Amtrak trains.
There are several taxi services throughout the city, with average cab fares starting from $2.80 plus $1.88 for every half hour. Ride-sharing services such as Uber and Lyft are also operating in the area. To get an idea of pricing, UberX in San Diego has a minimum fare of $7.50, with a per-mile cost of about $0.87 (surge pricing notwithstanding).
You can also get around on rented bicycles and scooters with several different services operating throughout the city, but be mindful that there are strict rules and regulations for them.
What's the weather like in San Diego?
If you're looking for sunshine and ideal temperatures, San Diego is where you want to be.
"America's Finest City" boasts days full of sunshine and average temperatures in the low 70s all year round, making it the perfect place to enjoy the outdoors — especially the beaches. Temperatures don't vary much among the seasons, but San Diego does receive most of its rain from December through March. On average, July, August, and September are the warmest months of the year.
In May and June, San Diego can experience marine layer clouds that cool coastal area temperatures. Those usually start early in the day and burn off in the afternoon.
While San Diego doesn't experience much severe weather, dryer summer seasons and prevailing winds can make wildfires a hazard to local communities.
What are San Diego's fastest-growing neighborhoods?
One of the most exciting parts of moving to San Diego is deciding which neighborhood is best for you. In a city that's growing as fast as San Diego, you have the liberty of identifying the best neighborhoods in San Diego that would suit both your lifestyle and budget. You can also get an idea of where locals like to gather by looking at the fastest-growing areas in and around San Diego.
In San Diego:
City Heights
This diverse neighborhood in eastern San Diego has a population of 74,062. One of the oldest areas in San Diego, City Heights is defined by El Cajon Boulevard to the north and Highway 94 to the south, with easy access to the city via Interstates 5 and 805. Boulevard Transit Plaza is close by, giving commuters an easy ride into downtown.
City Heights is more affordable than other parts of San Diego. Niche says the median home value in City Heights is $388,822, and the median rent is $1,153/mo. Neighboring North Park is more expensive, with a median home value of $534,460.
Mission Valley
According to Niche, Mission Valley is one of the best places to live in California thanks to its diversity, above-average public schools, and family-friendly atmosphere. It is located minutes to downtown near the junction of State Route 163 and Interstate 8.
Mission Valley's population of 18,890 people enjoys a neighborhood rich with restaurants, bars, shopping, and parks. It's also the location of Fashion Valley Mall. The median home value in Mission Valley is $475,000. The median rent is $2,042/mo.
Adams North
This quieter enclave of Normal Heights is located between Interstates 805 and 15. Residents love living here because of its easy access to downtown and the dynamic Adams Avenue, which boasts restaurants, nightlife, cultural events, and festivals.
The median home value of the area is $480,105, while the population of more than 15,662 people is highly diverse. The median rent in the area is $1,366/mo.
Greater Golden Hill
Greater Golden Hill is situated directly east of downtown San Diego, just north of State Route 94 and southwest of Balboa Park. Its diverse population of 15,449 people enjoys above-average public schools, and a thriving dining and nightlife scene.
The neighborhood feels like a mix of urban and suburban. Median home values here are $563,635, and the median rent is $1,376/mo..
Mission Beach
Mission Beach is another San Diego neighborhood that's rapidly attracting new residents. It's located between the Pacific Ocean and Mission Bay. The neighborhood features a lively boardwalk, plenty of places to eat and drink, and above-average public schools.
The median home value is $1.1 million, but 76% of residents choose to rent. The median rent for the area is $1,542/mo., which is below average for the city.
In the Greater San Diego Metro Area:
El Cajon
Young families and first-time homebuyers are flocking to this up-and-coming neighborhood. El Cajon stretches from the city center all the way to the northeast desert.
The 103,285 residents who live in El Cajon enjoy highly-rated public schools and homes with a median value of $430,700. The median rent is $1,277/mo.
Oceanside
The San Diego suburb is a multigenerational neighborhood with a creative vibe. Young entrepreneurs are settling down in the area that offers everything from funky mobile homes to high-end coastal houses.
Over half of Oceanside's 175,389 residents own a home here. Median home values hover around $460,100. If you're interested in renting, the median monthly payment is $1,674/mo.
Escondido
The historic suburb in northern San Diego County boasts a bustling downtown with historic buildings, galleries, wineries, breweries, and golf courses.
Just a little over half of the area's 151,115 residents own a home here. Median home values are $423,000, but prices have risen 17% in the last year. The median rent is $1,382/mo.
Living in San Diego: The fun part
For the sports fan
Sports lovers will see no shortage of action in San Diego. The city is home to the San Diego Padres, the major league baseball team that plays at Petco Park. Del Mar Racetrack hosts thoroughbred racing sessions in the summer and fall. Other teams include the San Diego Sockers for indoor soccer and the San Diego Gulls AHL hockey team.
For the culture-seeker
Whether it's fine art, history, or live performances, San Diego has it all. Culture fanatics can choose from a variety of museums and galleries — there are 17 in Balboa Park alone! Families can enjoy the four museums in Balboa Park geared especially for children. San Diego also boasts a thriving live music and theater scene; fun fact — it has produced and sent more shows to Broadway than any other city in the country.
For the foodie
No matter your palate or preference, the city has plenty of dining opportunities for you. San Diego's shared border with Mexico makes it a top dining destination for tacos of all kinds, ceviche, burritos, and more. The city also boasts a multitude of contemporary and fine dining destinations.
Craft beer is king in San Diego and the city's home to more than 150 breweries. Wine culture is also gaining momentum, with more than 115 wineries in the county.
For the traveler
If you're the jet-setting type, San Diego has got you covered. With San Diego International Airport, you have access to 500 daily flights (around 60 of which are nonstop) to both domestic and international destinations.
The Mexico border is only 17 miles south of downtown San Diego and allows you to get the most out of Baja California's dynamic culture. The region's top destinations include Tijuana, Rosarito, Ensenada, and the wine-rich Valle de Guadalupe.
For the outdoor explorer
From picnicking and hiking to surfing and paddleboarding, you'll have no shortage of things to do outside. The area offers 70 miles of pristine coastline and beach-perfect weather nearly all year round.
The city is also a top destination for other outdoor sports such as golfing (it has more than 90 courses), mountain biking, hiking, and even skydiving.
What you probably didn't know about San Diego…
Every city has its own quirks, history, and inside information that make it unique. Get the inside scoop that will make you feel like a true San Diegan:
The bottom line
If you want to move to "America's Finest City" and get a sense of what living in San Diego is like, this guide is a great place to start— but it can only scratch the surface. To really understand what it's like to be a local, you should explore more resources.
Tourism and culture sites like sandiego.org, Eater San Diego, and socalpulse.com can keep you updated on current events. Lastly, local news sites like KPBS and the San Diego Union-Tribune can keep you up to date on everything happening in the community.
At the end of the day, you have to determine if moving to San Diego is the right step for you, your family, and your career. The facts and figures above can help you make that big (and exciting) decision.
---
Everything for your move, all in one place
Curate your personalized moving checklist, set up TV & Internet, and more with a free MYMOVE account.
Save on your move and tackle upcoming to-dos with your free MYMOVE account.