Your Guide to Moving to Phoenix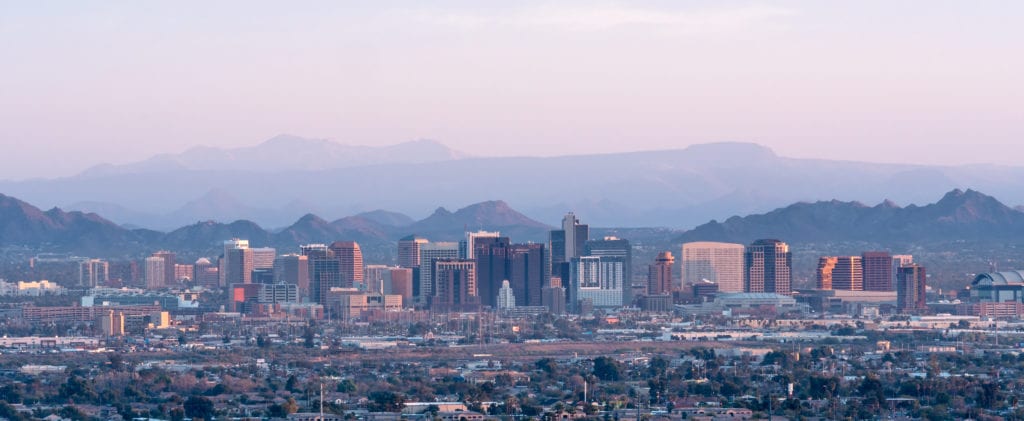 Phoenix, Arizona, at a glance
Phoenix is the capital of Arizona and is colloquially known as the "Valley of the Sun."
Phoenix is home to over 1.3 million people, making it the fifth most populated city in the United States.
The cost of living in Phoenix is slightly less than the national average.
Some of the top industries in Phoenix are in aerospace, technology, manufacturing, health care, business, and media.
Phoenix is known for its outdoor activities, including hiking, mountain biking, and soaking in cotton candy-hued sunsets.
Moving to Phoenix: The basics
What's the population of Phoenix?
With a total population of 1,312,922, Phoenix is the fifth most populous city in the United States. The median age in Phoenix is 33, making it a trendy city for young professionals. Approximately 57% of the population is single, with an even mix of males and females.
Phoenix's cultural diversity is roughly 43% Hispanic and 42% White, with the remainder split among Black, Asian, Native American, and other ethnicities.
What's the cost of living in Phoenix?
The cost of living in Phoenix, Arizona, is ever so slightly less –0.2% – than the national average, which is rare among big cities.
According to Census Reporter, the median household income is $57,957. The median home price is $217,400, and the average rent is around $999/mo.
In comparison to Arizona's neighbor California, transportation expenses are a perk. Gas prices cost about $2.74/gallon. Other cost-of-living prices, like groceries, in Phoenix, vary. Expect a loaf of bread to run you $3.23, with a half-gallon of milk costing $1.59 and a dozen eggs coming in at $1.95.
But to get a better understanding of the cost of living in Phoenix, compare it to other U.S. cities. Here's how it stacks up:
| | | | | |
| --- | --- | --- | --- | --- |
| City | Cost of Living (Compared to National Average) | Average Salary | Median Home Price | Median Rent |
| Phoenix, AZ | -0.20% | $42,119 | $217,400 | $999/mo. |
| Philadelphia, PA | +11% | $51,340 | $147,300 | $943 |
| San Diego, CA | +42.20% | $53,913 | $569,100 | $1611/mo. |
| New York City, NY | +141.40% | $53,996 | $376,900 | $1272/mo. |
*Data derived from MYMOVE's Cost of Living Calculator and Census data.
How's the Phoenix job market?
The average salary in Phoenix is $42,119. If you're job hunting in the area, you can look for opportunities in the city's main occupational industries of aerospace, technology, manufacturing, health care, business and finance, and film and digital media. Some of the most popular employers include Honeywell Aerospace, American Express Co. (AMEX), and Intel Corporation.
Due to the COVID-19 pandemic, as of July 2020, the unemployment rate in the Phoenix area was 10.3%.
What do I need to know about education in Phoenix?
Education is the second-largest sector within Arizona's state budget. According to the City of Phoenix, residents have their choice of up to 325 public schools within 30 school districts and another 200 private and charter schools. In most cases, Phoenix residents attend schools based on their home address within their qualifying school districts; however, families can apply for boundary exemptions.
If you're looking for higher education options, there are a number of colleges and universities in the greater Phoenix area, including a campus of Arizona State University, Grand Canyon University, and Arizona Christian University.
What are the safest areas in Phoenix?
The safest neighborhoods in Phoenix are scattered throughout the city. Those areas include:
Neighborhoods near North Central Avenue and West Carefree Highway in the northernmost part of the city.
Neighborhoods near South Desert Foothills Parkway and East Frye Road in the southernmost part of the city.
Neighborhoods near East Mountain Sky Avenue and South 8th Street near the southern edge of the city.
According to NeighborhoodScout, Phoenix is safer than 7% of other U.S. cities and is on par with other communities of a similar size. These high-level numbers give you merely a glimpse at safety in the city. For more information, check out crime stats and maps on the City of Phoenix website.
How do I get around Phoenix?
For the most part, people who live in Phoenix get around town by car, and the average work commute time is about 26 minutes.
But if you don't want to own a car or drive one daily, you have options. The Valley Metro Rail, commonly referred to as the "light rail," has a variety of travel passes and has stops across the city. You can also take local and express buses to get wherever you need to go. Fare options include everything from one ride or daily passes to monthly passes and are purchased online.
More of a ride-share person? You're in luck. Popular services like Uber and Lyft serve commuters in the area.
What's the weather like in Phoenix?
Although you can sizzle an egg on the pavement during the peak of summer, the weather in Phoenix isn't as daunting as it sounds. The Valley of the Sun has an annual high temperature of 87°F, with an annual low temp 59.3°F and annual rainfall of 8.5 in.
What are Phoenix's fastest-growing neighborhoods?
Phoenix is the fifth most populated city in the United States. If you're planning on relocating to Phoenix, here are some of the fastest-growing neighborhoods and suburbs:
In Phoenix:
Ahwatukee Foothills
Rated the #1 best neighborhood for living in Phoenix by Niche, the Ahwatukee Foothills neighborhood is home to over 77,000 people. The median home value is $360,366. For renters, the median is $1,495/mo. As with most residents living in Phoenix, people in Ahwatukee largely travel by car.
The population in Ahwatukee comprises a majority of adults over 25. Ahwatukee coasts on its leisurely lifestyle and is best known for its golf courses and South Mountain Park, which is popular for hiking, biking, and horseback riding.
Desert View
North of Phoenix, Desert View is home to 43,951 people and has a dense suburban feel. According to Niche, Desert View rates as the best neighborhood to buy a house in Phoenix.
The median home value in Desert View, according to Zillow, is estimated at $450,839, and the median rent is $1,475/mo. Some of the highest-rated public schools in Desert View are Sonoran Sky Elementary School, Lone Mountain Elementary School, and Black Mountain Elementary School.
Paradise Valley
Paradise Valley is one of the wealthier neighborhoods in Phoenix, with 64% of residents owning their homes. The median home value is $316,355, according to Niche, with an average rent of $1,392/mo.
Although Paradise Valley has a population of 167,261, the town fosters a feeling of intimacy and privacy with its spacious and quiet surroundings. Within Paradise Valley, find luxury hotels, shopping, golf courses, and restaurants.
Camelback East
Camelback East has become one of the most popular neighborhoods in Phoenix among young professionals and has a population of 134,942. The median home value in Camelback East is around $337,805, according to Niche. With 60% of the residents renting their living quarters, the median monthly rent averages around $1,046/mo.
Camelback East has an "urban-suburban mix" with pockets of dense living areas intermixed with vibrant entertainment hot spots. Camelback East is known for its proximity to Biltmore Fashion Park, an upscale outdoor mall, and is close to many shopping options and restaurants.
In the Greater Phoenix Metro Area:
Chandler
Chandler is listed as one of the best suburbs to live in the greater Phoenix Metro Area. With a population of 248,631, it's popular among families. Cars are the primary transportation of choice here.
The median home value in Chandler is $285,000, and the median rent is $1,246/mo.
Neighborhood highlights include downtown Chandler, which is filled with restaurants, resident breweries, charming coffee shops, and quaint boutiques. It also hosts a Farmers Market every Saturday where food and retail vendors offer up fun grub and goodies.
Scottsdale
With a population of 246,026, Scottsdale is one of the larger cities in the greater Phoenix Metro Area. The median home value in Scottsdale is $455,900, and the median rent is $1,284/mo.
According to Niche, Scottsdale is the #1 best city to retire in America. However, Scottsdale is also home to many young professionals. Area residents can enjoy Scottsdale Fashion Square, a premium mall with luxury brands like Gucci, Louis Vuitton, and Versace, along with contemporary restaurants. For the younger crowd, Old Town Scottsdale is known for its artisan shops during the day and bustling nightlife of bars and clubs.
Gilbert
The town of Gilbert, with a population of 237,484, has been credited as the #1 best suburb to raise a family in Phoenix. Niche rates Gilbert as a "sparse suburban" area popular among families and young professionals. The median home value is $310,400, and the median rent is $1,429/mo.
Downtown Gilbert has flourished over the past several years. The popular Heritage District offers residents more than 30 eateries, a farmers market for fresh produce, and the newly-renovated Hale Centre Theatre for live shows. For nightcaps, there is Whiskey Row or The White Rabbit, a roaring 20s-themed underground speakeasy.
Living in Phoenix: The fun part
For the sports fan
Football fans can cheer on the Arizona Cardinals at the Cardinal Stadium in Glendale. Phoenix has several baseball fields, though Chase Field is the most notable ballpark for Arizona Diamondbacks fans.
Those moving to Phoenix can cool down in the Gila River Arena while chanting along with Arizona Coyotes hockey team enthusiasts. On a more local scale, college sports fans can participate in Arizona State University sporting events and head out to Mill Avenue for the after-party celebration.
For the culture-seeker
Art aficionados will enjoy the Phoenix Art Museum for classic and modern installations and exhibits. For more urban and street art, explore Roosevelt Row Arts District — home to quirky boutiques, tasty eats, and the illustrious First Fridays, an outdoor market held every first Friday night of the month.
Music lovers can traipse through the Musical Instrument Museum or visit one of the local live music venues. Families can enjoy trips to the Children's Museum of Phoenix, Arizona Science Center, or OdySea Aquarium.
For the foodie
Good eats aren't hard to find in Phoenix. Authentic Southwest and Mexican food are in nearly every neighborhood, so finding your favorite taco spot and zingy prickly pear margarita is a must. Phoenix, Scottsdale, Gilbert, and Chandler all have bustling downtown communities, too.
For the traveler
Got wanderlust? Phoenix Sky Harbor International Airport offers domestic and international flights. If you're not a fan of flying, take a staycation at one of Phoenix's popular resorts and hotels or drive a few hours to visit Sedona, hike through the Red Rocks, or take an explorative Jeep tour.
For the outdoor explorer
If you're up for a drive, visiting the Grand Canyon is an attainable bucket list item for Phoenicians. It can take anywhere from three to seven hours of drive time, depending on if you drive to the north or south rim of the Grand Canyon.
For outside adventures a little closer to home, Phoenix is celebrated for its many desert hikes and trails. Outdoor parks and attractions like the Phoenix Zoo, Desert Botanical Garden, and Japanese Friendship Garden are other fun options.
If you're new to Phoenix, one of the most timeless ways to appreciate Arizona is to step outside and soak in a candy-colored Arizona sunset.
What you probably didn't know about Phoenix
If you're interested in moving to the area check out our city page on Phoenix!
The bottom line
Phoenix is an amazing city filled with vibrant sights and diverse people. If you're considering moving to Phoenix, this guide is a great place to help you get your footing. But keep in mind that it's only a sneak peek into what it's truly like to be a Phoenician. To learn more about Phoenix and all it has to offer, check out sites like Visit Phoenix, The Arizona Republic, Phoenix New Times, and the Arizona Chamber of Commerce to stay up to date on the latest and greatest adventures in the deserts.