30 Ceiling Design Ideas to Inspire Your Next Home Makeover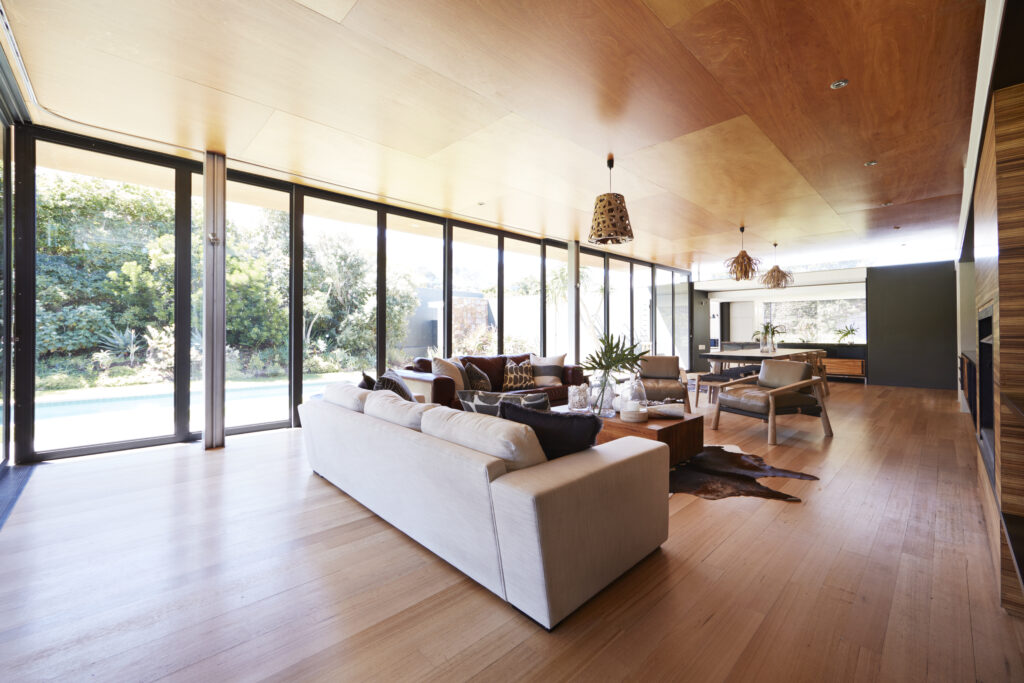 We've seen our fair share of creative ceiling design ideas. There are so many ways to accentuate a room by using the ceiling as a focal point; the untapped potential lies in the choices you and your architect make. Just look up more often, and you will eventually find the perfect way to express yourself through design.
Here are 30 ceiling design ideas to inspire you.
Starting Fresh with a Herringbone Ceiling
Designed by architect Michael O'Sullivan for his new Auckland home, this snug lounge showcases a herringbone ceiling that acts as a focal point without compromising the space. Rarely seen, this intriguing design found at Dwell reminds us of the potential of each design element in our home.
Geometric Balance Creates Elegance
Finding the perfect balance between the decorative elements of a room is a continuous challenge for architects and designers. Richard Hallberg Interior Design imagined his California home with Moroccan and Spanish influences in this festive geometric wooden ceiling.
Ceiling Mural for Outstanding Homes
You might remember the astounding painted ceiling of this luxurious loft — it revives an artistic interest while exposing its owners to a Miro-style mural in Venetian plaster created by Madrid-based artist Ramon Canet. If luxury is your weakness, pair it with artistic vision for an awe-inspiring effect.
Glass Ceilings Flood Spaces With Light
There are times when light must be convinced to flood shy interiors, and some architects have the ability to do just that. The combined vision of architect Ion Popusoi and Bogdan Preda made the design of Cetatuia Loft in Brasov, Romania, an example for those who dream about glass ceilings.
Add Depth to a Boring Ceiling
Looking to create an extraordinary living experience? Try upgrading your ceiling when you do a remodeling project. This seductive penthouse apartment in San Francisco's Millennium Tower displays an intriguing lighting system that creates an atmosphere while reflecting the colors used throughout.
Origami-Like Ceiling Structure
Modern homes such as La Peña House in Mexico might have concrete as a main building material. In this particular case, R-Zero Architects imagined an origami-like wooden ceiling that conveys a deep sense of warmth. Light, both natural and artificial, is constantly casting shadows on the ceiling, creating a dynamic design throughout the day and a static appearance during the night.
The Ceiling of a Themed Space
In a successful effort to create a modern design voyage, French interior designer Jean-Louis Deniot imagined a "contemporary maximalist" room based on an inspiring theme: "Imaginary Voyages." In this chic, forest-like space, the ceiling completes an amalgam of details seen by the designer as "nothing realistic, nothing common or anticipated" as an extreme interpretation of the theme. Try imagining your own theme for your ceiling.
Ceiling Tiles Reflect Vivid Colors
A visual delight is when colors meet shapes and textures in exquisite coordination, as in the example above. Seen through the lens of Anthony Lindsey, this space embodies glamour from floor to ceiling. Would you be happy to look up and see beautifully patterned metallic ceiling tiles reflecting your living room? Vivid colors delightfully mixed with grey walls and great lighting could do the trick.
Like a Cruise Ship under the Stars
The Stonehenge Loft in Moscow gives off a luxury cruise ship ambiance, and its floor-to-ceiling curtains help add a royal feel. It was imagined by Russian studio Archduet as a suavely lined suite of living spaces with an open core and a glittering ceiling reminiscent of the still night sky.
Breaking Rules with Colors
Perhaps you prefer a traditional twist, one in which the ceiling reflects the color palette underneath. Adding color to your ceiling can draw the eye upward and make your room feel and appear larger. This "fifth wall" can help you create a unique look if you open your mind to the possibilities. Are you still holding on to these interior design color myths?
Raw Wood Shapes a Snowflake Ceiling
Maybe Spitzmiller & Norris could inspire your search for the perfect ceiling ideas with their stunning work in this Florida beach house. Family and friends are encouraged to gather under this snowflake-shaped raw wood ceiling.
Painted Wooden Ceiling
How about a painted ceiling and a bold color on the walls? Styled by Emma Persson Lagerberg, this apartment flaunts a dining room with the painted wooden ceiling contrasting dark green walls, a combination beautifully put into play.
Creating a Feeling of Awe
This space, an office that conveys a feeling of royalty, is the brainchild of Valentin Yudashkin. Deep-blue hues adorn the walls and the ceiling, painted with elegant lines in carefully chosen places. Now that's an awe-inspiring room.
Serve Dinner Under an Elegant Ceiling
Glamorous interiors can be achieved with the help of a fabulous mind like that of Nikolay Tsupikov. This dining room, under a geometric ceiling, surprises with an air of aristocracy in its carefully chosen furniture pieces, design lines, materials and colors.
Stunning Geometry on a High Ceiling
Built by Akke Woodworks, this geometric ceiling seen through the lens of Robert Lowell was a real challenge to build. A total of 43 coffers gathered in a truncated tile pattern were carefully braided into a design that hides its conception method: "[We] set up our workshop right under the ceiling so we didn't have to continually climb up and down ladders," says designer Axel Yberg.
Tiled Ceiling Inspires Romance
This kitchen ceiling demands attention with its spectacularly tiled, barrel-vaulted ceiling design inspired by Paris subway stations. Imagined by Design Galleria and William Stewart Designs (now Stewart Mohr Designs), the ceiling makes a bold romantic statement with contemporary appeal.
Scandinavian Inspiration: White, Light, Wood
An elegant kitchen can easily inspire a remodel; just look at that pristine ceiling. Inspired by details of Scandinavian design, can you see yourself building a dream home that incorporates your passion for intriguing details?
Metallic Ceiling for a Modern Twist
If simplicity is something you hold dear but need a flamboyant detail to complete a space, making the ceiling pop is the way to go. The Carcary residence, photographed by Mina Brinkey, showcases a pressed-tin ceiling that proved challenging to install: The homeowners placed each element individually by hand.
Stucco Ceiling Split by Light
Spectacular ceilings employ creative vision sparked only when someone needs a new perspective. In this spirit, Gisele Taranto Architecture imagined a spectacular master bedroom with a fascinating focal point: the gray stucco ceiling. Adorned with intentionally chaotic slits that let light shine through, this bedroom proves that eclectic sophistication is defined by the use of an outstanding imagination.
Rich Textures Shape a Bedroom Ceiling
Encircled by glamorous golden upholstery, the dark bed looks alluring in this elegant space. Using rich textures to define the headboard that rises to shape the ceiling, HOLA Design used a simple yet vibrant choice of materials and colors to create a deep sense of luxurious relaxation.
Skylight in the Bedroom
Dreaming about seeing the stars from your bed at night? Then take a look at the impressive bedroom in this Soho penthouse — it will leave you wanting your own skylight above the bed. There's nothing better than a glass window with stars shining through at night or raindrops gently falling to lull you to sleep.
Take Stripes to the Next Level
Seen in Suna Interior Design's portfolio, this bedroom shows that simple ideas can make the most impact. Here, colorful stripes line a framed ceiling in a tall and compact bedroom. Since you already know how to jazz up your interiors with stripes, all you need to do is take it to the next level: the ceiling.
Movie Stars Meet Design Possibilities
A home cinema boasting a creative ceiling design helps create the perfect movie-watching atmosphere, balanced between the elegance of black-and-white movies and tomorrow's space-ship possibilities. This is definitely a timeless design sketched for replaying timeless movies.
Work, Pause, Look Up, Dream
Explorers travel the world with their eyes open. This incredible ceiling painted with a world map takes you on an imaginary journey through the travels of your dreams. If you don't have a house with a panorama, at least you can have your own panoramic perspective.
Diamond-Faceted Ceiling
The owner of this Taipei home above works in the fashion industry. In order to make the space feel larger in a crowded city, H2o+Co2 Design found an ingenious solution: "Because the height of the beam was too low, we used the concept of diamond faces for the ceilings."
Undulating Light Lines on the Ceiling
For those of you who love rounded design lines, a lighting element undulating along the ceiling can alleviate that feeling of "something's missing." Take, for example, the River House by MCK Architects — an amazing home showcasing artistic design solutions for a bright and open family atmosphere.
Michael Jordan's Undulating Ceiling
Basketball star Michael Jordan's Legend Point living room is another example of an undulating ceiling line. These color palettes and lighting techniques could help you achieve a sophisticated look without being too flamboyant about your "not straight" lines. There's a fine line between kitsch and cool; keep your choices on the cool side.
Shop These Products Now: Sectional Sofa – Center Table – Tree Plants
Modern Tray Ceiling Design
Looking for that extra-modern touch to bring to your living room, dining space or bedroom? These next three examples are variations on the same theme: a modern tray ceiling like the one at 1232 Sunset Plaza in California, designed by Belzberg Architects. A geometric carving in the ceiling exposes long strips of wood. This simple geometry gives an interesting twist to the sophisticated interior.
Dining Under a Tray Ceiling
On the other side of the fireplace in the 1232 Sunset Plaza residence, the dining room reinterprets the same theme. With lights encircling the tray ceiling, dinner becomes an experience rather than just a meal. A different kind of wood than in the living room was used here to create a connection to the rest of the decor.
Under a Concrete Tray Ceiling
Even the bedroom imagined by Belzberg Architects for the same home as above displays a concrete tray ceiling with recessed lighting. This ceiling design completes the color palette chosen for a space owner's use mostly at night. We hope these ideas have inspired you. What is now a boring ceiling could easily become the focal point of a room and change its overall appeal. Which ceiling design is right for you?