Essential Grocery List for Your New Home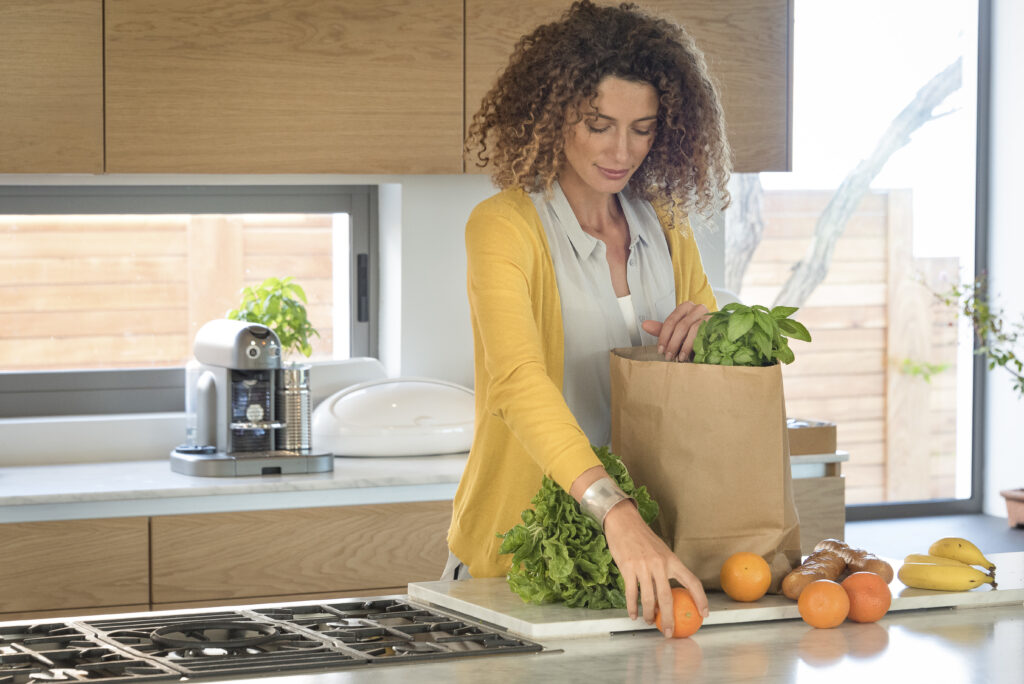 Your checklist of completed rooms to be packed is growing smaller by the day. But as your move-out date approaches, you may be struggling with what to do with your current food and household necessities. After paring down with our pre-move meal prep and donation to your local food bank, you'll need to restock once your move is complete. Our essential grocery list will ensure your new kitchen, pantry, and cleaning supply closet is equipped with the must-haves to get your home up and running.
Starter grocery list for your new home
Non-food
Light bulbs: Don't be left in the dark! Purchase a few packs of energy-efficient light bulbs. If possible, find out the size and wattage of overhead or under cabinet lighting prior to moving in.
Toilet paper: A must-have on your essential grocery list; add a multipack to your shopping cart.
Paper towels: Spills happen, keep a roll of paper towels on your kitchen countertop for quick cleanup.
Paper plates: Feeling hungry doesn't wait until the kitchen boxes and dishware are unpacked. Grab a quick sandwich on an easily disposable paper plate.
Trash bags: Kitchen trash bags along with larger, heavy-duty bags keep waste and leftover packing materials contained.
Laundry detergent: The best days end in dirty clothes, so keep your laundry room stocked with liquid detergent or laundry pods.
Dryer sheets or fabric softener: A box of dryer sheets or a bottle of fabric softener will help you avoid stiff, scratchy laundry.
Dish soap and sponges: Your starter grocery list must include dish soap and sponges to keep dirty dishes from filling up the sink.
Hand soap: Be sure to have enough hand soap for the kitchen and all bathrooms.
Aluminum foil and plastic wrap: After cooking your first meal, you'll need a way to store any leftovers.
Glass cleaner: Refresh your new home's windows and bathroom mirrors with glass cleaner and paper towels.
All-purpose cleaner: Pick up a multitask cleaner for counter and stovetops to make cleanup easier.
Floor cleaner: Add floor cleaner to your move-in grocery list to keep hardwood floors, carpeting, and tile from collecting dirt.
Grocery essentials: fresh produce, meat, and dairy
Eggs: Eggs are an efficient grocery essential either for a main meal or in that Extreme Chocolate Cake you plan to whip up in your new kitchen.
Yogurt: Simplify breakfast and lunch with some squeezable yogurts for the littles or Greek yogurt topped with granola.
Salted and unsalted butter: You can never have enough butter, so keep a few sticks in both your refrigerator and freezer.
Potatoes: This versatile veggie has a long shelf life. Store potatoes in a dark, cool place in a ventilated bag.
Onions: Like potatoes, onions should be stored away from heat and humidity. Keep them on hand for a sandwich topping, quick stir-fry, or a slow cooker French onion soup.
Deli meats: Choose a few assorted deli meats for a fast lunch or light dinner. Add a pickle or chips to complete the meal.
Hot dogs: A package of hot dogs and buns will make any day feel like a picnic.
Cheese: If you're a fan of gooey grilled cheese, roast beef and provolone sandwiches, or a quick snack of cheddar cheese cubes and almonds, then be sure to add cheese to your essential grocery list.
Lettuce: Lettuce can be the star of the meal in a tangy Caesar salad or as a topping on your BLT sandwich. Keep it in the crisper so it won't wilt.
Apples: Stored properly, those apples in your fridge can stay fresh for up to two months.
Grapes: Keep a colander of rinsed green and red grapes in your refrigerator for a sweet and healthy treat. Or add a handful of frozen grapes to a fruit smoothie.
If you're curious what grocery essentials will run you in your new home, check out MYMOVE'S cost of living calculator.

[deals-hub-ad]
Grocery essentials: pantry staples
Salt and pepper: Just about every recipe calls for a dash of salt or pepper. Add these to your essential grocery list to keep your shakers filled.
Italian seasoning: Stock your spice cabinet with Italian seasoning to add a layer of flavor to pasta, lasagna, and pizza.
Vegetable and olive oil: Keep these oils on hand for cooking and baking.
Flour: A bag of all-purpose flour makes gravy, bread, or other "from scratch" eats possible.
White and brown sugar: Sweeten up coffee, tea, and baked goods.
Breakfast cereal: Have a variety of cold and hot cereals for a healthy morning meal before school or work.
Macaroni and cheese: Boxes of mac and cheese take up little pantry space and are oh-so-easy to make.
Peanut butter: Keep a jar of chunky or smooth peanut butter for an easy to pack sandwich.
Bread: No essential grocery list is complete without bread. Keep an extra loaf, rolls, or bagels in the freezer to avoid a late-night grocery trip.
Pancake mix: Breakfast (or dinner) will be a breeze with a box of pancake mix. Freeze an extra batch of pancakes to reheat during the week.
Move-in grocery list: freezer favorites
Ground beef or turkey: Ground meat can be incorporated into everything from tacos and meatloaf to chili.
Frozen vegetables: Microwaving "steam and serve" veggie bags make meal prep fast and simple.
Chicken breasts: A variety of frozen proteins keeps your meal options from becoming boring. Individually frozen chicken breasts help speed up thawing time.
Bacon: Bacon makes everything better. Add bacon to your new home grocery list and enjoy a leisurely Sunday breakfast in your new dining room.
Chicken nuggets: Kids and chicken nuggets go hand in hand.
Pizza: In a hurry? Keep a few individual, French bread, or traditional sized pizzas in the freezer for weeknight meals. Customize with your own toppings.
Waffles: If you don't have a waffle maker (or don't want to use it), a box of frozen waffles is the answer for a quick, tasty breakfast.
Ice cream: A pint of ice cream is comfort food at its finest. Whip up a milkshake or DIY sundae bar for a fun family night.
Ready to serve dinners: Sometimes cooking a large meal after a long day just isn't possible. Stock up on a few individual and family-size frozen dinners to come to the rescue.
Fruit: Frozen fruit, especially berries, are handy for smoothies or to be added to a bowl of cereal.
The bottom line:
With proper planning and the right essential grocery list, stocking your new home can be simple and stress-free.
Frequently asked questions
How do I avoid buying things I know I already own?
As you prepare for your move and begin packing up, keep a detailed list of any cleaning supplies and non-perishable items you are bringing with you. Pack a separate box of "move-in day essentials" to make sure you're covered for the first day and night in your new home.
Do I already need to be a rewards member of my new hometown grocery store? 
If you already have a rewards membership with the grocery chain in your new hometown, the rewards number will transfer. Stop by the customer service desk to update your personal information including your new address and phone number.