Ultimate Guide to Moving with Your Cat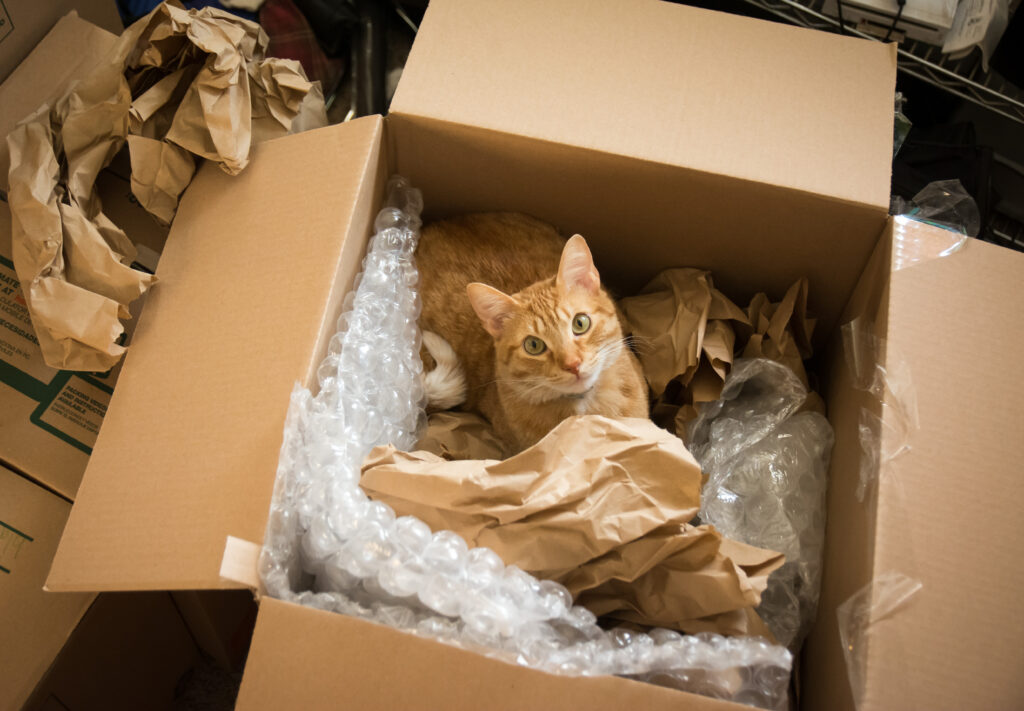 Pets are like family: When you move, you'll have to take them with you. Unfortunately, pets are also like children – you have no idea how they'll react to the move until it happens. Some cats will handle the move well, while others may not. Even though cats get the reputation for being generally more calm than their canine counterparts, it's important to prepare for moving with cats as much as possible. This is especially due to the stress of the move that you'll already be coping with, and being able to manage and move your cat safely during the move will help you have an easier transition.
Before Moving Day with your cat
The first step in preparing for moving with cats is to calm your cat. Like humans, cats can experience a lot of stress and anxiety during a move. Communication can quell anxiety, but this may be easier said than done, depending on the circumstances of the move, your cat's personality, and your own feelings about the move. You know your cat best, and can judge if they'll respond to these tips:
Put their carrier out a week before Moving Day, so they can scent it. It will help if your cat is already used to going in a carrier. If Moving Day is the first time your cat will be going in a carrier, it will be even more stressful for them. If your cat is not already accustomed to a carrier, be sure to begin getting them used to it as soon as you learn about your move.
Another tip is to get the carrier customized to your cat. Putting a shirt that smells like you in the carrier during the move, or a toy that your cat likes, can help them feel more comfortable and safe in their carrier. They won't be as confused about what's happening because they will at least know that you're there with them in some way.
Update the information on your pet's tags. If the worst happens and kitty gets away from you, current contact information will help ensure if someone finds them, they will get returned to you. Also consider chipping your pet. If the collar gets lost on their adventure, most shelters and vets will scan for an identity chip.
Invest in tranquilizers. The word "tranquilizer" may sound very off-putting, but they can help particularly anxious cats feel calm during  a move. Typically, pet owners may go with something less intense – like melatonin – to help their cat feel more restful. Regardless, this is something that you should speak to your vet about, so you can make sure whatever option you choose is safe and effective for your pet.
Check with your new state to see if certain health certifications are needed.
Moving with cats on the big day
It's important to have some sort of checklist and routine to ensure Moving Day goes as smoothly as possible for all parties involved – especially the furry parties.
Consider if kitty will move first or last. If you're moving to a home that is local, consider putting the cat in a small room, like a bathroom, in your former home until the main moving day is complete. Have their toys, litterbox, a comfy and familiar blanket or bed, and water and food in there and visit them often throughout the day. Once your move is done, take them to the new house so they can begin to explore their new stalking grounds.
Get all your paperwork together. If you need a health certificate for moving your cats across state lines, or you have to ensure you meet export and import requirements in order to bring your cat from one country to another, give yourself plenty of time (several months) beforehand to take care of that. This may include getting your cat their necessary vaccinations at a specific amount of time before your move.
Speak to your vet a few months ahead of moving, especially if it's a big move. Visit your vet a few weeks before to discuss the safest moving strategies for your pet. The vet may recommend that your cat fasts before a move or that they don't drink a lot of water.
Take a bathroom break if you are traveling any distance. Give your cat an opportunity to use their litterbox before putting them in their crate. If possible, monitor your cat's bathroom routine in the morning; they might be too anxious to pee once the hustle and bustle of Moving Day begins.
Litter travel hack. If you're driving to your new home, transport the litterbox – complete with litter – by placing the whole thing in a trash bag (after clearing out that day's kitty waste), tying it off, and laying it flat in your car. This way, not only can you immediately put it out for your cat to use at the new house, but you can also place suitcases or smaller boxes in the wrapped litter box during transit.
Follow your vet's advice about administering a tranquilizer, melatonin, or other relaxation treatment. For instance, if your cat is supposed to fast for six hours before and you're supposed to give the medicine two hours to kick in before moving, you'll want to follow these instructions closely.
Settling your cat into your new home
Many animal experts say to start your cat off right in your new home by exposing the house slowly. Keep them in one room with all their things for a bit. When they seem ready to explore, show them another room and so on. 
Show them the permanent spot for their kitty litter, food, and water.
If your cat likes to explore outdoors, keep them inside the new house for at least two weeks. They are territorial and may try to find their way back to the old house.
Accompany them outside to get familiar with their new surroundings, preferably on a leash or harness.
Other things to take into consideration when moving with a cat
Check out your new neighborhood for other pets, wild animals or features like ponds or wells that could harm your pet.
Locate the nearest emergency veterinarian hospital for any sudden issues that may arise while you are moving. Once you've settled in, pick a permanent veterinarian in your new area by talking to your neighbors, posting to local social media sites, etc. Secure an appointment soon to get your pet on their roster.
Watch for signs of stress in your cat: Kitties can show their distress through physical symptoms and in behavior changes. Changes to their eating patterns, having bathroom issues, vomiting, bald patches on their coat and more, can be signs something is wrong. If you observe kitty peeing around the house and not in their litter box, withdrawing from the family and activities, pacing or excessively grooming, it's best to get them to a vet for a visit. 
If you're using a pet transport service
It's important to understand the rules and guidelines of moving with cats from one state to another, or one country to another. Pet transport services range from helping you navigate every aspect of the process – including paperwork for the cat and the airline – to actually physically transporting your cat for you through a courier or shipping service. Moving a pet by plane can be a headache, but pet transport services are there to help.
The bottom line
Moving from one home to another can be a very stressful experience not just for the humans, but for their furry friends. Thankfully, there are steps you can take to prepare as much as possible. This includes speaking to your vet, using strategies to reduce your cat's anxiety, reaching out to a pet transport service, and creating a relaxing environment for your cat.
Frequently asked questions
Q:
How can I calm my cats when moving?
A:
You can calm your cats when moving by speaking to your vet about which anxiety-reducing medications you can administer to your pet. Additionally, make sure your cat is used to their carrier, and put something with your scent into the carrier to put them at ease during the move.
Q:
Is it safe for cats to travel by plane?
A:
In most cases, it is totally safe for cats to travel by plane. But it's important owners understand what's required for them to be able to bring the cat on the plane with them, and how to make it as safe and comfortable for their cat as possible.
Q:
Does my cat need to be in a carrier when moving?
A:
If you're using a pet transport service and/or taking your cat on an airplane, they will typically need to be in a carrier according to the pet transport company's requirements or the airline's requirements. If you're just moving by yourself in your car and your cat is generally calm and okay in the car without being in their carrier, then perhaps you won't need one.