What is Home Appliance Insurance?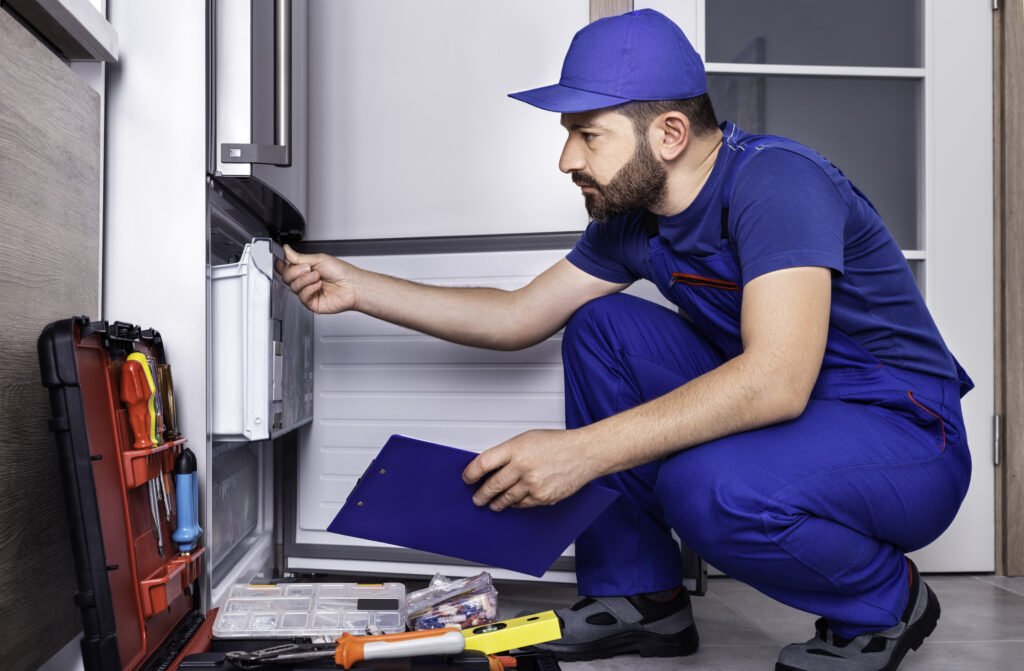 Home appliance insurance covers the cost of replacing or repairing systems or devices in your home. The policy is distinctly different from homeowners insurance as it doesn't insure your home against specific perils, but rather the gradual wear and tear of the appliances in your living space.
Is it different from a home warranty?
Home appliance insurance, home appliance protection, home warranty, and home warranty insurance have the same meaning. They all are plans that protect you if your home's appliances and systems break down. By covering what the standard homeowner's insurance does not cover, home appliance insurance helps to reduce the stress and expenses of home repairs. It also makes home maintenance simpler and offers overall convenience by ensuring that your home appliances and systems are in good working condition.  With the wide range of home protection plans from which you can choose, it's important to understand the types of home appliance insurance that will work for you and your home.

[deals-hub-ad]
What does home appliance insurance typically cover?
Generally, some of the items that you can expect your home appliance insurance to cover include:
Refrigerator
Oven
Air conditioning, furnace, and HVAC systems
Clothes washer and dryer
Dishwasher
Built-in microwave
Water heater
Garbage disposal
Plumbing system
Electrical system
Septic system
Lawn sprinkler
Well pump
Pool
Doorbell
Ceiling fan
Garage door opener
Ductwork
A standard home warranty package will cover certain appliances, while higher-priced plans will cover a broader list. However, be sure to read the fine print of your home appliance insurance policy to establish what exactly is covered under the plan.
What doesn't it cover?
Like any other type of warranty, home appliance insurance plans have limitations. The warranties will not cover the following:
Pre-existing conditions that were revealed during the home inspection
Improper installation and maintenance
Items covered by home insurance
Items covered under the manufacturer's warranty
Code violations
Unusual wear and tear of the appliances
Modifications needed when replacement equipment is being installed. These include ductwork as well as electrical and structural modifications.
Secondary damages when an appliance breaks. Secondary damages refer to issues like water damage from a clogged toilet or a broken dishwasher.
Cosmetic defects like dents and scratches
Damage from pests
Now that you know the limitations of home appliance insurance, you will be in a better position to plan for the expenses associated with these situations.
What's the average cost of home appliance insurance?
How much you pay for home appliance insurance will depend on your insurer and the level of coverage. However, these plans cost between $400 and $1,000 a year on average. A basic contract will set you back between $400 and $550 a year, with a policy that provides additional coverage for riskier appliances having higher premiums.
The terms of the home appliance insurance policies offered by different insurers vary widely. Some policies require a separate service fee for every time you need repairs, which means that you will pay a fixed fee regardless of the extent of the damage. For instance, if there is a fixed $75 service fee for each time a technician comes to evaluate your broken dishwasher, you will be responsible for this cost whether it is a minor issue that needs to be fixed or a major problem that requires the appliance to be replaced. The service fee may either be fixed or fall within a range specified in your contract. Depending on your insurer, you may get the option of paying higher service fees for lower annual premiums.
How to choose the right home appliance insurance plan
While choosing the right home appliance insurance plan, you will want to consider the cost, while making sure that the home appliance warranty will help keep your family safe and comfortable.
Step 1: Research and compare different companies
The first step is to do some research on the companies that offer these types of plans. When looking for a home warranty, ask your realtor the companies that they would recommend. While a great deal of this research can be done online, sometimes calling the companies can result in a special discount – if you're prepared to haggle.
Step 2: Compare your list of available plans
You should then compare the companies based on the different home appliance insurance plan options they offer, plus costs and customer support both in terms of a round-the-clock support center and service technicians. Comparing helps you narrow down to a few reliable companies that will meet your needs.
Step 3: Take an inventory of all your appliances and systems
You will want to get a policy that covers your specific appliances, or the closest thing to it. To do this, you have to know the appliances and systems in your home that need coverage. If you buy a predetermined package that includes appliances that you do not have, you will end up paying for a service you do not need. Whenever possible, consider going for home appliance insurance plans for individual devices or customized plans.
Step 4: Know the limits of the policy.
Some policies will cover the diagnosis, repair, and replacement of appliances up to a specified limit. In case the cost of repairing or replacing the appliance exceeds the limit, you will have to shoulder the extra expense. To make sure you're adequately protected, read your policy to understand the level of coverage you will be paying for and any extra costs you might incur.
Step 5: Assess the risk of your appliances malfunctioning
If you have purchased a newly constructed home, the devices in the home are less likely to break down. However, if you live in a home with aging appliances or are uncomfortable with handling unexpected costs, you may want to purchase a home warranty. It's a sensible way to protect yourself from the risk of issues associated with deteriorating appliances.
Step 6: Take other considerations into account
Some of the other factors you should be mindful of are the cost of service calls, the process of getting a service professional, replacement options, and the flexibility of upgrading coverage. A good company will simplify the process and make things as convenient as possible throughout the period of coverage.
The pros and cons of home appliance insurance
When considering whether or not you need home appliance insurance, look at the pros and cons of these plans.
Pros
Cons

If you are not sure about the age of an appliance, the plan will pick up where the manufacturer's warranty leaves off
It covers many items, eliminating the need to track the individual warranties separately
You may get a brand new appliance if the broken one cannot be fixed
It fills in the gaps left by homeowners insurance
The deductibles are known upfront, helping you know what you will pay for in case of repairs
You can choose the level of protection that meets your needs
It can save you a lot of money in the long run

The fine print may feature limitations and exclusions
Most plans have a waiting period between the date of purchase and when you can start using it
The plan will not provide coverage if the company proves a preexisting issue with the device
You cannot choose your service provider
Important systems may cost extra
Repairs are more likely than replacement
The bottom line
Home appliance insurance can protect against costly and unforeseen home repairs. However, it's important to determine whether you need to purchase the plan, and carefully look at what the policy covers. In the long run, investing in a home warranty is worthwhile if it will ultimately save you money and provide convenience.