Buying a Mobile Home: Everything You Need to Know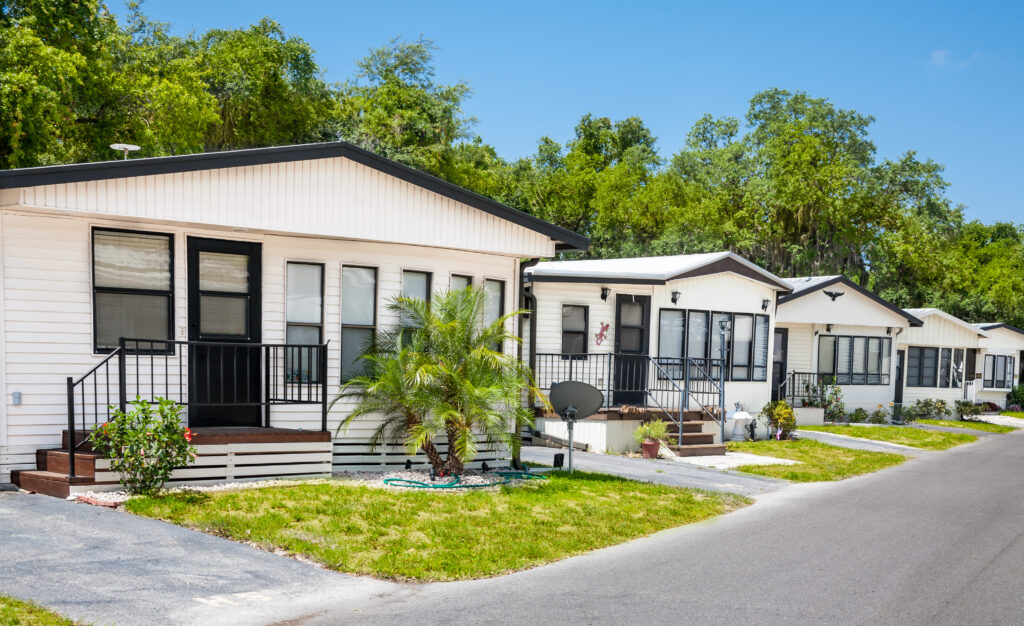 In some ways, buying a mobile home is just like buying a house, with a few key differences. For example, do you buy a mobile home and land parcels together? Or will you be buying a trailer home only and placing it on land you own or lease? These factors are important to take into consideration, as they can impact your lending options. Before you begin, here is everything you need to know about how to buy a trailer home.
Terms to know when buying your mobile home
As you start looking for a new home, there are some vocabulary terms relating to mobile homes you'll likely come across. These are the most important:
Single wide: A single wide is the smallest type of mobile home, typically measuring 15 feet wide by 72 feet long.
Double-wide: A double wide is a large mobile home, which usually measures around 26 feet by 56 feet.
Original set: This refers to a mobile home that has not been moved from the location of its first installation. Government-backed loans are typically only available for original set mobile homes.
Manufactured home: This is often used as another term for a mobile home. Technically, "manufactured home" should be used to describe a factory-made home built after June 15, 1976. Manufactured homes are attached to a permanent foundation. Mobile homes are used to describe homes built in a factory before June 15, 1976 and they are not always attached permanently.
How to buy a mobile home: financing
Buying a mobile home is contingent upon the way you finance it. There are two primary ways to finance a manufactured or mobile home. The first is to finance the purchase with a mortgage. The second is to purchase a mobile home with a personal property loan.
For most mortgages, the mobile home will need to be attached permanently to a foundation. Some government-backed loans will require the mobile homes to be an original set, meaning they have not been previously relocated from their original foundation. For most mortgages, you will need to either own the land or purchase the lot at the same time. The one exception is an FHA Title I loan, which offers financing for manufactured homes on leased land.
The other option is a "chattel option," which is a type of personal property loan. This is used to purchase mobile homes that are not permanently affixed to the land, and are therefore not considered real estate. The advantage of chattel loans compared to a regular mortgage is that you can move the property wherever you want without violating the terms of the agreement.
Types of mobile homes
What is a mobile home? Again, it's important to note that factory-built homes created after June 15, 1976, are classified as manufactured homes by the U.S. Department of Housing and Urban Development. Factory-built homes made before that date are officially mobile homes. The distinction is due to tougher safety regulations applied to manufactured homes. For this reason you usually can't get a real estate mortgage for a mobile home built before the cutoff date, so you'd probably use a chattel mortgage.
Mobile homes come in a variety of different floor plans. Mobile homes are classified according to their size. A single wide mobile home is the most common classification, typically ranging from 600 square feet to 1,330 square feet. The dimension of a single wide is usually 14 to 18 feet wide and 66 to 80 feet long. It will usually feature one to two bedrooms. A double wide is actually two single-wides joined together to create a larger home. Each section is considered a unit, or floor, and must be independently evaluated by HUD when securing a loan.  A triple wide describes a mobile home consisting of three or more units.
Finally, you'll need to consider the type of site your mobile home will be located on. Of course, you can put one on land you already own or buy a plot of land that already has a mobile home on the site.  What about how to buy a mobile home in a park? Mobile home parks are convenient because the utility hookups are provided. In some mobile home communities, you can own your dwelling but lease the site. In other communities, you may own both the home and the land, but you'll probably still have to pay upkeep fees as part of a homeowner's association (HOA).
How to insure a mobile home
Much like a typical home, you'll need a manufactured home insurance policy to protect the home and its contents. If you're getting a loan, mobile home insurance will almost certainly be required by the lender. Most communities require residents to carry insurance as well. The good news is that many insurance companies offer mobile home insurance, so you'll be able to shop around for the best rates.
Delivery and setup
Whether you're installing a mobile home on a large rural lot you own, or on an undeveloped site in a mobile home community, there are things you must do to prepare the land. Some communities will prepare the site for you, while others put you in charge of hiring folks to do the required site work. Either way, you'll need to plan for pre-delivery costs like soil compaction, sloping, and laying the foundation.
Once your mobile home is delivered there's still a lot of work to be done. First, you should have the opportunity to perform a final walk-through of the mobile home to make sure everything is in order. If there are no issues, installation can begin. Primarily, this involves anchoring with tie downs, connecting and testing utilities, installing new appliances, and skirting installation.
The bottom line
Buying a mobile home can be an affordable alternative to purchasing a traditional home. But there are key differences in the process, particularly when it comes to financing, insurance, and site selection. Now that you know the basics of how to buy a trailer home, you can proceed with confidence.
Frequently asked questions
What credit score do I need to buy a mobile home?
You need a minimum credit score of 500 for both government-backed and personal property loans for a mobile home. VA loans, however, do not have a minimum for mobile homes.
How much is a downpayment on a mobile home?
Down Payment requirements vary by the type of loan but are usually between 3.5% and 10%. With a maximum loan amount between $50,000 and $100,000, your down payment could be less than $1,750 or up to $10,000.
Is the process any different for buying a used mobile home?
If you buy a used mobile home, it may need extensive repairs. It can also be more difficult to get financing, especially if it's more than 15 years old.