Move Out Checklist: Everything You Need to Do to Get Your Security Deposit Back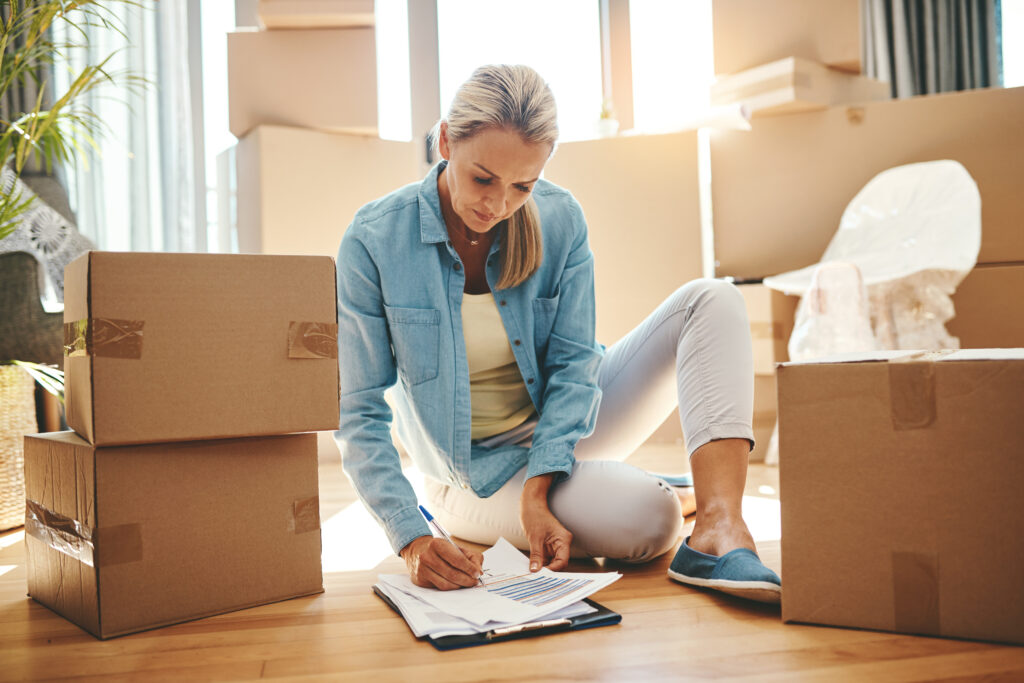 Getting your security deposit back when moving out of an apartment is important. That money can help you get into a new apartment, and in many cases, a security deposit is simply a lot of money that you should be able to see again. Unfortunately, there are landlords out there that will do everything in their power to keep your security deposit. And, of course, there are situations in which they have the right to because the tenants did not take care of the property.
So, what can you do to ensure you'll get your security deposit back? Creating a move-out checklist is a good place to start!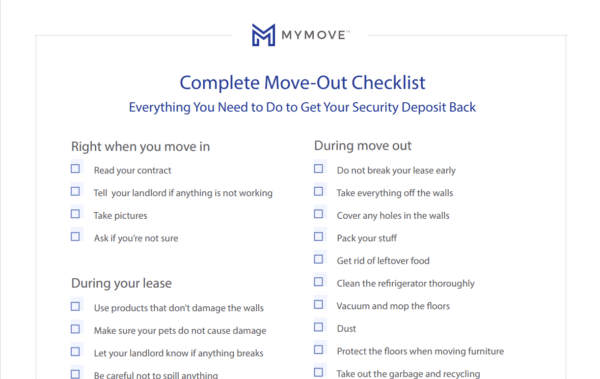 Right when you move in
Getting your security deposit back actually starts when you first move into your apartment. By being vigilant and checking your apartment for any damages that exist already when you move in, you can help ensure that you won't be blamed for these damages when you move out, thus leading to your landlord holding onto a portion of your security deposit.
Read your contract. There may be wording in there that makes it very easy for your landlord to hold onto your security deposit, even for the tiniest thing. Knowing your rights when it comes to your security deposit can help avoid you signing a contract that's not in your favor.
Check that everything works properly. This includes all appliances, the light switches, the water from the faucet, etc. You may not be able to tell right when you do your first walk-through, but if there are any issues the first time you use something, let your landlord know right away. The longer you wait, the longer it may seem that you're the reason something's not working as it should.
Take pictures. If you see something that doesn't look right – holes in the wall, scratches on the paint, a dent in the floor – take a photo and send it to the landlord for your records.
Ask for permission. Don't start nailing things to the wall unless you know you're allowed to. This will usually say so in your contract because simply getting a "yes" from your landlord doesn't mean they won't dock you for it later.
During your lease
While you live in your rental, there are several things you can do (or, not do!) to have a better chance of recouping your entire deposit.
Don't damage the walls – use alternatives instead of nails or drilling holes. Otherwise, be sure to fix any marks you make before moving out.
If you have a pet, make sure your pet does not damage anything. If you don't have a pet, it's not a great idea to get one while you're living in the rental without first consulting the landlord. They may ask for a (non-refundable) pet deposit.
Don't host any crazy parties. Parties can lead to unwarranted damages in the apartment.
Always let your landlord know as soon as something breaks. It's their responsibility to fix it, and if you do not let them know, it can worsen the problem and reflect poorly on you. Make sure you always have a paper trail of when you've notified them about something.
Be careful not to spill things on the carpet or scratch hardwood floors. Try not to wear shoes in the house or let guests wear shoes in the house.
Clean regularly. Not cleaning can lead to all sorts of problems, whether it's cockroaches from leftover food or stains on counters that are hard to get out. Also, if your landlord comes to check on the house every so often and it's filthy and messy every time they come, they are going to have more reason to suspect that you aren't taking care of the place, and are going to look very closely when you leave for damages.
During move-out
Having a move out checklist can help you make sure you've crossed all your t's and dotted all your i's, and that the apartment will be in tip-top shape when your landlord comes to do their final walkthrough. This example of a move out checklist can get you started on the right foot:
Don't break your lease early. This makes it hard to get a security deposit back as you might have to pay a penalty.
Take everything off the walls, cover up any holes by filling them and painting over (or whatever's necessary, as long as it won't cause more damage).
Pack all your items away neatly so you have space to clean and look around the home.
Get rid of any leftover food you're not bringing with you, and give the refrigerator a good cleaning.
Vacuum and mop the floors.
Dust.
If you're moving furniture out, be careful and use gliders, sliders, or pads so you can protect the floor. Also, be careful at the doorways.
Make sure any garbage you have upon moving out is eligible to be recycled or taken away, and have it organized. Don't leave your landlord to deal with all of that.
Be forthcoming about any obvious damages. Being honest can help you find a solution – maybe your landlord won't even charge you for it because they'll appreciate your honesty, or you can look up how much it will cost to fix. They may say you can just fix it yourself and they won't charge you. If they do charge you, telling them can help you know exactly how much will be taken out.
Take pictures when you move out or even a video. If your landlord tries to get you with something later, you'll have proof.
It's important to keep in mind that certain property management companies may have policies in which renters will always be deducted a "cleaning fee" when they move out, which could cover things like carpet cleaning. If you know you're already going to be charged one of these fees, then don't go overboard with using your own expenses to clean the apartment before moving out.
The bottom line
Everyone wants to make sure they get their security deposit back when they move out of a rental. But, getting a security deposit back is not always as easy as it should be. By using a move out checklist, you can check that you've done everything in your control in order to get that deposit back.