Wallpaper is Back! These Are the 2017 Wallpaper Trends You Need to Check Out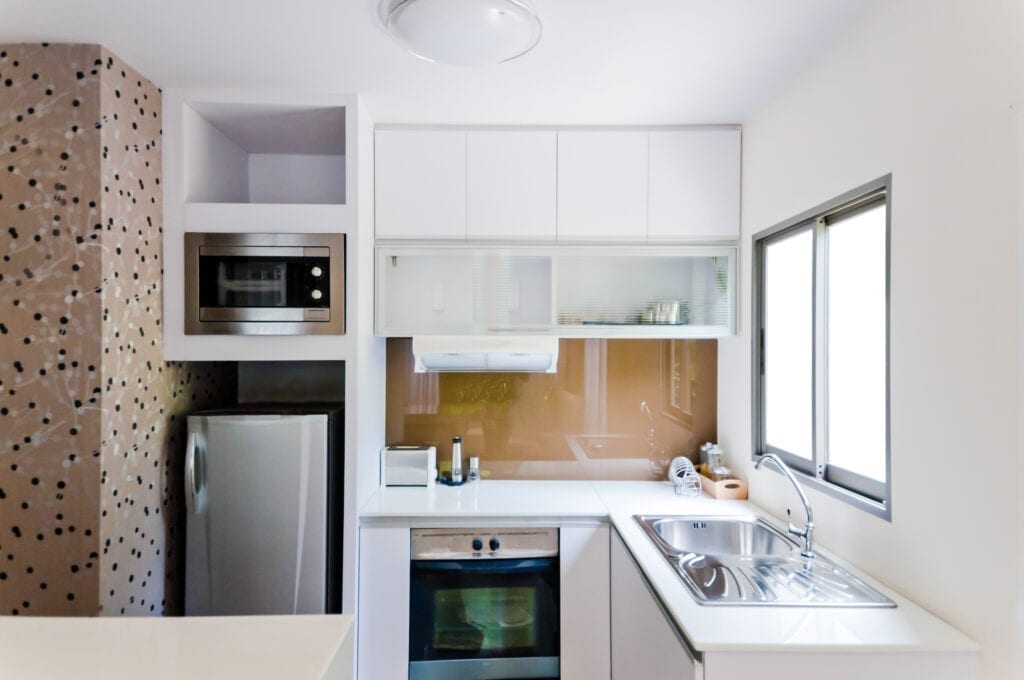 We hope you like the products we recommend. Just so you are aware, Freshome may collect a share of sales from the links on this page.
Believe it or not, wallpaper is back! We know the idea may be a little hard to wrap your head around, but trust us when we tell you that the 2017 wallpaper trends are worlds away from the relics you remember from Grandma's house.
Gone are the days of seeing a whole room swallowed by big floral prints and oppressively dark hues. Instead, today's take on wallpaper is much more subtle. These days, less is more, neutral shades are in, and the pattern options are entirely up to you.
If you're still not convinced, read on. We've outlined a few of the hottest 2017 wallpaper trends, as well as how to incorporate them into your design. Keep an open mind. By the end, you might just end up being wallpaper's newest fan.
Geometric wallpaper
Remember that all trends are cyclical. With the '70s vibe that's been all over the stores lately, it's not hard to see why geometric patterns are back in a big way. When used correctly, they easily achieve the delicate balance of creating visual interest without becoming too overwhelming.
This is because, on the one hand, geometric patterns are often bold enough to draw the eye without much effort. On the other, the rigid structure of a geometric design helps to simultaneously put our minds at ease.
To use this trend successfully, keep in mind that size is key. Make sure to pick a pattern that is comparable in scale to the room you'll be decorating. You should also allow the room to guide your color choice. Neutral colors like black or gray can add a subtle and sophisticated feel to bedrooms and living spaces. Meanwhile, bolder hues are perfect for livening up playrooms.
Get the look from these geometric wallpapers:
Digital print wallpaper
For those who are serious about creating one-of-a kind designs, digital printing may just be your favorite 2017 wallpaper trend. This process puts you in the driver's seat by letting you create wallpaper from any image your heart desires. Essentially, this trend gives you complete authority over how the finished product looks.
As for how it's done, the process is actually fairly simple. All you need to do is get in contact with a company — like Mega Print Inc. — that provides these services. Once you send off the high-resolution photo of your choice, they'll likely send you a few proofs to test out the look before printing the final version on large panels that adhere to your walls.
But, by far the coolest feature of wallpaper's technology upgrade? Your pick won't necessarily need to stick around forever. Many digital wallpaper companies will also print on alternative materials like fabric or vinyl. When combined with a lower-grade adhesive, these materials can peel off the wall whenever you're ready for a change.
Get the look from these digital prints:
Metallic wallpaper
If sleek and elegant designs are a must in your home, metallic wallpaper should be high up on your list of considerations. The slight shine these wallpapers give off is enough to add a luxe feel to any space, at a comparatively low price point.
Placement and quantity are your biggest concern when choosing a metallic wallpaper. Since these prints tend to have a stately quality to them, they are a natural choice for more formal spaces like dining rooms or foyers. However, as long as the quantity of wallpaper you're using is also taken into account, they can be worked into just about any space.
Since metallic wallpapers tend to be a bolder choice, less is sometimes more. If covering the space wall-to-wall is your goal, then stick to smaller spaces like bathrooms. (The light reflected by the metallics can actually help them appear larger!) In more spacious rooms, you can keep the print from becoming overwhelming by just covering one wall and making that the focal point.
Get the look from these metallic wallpapers:
2017 wallpaper trends go beyond the wall
That's right — one of the most popular 2017 wallpaper trends is to use the stuff anywhere but on your walls. This is one occasion where you can really let your imagination run wild, but in case you need a little help to get started, here are some of the best ideas we've found:
Put wallpaper behind shelves: Consider using one of the room's accent colors to tie everything together.
Hang wallpaper in frames: Especially useful with gallery walls, this allows you to experiment with multiple types of prints and patterns as art. Plus, you can switch out the look anytime you're ready for something new.
Line your drawers with wallpaper: After all, there's no reason for the inside to be boring.
Spruce up a boring piece of furniture: If you have a plain piece of furniture like a dresser or bookcase that could use more than a coat of paint, try covering it in wallpaper to give it a pop of pattern.
Cover your book displays: We've all see those incredibly eye-catching bookshelf displays, but the reality is, it's incredibly hard to find sets of books that match so well. Create your own by covering these displays in coordinating patterns and colors.
Give your coffee table a creative top: This one works best for tables with a protective glass layer, so if you have one, feel free to put a coordinating sheet underneath the glass to add visual interest.
Breathe new life into plain chairs: If your chairs could use a new look, cover the seat and backrest in an interesting pattern that catches the eye.
Make a wall hanging: Tapestries are in, but there's no reason to shell out big bucks for one. With a little wallpaper, some dowel rods, and ribbon, you can just as easily make your own.
There's no denying that wallpaper is back. However, clearly, today's designs are worlds away from what we all remember from the past. If we've convinced you to give one or two of these 2017 wallpaper trends a try, keep this guide handy. Use it to help make your next big design project a breeze.
What do you think of wallpaper? Which 2017 trend are you most likely to incorporate in your home? Share your thoughts with us in the comments below.