Decorating With Olive Green: 10 Ideas For Fall And Beyond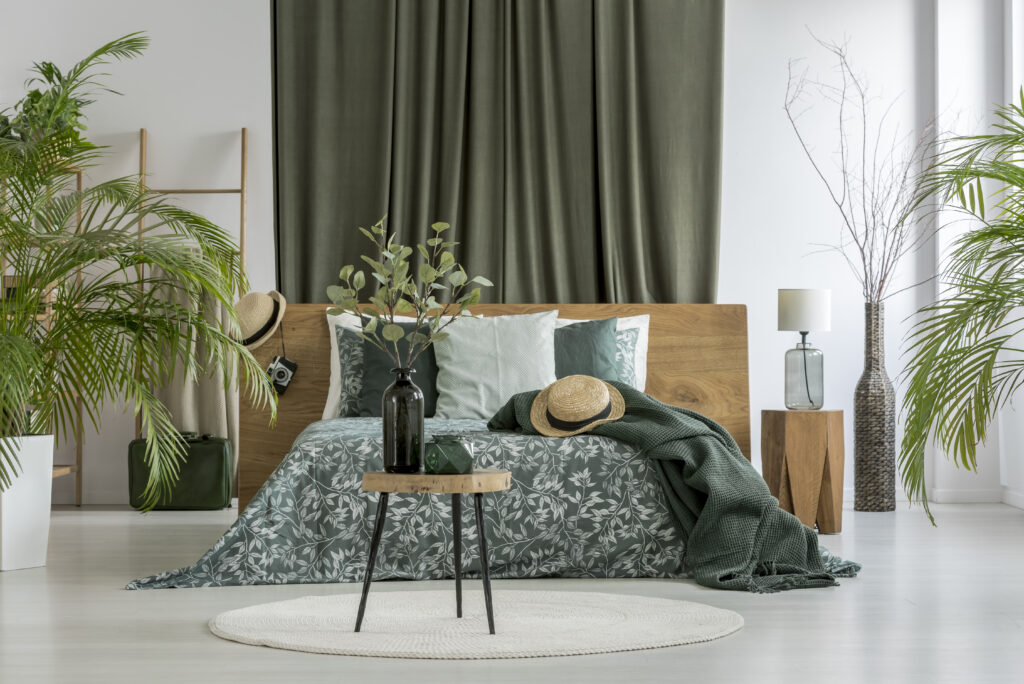 Olive green is on-trend – and it appears it will be one of the topmost stylish colors for the next few years. It varies greatly in hue and saturation from cool to warm tones, giving you plenty of flexibility when decorating with olive green. Also known as cargo, sage and even chartreuse, the color is quite versatile. It's the perfect shade to add to your living space this fall.Here are some beautiful interiors to inspire you to try decorating with olive green. Update your space with olive to add a warm, modern fall feel to your home.
Add Olive Green Window Treatments
When decorating with olive green around your windows, go with a richer, bolder shade or pattern since you'll only be seeing a small area of the curtain.

[deals-hub-ad]
Add Accent Furniture In Olive Green For Fall
The olive tone works well with nearly any color and manages to warm up a room for fall. If you're not ready to commit to an olive green sofa permanently, add an olive-colored slipcover to your dining chairs, sofa or ottoman to bring the tone in when you're in the mood.
Dress Up Your Dining Room Table With Olive This Fall
The color olive works very well with other traditional fall tones like reds, oranges and golds. Add a touch of olive to your dining room or table to modernize your current space.
Paint A Focal Wall Olive Green
For a fast, bold way to add your favorite olive green tone to your home, paint a single wall in olive. Don't forget to accessorize the room with the focal color to pull the look together.
Or Paint The Whole Room In Olive Green
Paint your room in a darker, more neutral tone of olive green or a light, cool version for a warm and peaceful setting. The color olive complements all wood tones and natural stone materials quite well, making decorating with olive green walls simple.
Wallpaper A Wall With A Pattern Featuring Olive
Add life to your walls (and room) with a textured or patterned wallpaper featuring olive. The latest wallpapers are easy to clean and easy to remove if you rent.
Pair Olive Green With Other Warm Fall Tones
Rust, terracotta, pumpkin and orange are natural partners to the color olive. Other warm fall tones that look great with the green include golds and reds like wines and burgundies.
Decorating With Olive Green Accents
There are many ways you can accessorize with olive green, including wall art, throw pillows and blankets, vases and other objects. Add a few in your favorite olive green shade to a neutral room.
Add An Olive Green Rug To Your Room Setting
The walls are often the go-to place to add an accent color. But beyond the walls, your floors offer lots of square footage ready to be personalized. An area rug in olive green could be the perfect way to add the color to your room for fall.
For A Fresh Look, Pair Olive Green With Yellow Or Turquoise
The 60s and 70s are hot in home decor. Which means you'll see a lot of combinations of vintage colors (even for fall and the holidays) that add a smile to your face, like olive and bright yellow or olive and turquoise.