How to Decorate with Orange to Stylishly Warm Up Any Room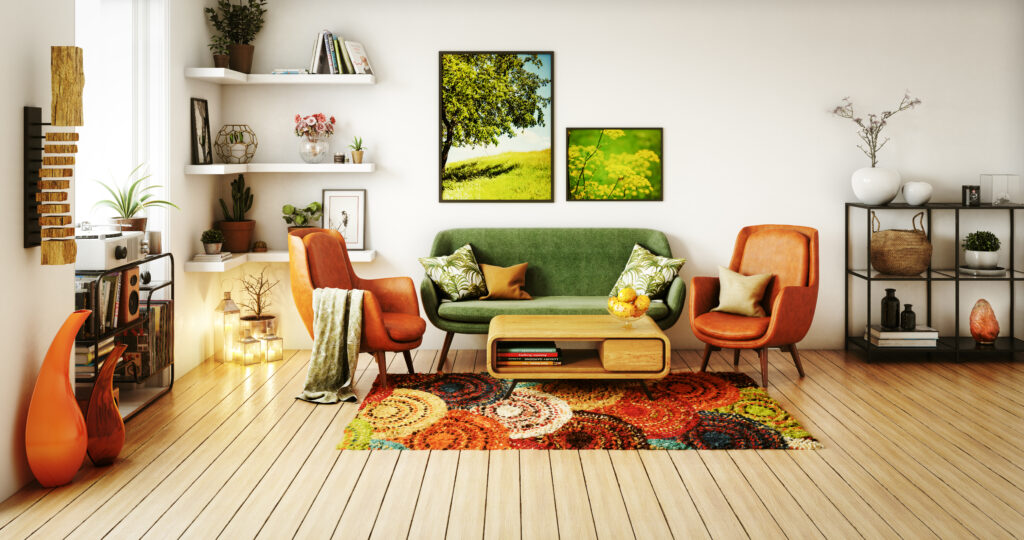 We hope you like the products we recommend. Just so you are aware, Freshome may collect a share of sales from the links on this page. Mandarin, pumpkin spice, sunset, warm persimmon … these are all paint color names for orange. Orange is a contemporary, fun and warm color, but it can be tricky to decorate with — until now. Here are some orange decorating ideas to inspire you! You'll be an expert on how to decorate with orange to add some contemporary flair and warmth to a room.So, how to get started decorating with orange? First off, you don't have to spend a fortune or redo your house to add orange. The color works beautifully with earth tones and neutrals such as taupes, beiges and greys. It's such a vibrant and eye-catching tone that a little can go a long way. You don't have to commit to a fully orange room. Choose a few elements instead, like the images below.
Decorating with pumpkin spice in the bedroom
One of the easiest ways to add a little (pumpkin) spice into your life is by adding some orange to the bedroom. Start with some throw pillows and a blanket, or a bench or orange footstool. Decorating with orange by adding these small elements isn't expensive. You can warm up your bedroom on a budget.

[deals-hub-ad]
Here's how to decorate with orange wallpaper
Since spice or orange can be such a strong statement, wallpaper only one wall in the orange pattern. Doing so will create an intimate focal point for the room that you can then work with to sprinkle more touches of orange throughout the space.
Orange decorating ideas featuring an area rug
Anchor a space with a sumptuous, earthy orange or spice color by adding an area rug. As shown in the images below, the tone works well with both light neutrals and rich charcoal greys and blacks.
Change a room's personality with window treatments
One of the quickest ways to change the look of a room quickly is by switching out or adding curtains. Perhaps you like the windows bare in the summer or to display white gauze curtains. Why not add heavier-weight orange spice curtains for the fall and winter? They'll not only warm up the space physically but the room will also look warmer and more inviting, too.
How to choose the right orange paint color
There are many orange shades and tones available. How do you choose the right orange paint color? Choose a deeply saturated orange that is either bright and vibrant or rich and earthy. Avoid lighter, less saturated tones, which may look chalky.When painting with orange, a matte or eggshell paint sheen works better for an interior. Paint only one wall or an alcove in the bold color and repeat the orange color in the room via home accents, furniture pieces or accessories.
How to decorate with orange home accents
There are many affordable and interesting orange home accents you can work with. Mix and match a few for a completed space.
Home accent options include: Throw pillows, Wall art, Lamps and lighting fixtures, Textiles, Ottomans and benches, Art objects, Throw blankets, Candles, Side tables, Rugs
Orange decorating ideas featuring accent furniture
Choosing a modern, orange lounge chair or cool, contemporary bar stools makes decorating with orange a no-brainer. You can't go wrong with orange seating; orange works with nearly any other color.
What's your favorite way to decorate with orange?