Moving Services for Seniors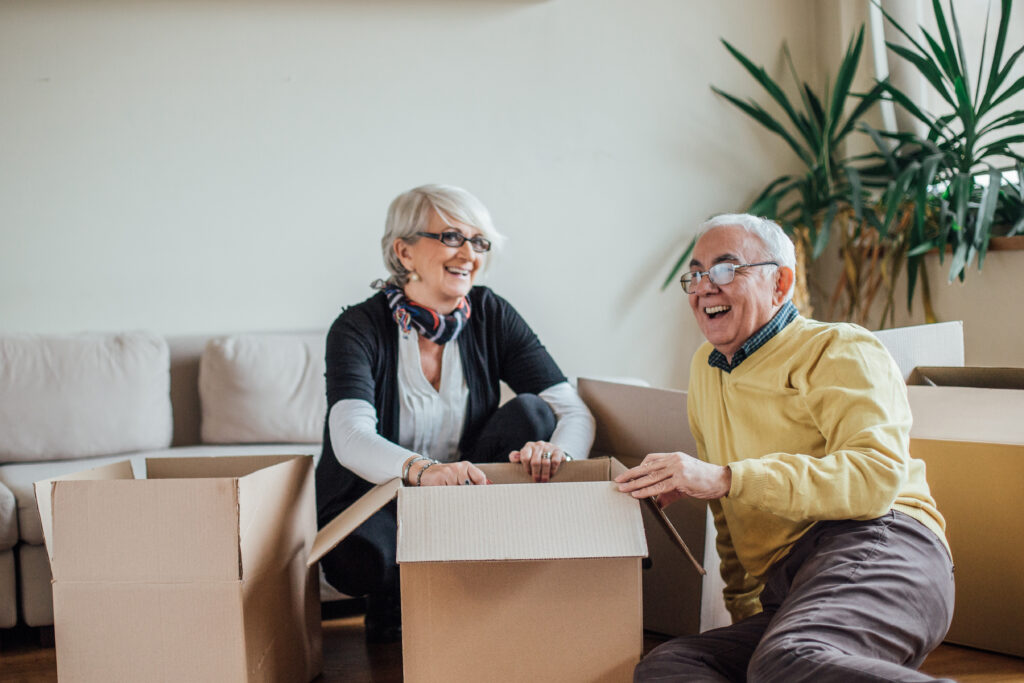 No matter your age, moving from one home to another is always a challenge. For seniors, especially those with limited mobility, moving is even more of an ordeal. As a practical matter, senior movers will need some form of assistance whether from family members, friends, or a company that offers senior moving services.
Not only do seniors have physical limitations when it comes to packing, loading, and transporting household goods, but there are also often psychological barriers to overcome. Many senior movers may be resistant to leaving the home they have lived in for years, or have a hard time downsizing their possessions. Working with a senior moving company can make all aspects of the relocation process easier by recognizing and catering to these specific sticking points. There are many types of companies that provide different levels of senior moving assistance.
Kinds of senior moving services
Labor-only services: Labor-only services are akin to traditional moving companies that load and unload items. Those that specialize in senior moving, however, will often provide discounts to seniors and have senior-friendly policies and customer service. Labor only services are ideal for independent seniors who are still capable of packing, unpacking, and planning a move on their own or with the help of supportive family members.
Senior move facilitation services: These are often provided by what are called senior move managers and include everything from scheduling, creating floor plans, hiring movers, downsizing assistance, and unpacking help. This concierge level of service is ideal for seniors who are limited in their mobility and do not have family members available to help complete the move. The goal of these services is to provide stress-free moving help for senior movers.
Local senior movers: Just like any moving company, senior moving services may only specialize in local moves, which are typically in-state moves within 50 miles of the origin. Even if you don't need the services of a company that specializes in seniors, many traditional moving companies offer a senior discount.
Long-distance senior movers: For relocating a senior to a new state or more than 50 miles from their home, you will need to look for a senior moving company that offers long-distance moves.  This is often necessary when a senior needs to be closer to family members that previously moved far from home. Many major interstate movers, such as Allied, have teams or programs that cater specifically to senior moving assistance.
Downsizing services: For seniors that have accumulated a lifetime of possessions they are hesitant to get rid of, working with a downsizing specialist can help. They help seniors figure out which items to keep, donate, or sell. Selling valuable items can also help defray the associated costs. Downsizing help is often included as part of a facilitated move, but can also be obtained separately.
What you should look for in a senior moving company
Remember that not all senior moving services are created equally. Different companies will offer different levels of service, so be sure to identify the specific needs of your senior before you begin vetting different companies for the job. Many professional moving companies may offer a senior discount, but that alone doesn't mean that they are adept at navigating the intricacies involved with providing trouble-free moving services for elderly persons.
To assure your senior loved one is in the most capable hands, look for individuals or companies that are designated as a Certified Relocation & Transition Specialist or a member of the National Association of Senior Move Managers. To obtain either certification, applicants must meet certain eligibility requirements that demonstrate a high level of competency when it comes to moving seniors successfully. They also must abide by certain ethical standards. In addition, you should always check for online reviews and referrals.
Don't forget the emotional aspect
Whether you are working with a senior move manager or helping a senior move on their own, it is important to remember that relocation is often a difficult transition for seniors. As we age we grow more set in our ways and routines, and a move to a new home is a major disruption. It's important to be patient and supportive through this process.
When moving a senior, it's also important to recognize the signs of transfer trauma. Also known as Relocation Stress Syndrome, this psychological response manifests in the form of confusion, irritability, anxiety, or depression. If you see these symptoms in your loved one, seek the help of a gerontologist. Gerontologists are specialists who study the effects of aging and can provide the support your senior family member needs to make the transition easier to handle.
The bottom line
When aging in place is not a viable option, moving a senior is often a difficult but necessary choice. Whatever level of help you need to facilitate a move, hiring a provider that specializes in senior moving services can make the process go more smoothly for all involved. For the best service look for companies that are certified by the industry organizations NASMM or CRTS. Moves can be especially hard on seniors, both physically and psychologically. Don't hesitate to seek outside help to ease the transition.
Frequently asked questions
Is container storage easier for helping seniors move?
Container storage is a good option for moving seniors as it allows for packing and unloading at a slower pace. Containers can be kept on-site as long as necessary, as opposed to moving trucks that must be returned within a short timeframe.
What is a senior move manager?
A senior move manager is a service provider that is accredited by the National Association of Senior Move Managers. Senior move managers must abide by certain ethical standards and provide a variety of concierge moving services to seniors including planning, supervision, and downsizing assistance.