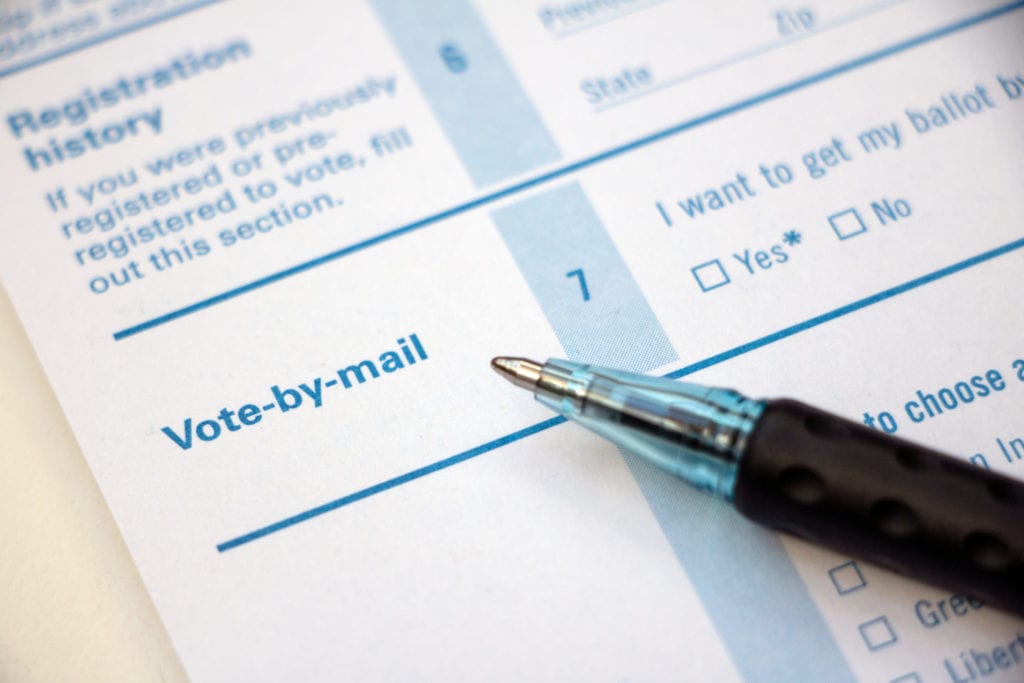 Due to the COVID-19 pandemic, the process of voting looked much different in 2020 than in years past. Nearly half of Americans sent in their votes by mail, rather than casting their ballot in person at a local polling place.
Voting by mail — also called absentee voting — is a new process for many people, but it's not a new concept. In fact, residents in Washington, Utah, Oregon, Hawaii, and Colorado vote by mail in every election. However, there are some hurdles to absentee voting. In many states, you'll have to make sure you register for mail-in voting before the November election.
The election is quickly approaching, and many people are wondering how to vote by mail. The process is very simple, but it's important to be prepared.
Apply for an absentee ballot
To vote by mail, the first step is to apply for an absentee ballot. Some states send residents an absentee ballot by default. If you live in a state that does not automatically provide an absentee ballot, you'll need to request one. As of May 2022, the states that automatically send a mail-in ballot to every resident include:
California
Colorado
Hawaii
Nevada
Oregon
Utah
Vermont
Washington
Additionally, Nebraska and North Dakota allow counties to choose to conduct elections by mail, so some residents may automatically get a ballot in the mail.
If you live in a state that does not automatically provide a mail-in vote ballot, you can apply for one online through your state's board of elections. Although the exact process is different in every state, here is an overview of the general process:
Make sure you're registered to vote in your state. If you've recently moved, you'll need to change your voter registration.
Visit your state's board of elections website.
Download and print the absentee ballot application online.
Fill out the application, double checking that your name, party affiliation, and voter address are correct.
Send back the application electronically, via mail, or deliver a hard copy in-person.
Wait for confirmation that your application has been received.
Know your absentee voting deadline
Although a majority of Americans are anticipated to be sending mail-in votes this year, there is still a deadline for submitting your ballot. In most states, mail-in votes must be received by Election Day — Tuesday, Nov. 8, 2022.
However, that doesn't mean you should wait until the last possible second to mail your ballot. Consider Election Day the last day you can vote, not the first. The USPS encourages all voters to mail back their ballot no later than one week before their state's deadline.

Mailing your ballot too close to Election Day means that your vote might not be counted. Only about half of the states accept absentee votes that are received after Election Day. If your ballot arrives after Election Day, there's a chance it won't be counted, making your vote essentially invalid.
How to vote by mail
Voting by mail is a new process for many Americans. However, it's pretty simple, especially if your state automatically provides an absentee ballot. If you're concerned about getting your vote in the mail on-time, don't worry—there are many different ways you can turn in your ballot. Here's how to vote by mail:
USPS collection box
The fastest and easiest way to submit your ballot is by dropping it off at a USPS blue collection box. The USPS recommends mailing your ballot with multiple stamps, or as First Class Mail, to avoid postage issues. If you can't find a collection box, you can schedule a pick up online with USPS, or put your ballot in with your outgoing mail.
In-person drop-off
The other option is to drop off your ballot in-person. You can hand-deliver your ballot at your local post office, which is the easiest option if you have questions about postage. You can also deliver your ballot to your county's election office, county clerk's office, or at a polling place during early voting or on Election Day. If you're concerned about your ballot getting delivered before Election Day, dropping it off at a physical location—like the clerk's office or a polling location—is your best option.
The bottom line
If you're wondering how to vote by mail, you're not alone. Voting by mail is very easy, but there's a few important things to know. First, request an absentee ballot from your state's department of elections at least 15 days before Election Day, and aim to mail it back no later than 10 days before the state's ballot deadline. You can either drop off your ballot at a USPS collection box, bring it to your local post office, deliver it to your local elections office, or drop it off at a polling location.
Frequently asked questions
If you live in a state that does not automatically provide absentee ballots, you can request one online. Visit your state's department of elections website, download the application, and mail it back to the address provided (usually your local office of elections or county clerk).

Every state allows absentee voting, but not every state allows voters to cast a mail-in ballot without a valid excuse for not being able to vote in-person. Currently, residents in Alabama, Arkansas, Connecticut, Delaware, Indiana, Kentucky, Louisiana, Massachusetts, Mississippi, Missouri, New Hampshire, New York, Puerto Rico, South Carolina, Tennessee, Texas, and West Virginia can only vote absentee if they have an approved excuse.

Unfortunately, there isn't any way to guarantee that your ballot will arrive on time if you send it via USPS, besides mailing it as early as possible. For extra assurance, you can always hand-deliver your ballot to your location office of election or a polling place where you can avoid the mail altogether.