I Can't Let it Go! Packing Tips for Pack Rats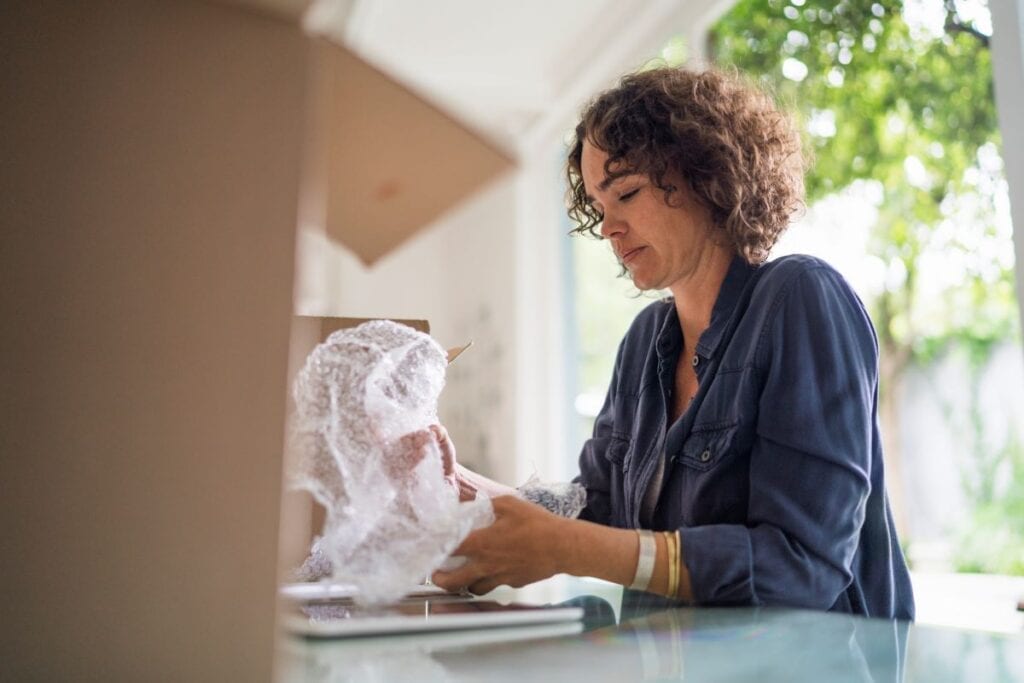 Moving is an excellent time to purge your house of items you no longer use-and who wants to pack any more stuff than you have to, anyway? But for the pack rat, letting go of things is a daunting process. Here's some helpful and practical insight from a professional organizer and counselor.
Be Curious, not Judgmental
Clutter can really stress you out, and if you're the spouse or partner of a pack rat, it may be hard to fathom why your significant other wants to keep a broken coffee maker or the unopened pasta maker they got six years ago. Counselor, William Schroeder, MA, LPC, Co-Director at Just Mind in Austin, Texas, says to approach the situation with curiosity, instead of shame or judgment. For example, what narrative built the position and what narrative would help to change it? "It helps to understand the history of how and why they struggle. This can also help you to identify key motivators," says Schroeder. That broken coffee maker is sentimental because it reminds your partner of her first apartment and memories of newly acquired independence.
Keep the Memories, Not the Item
After you know the history behind the object, move forward with a narrative towards change. Take the previously-mentioned coffee pot, for example. Would it help to take a picture to preserve the memory? And the unopened pasta maker? It turns out your partner would be happy making some money on it, so list it on Craigslist. Schroeder suggests it may be helpful to pause and share (or listen) to the story behind the item while you're packing it up. It gives the process some closure before you donate, sell or toss the item.
Map out your New Floor Plan
"Think about your future space and what will fit," says organizing expert Rachel Rosenthal. Will your current furniture fit into the new home? If you're downsizing, where will the extra household goods and furniture go? Do you have a place to store the goods or can you donate or sell those items? You'll also save on moving costs if you're not packing up things that you will never use again.
Prepare for Success
Time to roll up your sleeves and get the process started. Rosenthal recommends dedicating an area of the home or a room as a "declutter zone." Use durable bags for the items you are tossing. "Once the bag is full, make sure to close it so that you are not tempted to go back through and second-guess your decision," advises Rosenthal.
One Room at a Time
Imagine one closet filled to the brim with stuff, then multiply that by five, and you can see how it may be easier to toss everything into a box, label it "bedroom closet" and be done with it. But you'll eventually have to open those boxes and find a home for their contents in the new house. To make the process less intimidating, Rosenthal suggests doing one room at a time (here's our room-by-room guide). "Touch each item in that room to determine how it should be categorized. Remember, while the item might not take up much room in a box, you will eventually have to find a place for it in your new home," Rosenthal says.
Sort and Purge
Sorting and purging your entire house isn't a task you're likely to accomplish in one weekend. Start as early as you can before moving day and focus on one or two rooms each weekend. Don't forget to schedule time for the garage, attic, basement, and patio. Rosenthal helps her clients with sorting and purging by categorizing the items into four categories: keep, donate, consign and trash. For the donation items, schedule a pick-up or drop off the items immediately so you won't have extra boxes and bags taking up space in your house.
The Dreaded Miscellaneous Box
OK, so you made a valiant effort at categorizing the boxes, but you still have that miscellaneous pile taunting you in the corner. Technically, it's in the "keep" category, but it has grown every weekend. A jacket with a broken zipper (you're going to get it fixed), a missing game piece (pretty sure your neighbor has the game board) and a remote to something you're sure you still have. "When you pack a miscellaneous box, it likely will remain a miscellaneous box after your move," warns Rosenthal. "Take the time to categorize items and keep like with like when it comes to packing a box." If you can't muster up the motivation to do that, then at least inventory what is inside the box and tape it to the box or place a list inside the box.
And finally, relax! All your efforts will pay off when you unload at your new home.