Need a Health Certificate for Dogs When Moving?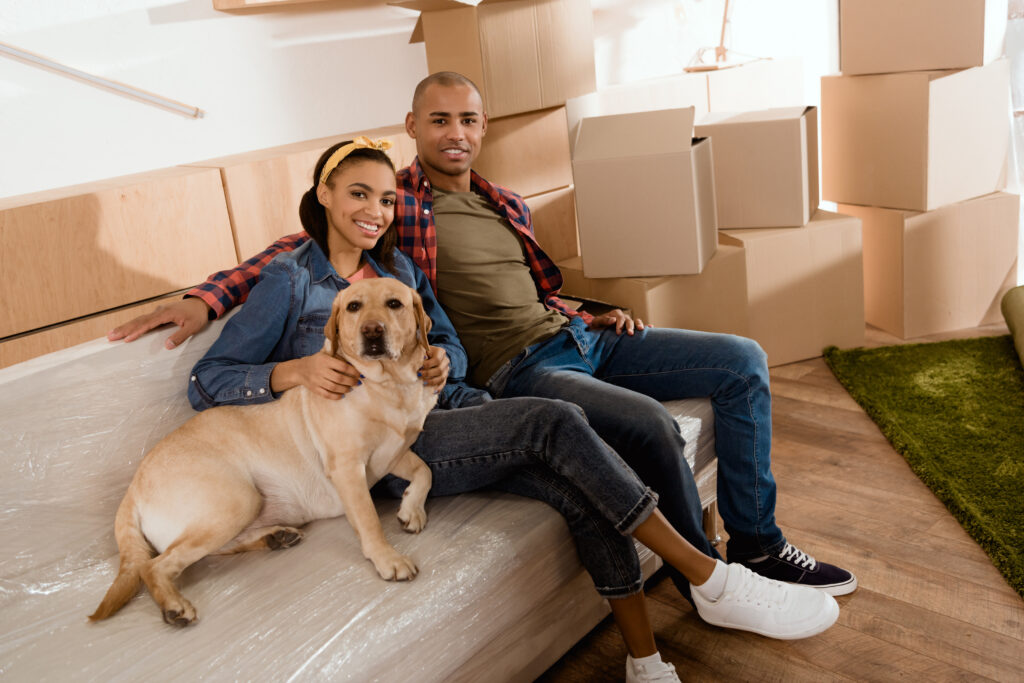 So you're moving to a new home — congrats! Before you make the big move and get yourself and your dog all settled in, it's important to make sure you're following the proper guidelines for bringing your dog to the new place, especially if it's a new state. Chances are you'll need a health certificate for dogs from your vet that basically tells the state that your pup is vaccinated, healthy, and not carrying any diseases. Ahead, we'll break down everything you need to know about getting that health certificate for a dog and advise on any situations where you may not need it.
Rules for health certificates for dogs when moving
If you're moving with your pet, you might need some paperwork. However, the rules are going to be different in different situations. To start, if you're doing a small-scale move, like within your town or county, you shouldn't need any kind of paperwork. When your move is bigger than that, though, that's when you'll start getting into more strict regulations for moving your dog.
If you're moving to a new state, the first thing you need to do is check the guidelines of the state you're moving into. You can check through the U.S. Department of Agriculture, which will link you to each specific state's regulations. And while yes, this site does provide information largely for livestock, it will also help you navigate bringing a dog across state lines as well.
In many cases, you'll need to get a vet certification to bring with you when you move. For example, if you're moving into New York, the state requires a Certificate of Veterinary Inspection to be filed with the state within 30 days of your move. This paperwork certifies to the state that your dog has "no clinical evidence of infectious or communicable disease, including external parasites and fungi, and that to the best of the veterinarian's knowledge, the dog or cat has not recently been exposed to such infectious or communicable disease."
Some states don't require this paperwork, though, and instead just want to see proof of a rabies vaccination. If you're flying your dog into your new home state, though, you will most likely need the CVI to get on the plane. Check with your airline ahead of time to be sure, as the regulations may vary, but all major U.S. airlines require valid vet paperwork for your dog to fly, according to the American Veterinary Medical Association.
On the off chance you're making an international move, there are steeper requirements for moving your dog. The USDA can also assist with that, but each country (like each U.S. state) has its own health requirements for animals. We suggest researching this well in advance in case you run into any hiccups with transporting your dog or need to get any extra vaccinations.
How to get a health certificate for dogs
The process for getting a health certificate for puppies or dogs is fairly simple, and your vet can help you navigate the process. Just remember to start this process well in advance of your move since it will require a few phone calls and a vet visit. Here's what you need to do:
Look up your destination: Check with the USDA to find out what the regulations are in your destination state. The USDA's website provides links to every state's vet and livestock rules.
Check with your vet: If your new state requires a health certificate for dogs, it's time to call your vet. Let your vet know you're planning to move to a new state, and the state requires a CVI. Your vet will know what that is, but you need to make sure you're getting all the info from your current vet that your new state will need.
Contact a vet or the state's vet office in your destination: Now you need to make sure you're bringing your new state the proper information when you arrive. The state's veterinary organization can be helpful, or if you want to pinpoint a vet in your new home area, you can do that as well. These vets are used to people moving in and out, so they know exactly what to provide you with so you're following proper protocol.
Get your dog checked out: Once you've got a handle on exactly what you need, get your dog checked at the vet so your doctor can certify that he's healthy to make the move. Your vet will give you the CVI that you'll need in your new state.
Turn in the CVI after the move: Make sure you turn the paperwork in to the new state once you've arrived to avoid any fees.
If your state doesn't require the CVI: Some states don't require a CVI but still require verification of vaccinations, so make sure you have records of those. Some states will allow you time to get the vaccinations after you've moved in, but it's usually only about 30 days.
The bottom line
The process for moving with your dog really isn't terribly tricky, it just requires a little bit of research and possibly a trip to the vet. The most important thing to do, to start, is to check the guidelines of wherever you're moving to. If it's another state that requires a health certificate for dogs, go ahead and give your vet a call and they'll be glad to assist you.
Frequently asked questions
Q:
Does my pet need a health certificate to fly?
A:
Yes, your dog will almost certainly need a health certificate for dogs to fly. Check with your airline for the exact timeline and requirements well in advance of your flight.
Q:
How long is a dog's health certificate valid?
A:
A health certificate is typically valid for 30 days.
Q:
How do I get a USDA health certificate for my dog?
A:
Contact your local vet first to start the health certificate process and then check with a vet at your destination to ensure you're following proper protocol.