There's an App for That: 6 Virtual Ways to Turn Your Decor Dreams into Reality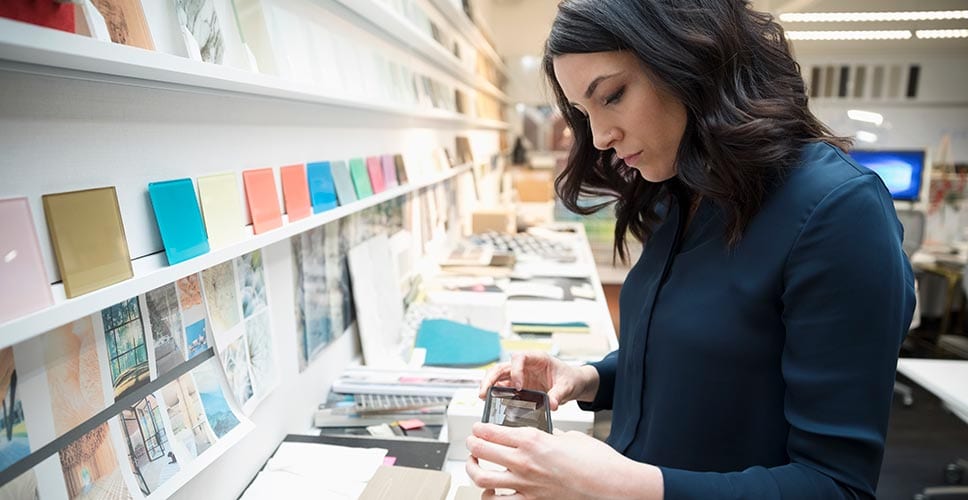 With moving day near, you're inundated with decorative visions of your new digs. You're so inspired, in fact, that your brain has a few too many tabs open. Ready to close some out?
Technology at your fingertips is ready to assist. Augmented reality allows you to overlay computer-generated graphics (such as that sofa you've been eyeing) onto real-life viewpoints.
These mobile apps will help you virtually outline your vision before you hit the ground aimlessly running-and most of them are free. Download away, then dare to dream.
Bring Your Gallery Wall Goals to Life
We all love a good gallery wall-but the decorative road to choosing the right art, sizing and positioning can leave your walls looking a little like a colander. The WallARy app allows you to virtually perfect your gallery wall before you create a single nail hole. Upload pictures and screenshots of potential art, then resize and reposition to your heart's desire. Stumped on how to lay out your gallery? WallARy also has templates with gallery arrangements that let you simply plug in your own pictures and designs. P.S.-it's free.
Use the Power in Your Pocket
You've had a tape measure in your pocket all along-you just didn't realize it was on your phone. AirMeasure is a mobile tape measure that's at the ready 24/7. With a $0.99 download, you can measure items, trace room outlines, create potential floor plans, draw or annotate things in 3D, capture the distance between two points, locate wall studs, laser level and align, and much more. Whether you use the app to measure curtain height or your significant other (it can measure people, so there's that), it'll come in handy.
Give Color to Paint that Doesn't Disappoint
We've all been there. Several backbreaking hours of dousing a room in a paint color only to find out you… hate it. Sherwin William's free ColorSnap Visualizer app takes the mystery (or horror) out of painting. Use the "Paint a Scene" feature to envision how specific colors will look on your new walls-and the "Match a Photo" to identify real-life paint colors from elements you love. With 1,500 Sherwin Williams paint colors to choose from, you're sure to find one that'll bring vibrance to your new space. No surprise here!
Try It All Before You Buy It All
It's easy to get carried away with all the furniture and decor you've been ogling online-but validating the fact you truly need it, can afford it and have an actual place to put it? Not so much. Enter Homestyler-a free app where you can turn your ideas into a 3D "design playground." Use it to visualize decor and furniture (all of which can be purchased if you fall in love) in existing room templates or within uploaded photos. You'll be able to virtually clear out existing items in your photos, hang light fixtures, and combine different design elements to see how they complement each other before you buy. Guesswork? Gone.
Lean on the Design Community-For Free
Even the most mobile app-equipped can feel like they're in a design dilemma. If the move has you strapped for cash and/or inspiration, lean on the kind, talented design community of the Decorator app. Here, you'll be able to post pictures of your space, communicate your vision and budget, then sit back and relax. Await personalized advice, product suggestions (of 2,000 curated and available-for-purchase design products from Wayfair, Apt2B, and One Kings Lane) and customized room renderings from others-for free!
Find Designs You Don't Have to Imagine
It's not a mobile app per se, but we couldn't bear to leave this innovative service out of the roundup. If your home's awaiting a design identity, but you just can't conjure up a vision, Modsy has your back. This online service makes professional interior design help a reality-virtually. Its simplified, affordable (starting at just $59 a room), process delivers you "designs you don't have to imagine" from an expert designer. You'll be provided several design options, as well as links to where you can purchase all the items-often offered at a discount from their relationships with high-quality decor and furniture brands.