Fresh, Modern Table Setting Ideas to Wow Your Guests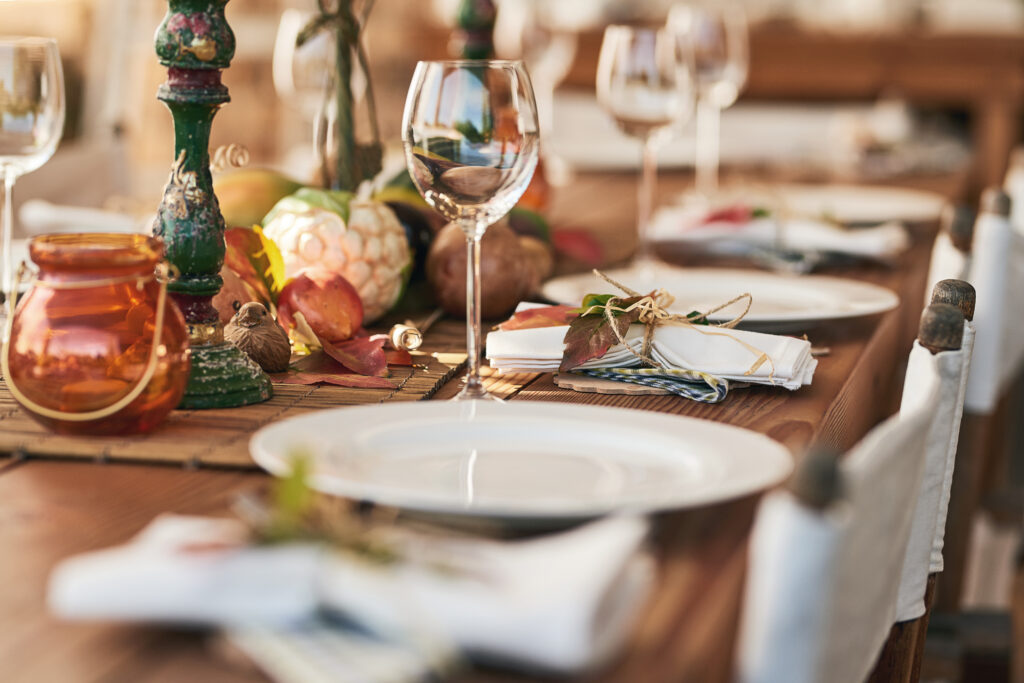 You've taken inspiration from our decorating ideas for creating a luxurious bed or a warm, inviting living room to give your home a fresh, modern vibe. Now we're here to share tips on giving your table a fresh, modern look with the best table setting ideas.Whether you set your table only on special occasions (such as holiday dinner parties) or leave your dining table beautifully set at all times, take inspiration from our modern table setting ideas to give your dining space the perfect finishing touch.Table settings can be used in more places than just your dining table. Place them on your kitchen counter, outdoor patio table or breakfast bar. You can even use them for a special meal around the coffee table.We have some concepts and tips that will make setting your table simple and stylish. The secret to an eye-catching table setting is the layers; layering a combination of texture, color and accessories creates a rich, beautiful tablescape.
Here are five categories to help you get started on your table setting ideas.
Shop These Products Now: Dinnerware – Wine Glasses
1. China and Glasses
You don't have to spend a fortune on plates or glasses to create an elegant table. Accessorized the right way, your table settings will look like a million bucks. There's no need to match; feel free to go with a mismatched theme. Some ways to dress up your china and glasses:
Stack your china. Start with a dinner plate, follow with a salad plate and top with a bowl.
Use chargers to dress up your plates. A charger is a hybrid between a placemat and a plate. It frames the plate and is just large enough to create a nice frame or border around it. You can be creative with chargers; cut them out of decorative paper, or use simple wreaths or leaves under your plate.
Group drinking glasses. Having more than one glass per setting adds a stylized look to your table. Try a grouping of wine glasses and a water tumbler in each setting.
Get creative with silverware. Tie the silverware together with twine or ribbon, or place it artfully in your napkin to add a special touch.
Shop These Products Now: Plates – Cutlery Set
2. Table Linens
Linens will set your table apart from the ordinary. Luckily, there is a huge variety of stylish, affordable table linen choices. Keep a box or drawer filled with the different linens listed below in colors, textures and patterns that mix and match. Some holiday-themed linens are also worth keeping in your linen box to add some holiday fun to your table settings. Essentials include:
Table runners. A runner is the most contemporary way to dress a table, especially if you don't want to cover up a beautiful wood or glass tabletop with a tablecloth. Table runners are also versatile; you can layer them over a tablecloth, place them sideways to use as a shared placed setting with the person seated in front of you, or arrange a simple runner with candles.
Tablecloths. A tablecloth is optional, but worth adding when you're executing a special color theme or want to cover your table.
Napkins. Don't skimp on cloth napkins; they add a nice touch to your dining table. Consider them an important part of your table design. If the idea of having to wash napkins after a dinner is too much, pick up some disposable, banquet-style paper napkins. They come in lots of bold colors and fun prints.
Placemats. Placemats create a stylish space for each place setting. Try them in woven vinyl or treated cotton; both types will clean up easily with a damp rag. You don't have to use rectangular placemats; square ones give a table a contemporary look, while round placemats break up an angular tablescape.
Shop These Products Now: Wine Glasses – Dinnerware
3. Centerpieces
Bring out the beauty of your table settings by using a centerpiece to create a focal point. The centerpiece will unify and pump up the volume of the table's theme. Be creative, but remember to keep it low and narrow; tall centerpieces make it hard to see people across the table, and large ones can crowd your place settings.A good rule of thumb is that you'll need a minimum of 14 inches on each side of the centerpiece for place settings. Subtract at least 28 inches from the width of your table; that's how much space is left for your centerpiece area. Some centerpiece ideas include:
Flowers
Twigs
Candleholders
Crystals or river rocks
Shop These Products Now: Pillar Candle – Glass Flower Pots
4. Decorative Items
These will give your table a personal touch like no other. Use items that have a common theme or a personal meaning throughout the table and place settings. Some ideas for decorative items include:
Objects such as bird figurines or small, colorful vases
Unusual napkin rings
Holiday-related items such as fall leaves, pumpkins, reindeer or small Christmas trees
Place setting name holders
Small bundles of flowers or herbs for each place setting
Shop These Products Now: Flower Pots – Glass Candle Holder
5. Candles
Candles are an easy way to make a bold table statement; that's why we've given them their own category. Use plenty of candles on your dining table. They'll cast a warm glow and create sparkle if strategically placed near shiny objects.Choose unscented candles to accompany a meal; scented candles can clash with the aroma of the food. If candles are not practical, use battery-operated candles or strings of light on your table.
Shop These Products Now: Dinner Mats – Dinnerware
Table settings aren't exclusive to a dining table. You can also set a kitchen counter or coffee table for a special meal or morning breakfast. Take inspiration from our table setting ideas and make your next dinner party memorable. Be bold and express yourself, and you can't go wrong.