Bedding Ideas for a Luxurious, Hotel-Like Bed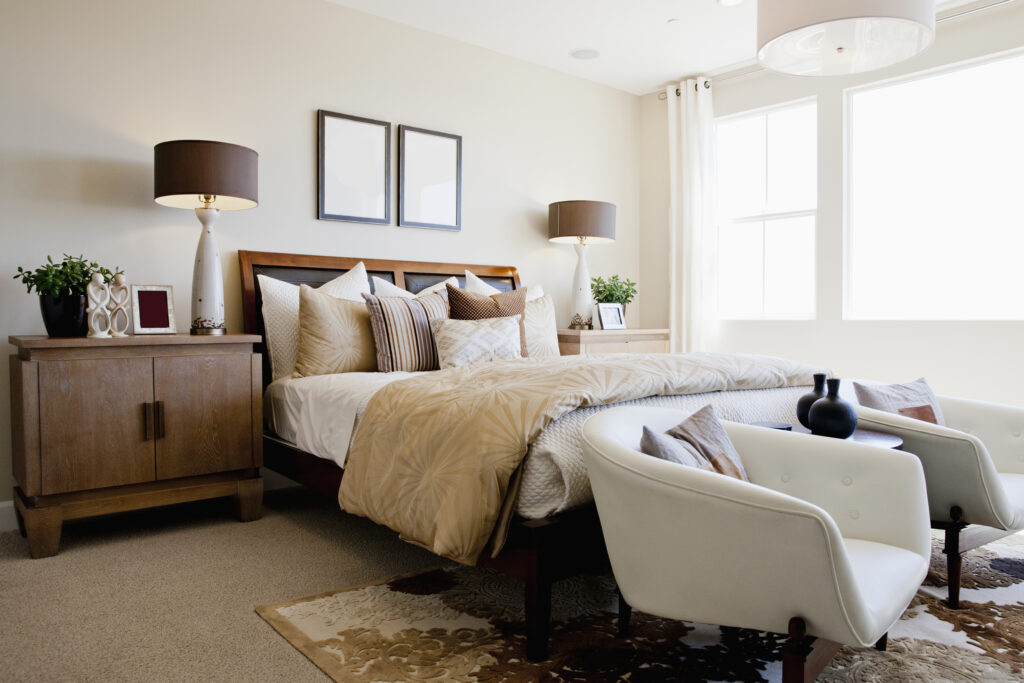 We spend one third of our lives sleeping and countless hours laying in bed, so why not make it a five-star luxury experience? We want to share bedding ideas with you to make your bed comfortable, modern and beautiful, just like a luxury hotel bed.When we looked at what experts uncovered on what makes a bed comfortable and inviting, we found some surprising and helpful tips on how to create a beautiful sleeping space filled with good bedding ideas. All the discoveries led to one main concept: The best bedding ideas address all five of the bed's layers.
Getting started
Shop These Products Now: Comforter – Throw Pillow CoversYour bedding is the perfect place to infuse color, pattern and luxury into your bedroom. When thinking about bedding ideas for your bedroom, address every layer of the bed from mattress to top-of-the-bed adornment.One of the most important components of the bed decorating process is determining your color strategy. Layer classic neutrals (like white) for your sheets, combined with monochromatic texture, bold colors or contemporary patterns for the accent pieces that include:–Decorative throw pillows–Duvet covers–Throw blanketsFor a modern bedroom that highlights your bedding, tie in your accent color theme with your bedroom's headboard, a wallpaper wall behind the bed or bold, large wall art.
Shop These Products Now: Blanket – Wall MuralChoosing classic colors for the investment pieces while adding decorative accent items in bold colors and patterns is the secret to a well-designed bed that is versatile all year. With this design approach to your bedding, you can change the look of your bedroom quickly and affordably as the season or mood changes.For example, you may want to have a white bed foundation with a selection of tropical blue accents in the summer and warm rich accents including a faux fur throw for the winter like the images below.
Shop These Products Now: Comfy Blanket – Pillow
Here are bedding ideas and tips for all five bed layers, so you can sleep in style luxuriously:
Layer 1: Mattress and mattress toppers
A good mattress is the foundation to a good's night sleep. You can upgrade a mattress further with a good layer below the sheets to give a bed a fluffy, inviting look and feel. Add a feather bed or memory foam mattress pad under your sheets. Either option will give your bed that marshmallow-like layer that invites you to dive into your bed.
Shop These Products Now: Bed Mattress – Throw Pillow Covers
Layer 2: Sheets
Hotels spend a lot of time and money studying what makes a bed comfortable. The Hilton, Hyatt and Marriott have all discovered one secret to an alluring bed: 300-count cotton sheets. Surprisingly, consumers find that 300 count sheets are just as comfortable as some of the higher thread count sheets available. The good news for you is that 300-count sheets are often cheaper than higher thread counts.But there's more to the sheet secret than thread count. Shortly after the Westin Hotel brand introduced the Heavenly Bed, Westin's internal survey of overall guest loyalty and satisfaction increased dramatically, and these satisfaction scores have continued to increase over the years. Westin customers love the white, fluffy Heavenly Bed.The takeaway from the research these hotels have invested in is to invest in quality, 300-count white sheets as your staple.
Layer 3: Pillows
Shop These Products Now: Sleep Pillows – Throw Blanket
Sleep PillowsPillows are important to a bed for comfort and design. But there needs to be a balance between too few and being swallowed up by too many pillows. The Sleep Comfortably Foundation suggests two regular-sized sleep pillows for maximum comfort.The Four Seasons Hotel is famous for its luxurious sleep pillows made of down. But if you suffer from allergies to down or feathers, there are down alternatives that are hypoallergenic. Select the pillow you find most comfortable and have two per person.Decorative PillowsOnce you've chosen the perfect sleep pillow, it's time to accessorize the bed with decorative pillows. This is your opportunity to add a bold or unique touch to your bed. Choose a favorite pattern and color that enhances your bedroom design and add one of the following decorative pillow combinations to your bed:–A large bolster, the length of the bed–A pair of Euro shams (25×25 square pillows)–A grouping of 16" to 20" decorative pillows–One or two smaller rectangular bolsters, the length of a standard sleep pillow
Shop These Products Now: Long Pillow – Bed Sheet
Layer 4: Bed cover or comforter
A down comforter is a practical and luxurious bed cover choice.  Down is fluffy and perfectly insulating during summer or winter, making the investment in down feathers worthwhile. As we mentioned, if you have allergies to down, there are plenty of hypoallergenic down comforter alternatives on the market.Personalize your comforter with a quality duvet cover. And for warmer months where you'd rather not have the extra insulating layer, go with a light quilt instead of a down comforter.
Layer 5: Throw Blanket
Shop These Products Now: Modern Comforter – Throw Pillow Covers
A throw blanket has become a popular addition to dressing up your bed. It's a great extra layer when you're feeling cold, while adding a contemporary design element to finish your bed. Fold and place your throw blanket as a runner or stripe for a designer look.When selecting the finishing touches of throw blanket and decorative pillows, choose them with each other in mind. They should be bold, coordinate with each other and serve as the final touches to your beautifulnd luxurious hotel-like bed.