Creative Wall Art Ideas to Breathe New Life Into Your Home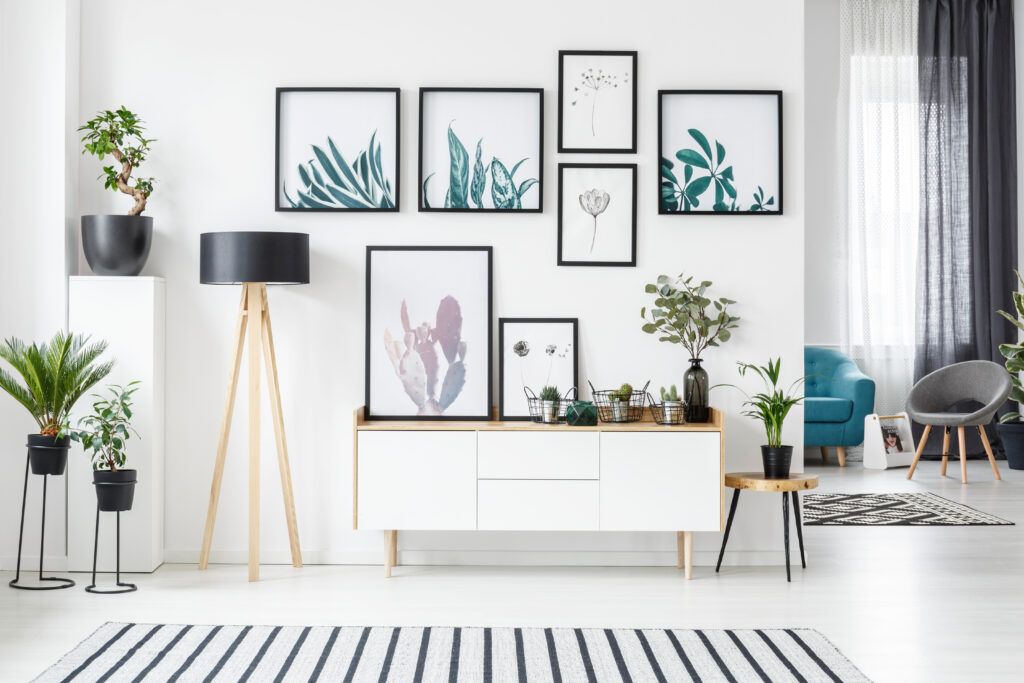 Looking for new ways to freshen up your space? These wall art ideas offer the biggest impact in a room. When designing a home's interiors, many people focus on furniture, accessories and rugs. But the walls are often the largest piece of real estate in a room. Give your place personality by getting creative with your wall art.
The latest trends in wall art involve large, powerful pieces, but they don't have to be unwieldy. A collection of smaller pieces arranged in triptych fashion or as a gallery wall can create the same effect as a large piece.
You don't have to spend a fortune on art for your walls. Make creative use of found objects to create a one-of-a-kind piece of wall art for any room; paint the wall a bold color to make your art pop.
Here are some wall art ideas for any room.
Gallery Wall Art
Hang a grouping of your favorite pieces and objects on a bare wall for the ultimate in wall chic. Gallery walls are a high-design, personalized way to give your walls new life. Not sure how? Check out our post on the art of hanging a gallery wall; it has lots of ideas that go beyond framed photos.
Dimensional Wall Art
Try using different materials and elements as wall-mounted sculptures to add some shine and elegance. The latest on-trend tones to update your room's decor involve a combination of silver and gold. Try hanging metal wall sculptures in unexpected ways, such as angled or freeform.
Bold Wall Art
The hottest look in wall art involves large artwork. Hang an oversized canvas on a main wall to create maximum visual impact. Use large, bold art as a focal point in the room. Tie in other room accents to the colors in the artwork to achieve a pulled-together look.
Decal Wall Art
A huge variety of wall decals and murals is available; you can also design one yourself, or order a print of some of your personal images or work. If you are renting your place or just want something less permanent, many of the latest decals are removable.
Lighting Wall Art
Try hanging a neon sign for a contemporary look, or use marquis-style letters to put a word or sentence in lights.
Creative DIY Wall Art
Some of the best wall art ideas are the homemade ones. The blog A Beautiful Mess offers a tutorial on creating wall art like the one in the image above, which uses paint card samples from a home improvement store. Don't be afraid to repurpose objects or creatively use everyday items as wall art.
Wallpaper Wall Art
Wallpaper is a great way to add pop to your walls. To use it as wall art, paper only one main wall with a bold pattern and color. Alternatively, use wallpaper swatches creatively by framing them and hanging them on the wall. If you're renting, you'll be glad to hear that many types of removable wallpaper are available.
Don't be afraid to be bold with your wall art! Creative and unusual art will add the perfect design touch to your space while reflecting your taste and personality.