Don't Hide Those Concrete Walls! Use Them in Your Home's Interior Design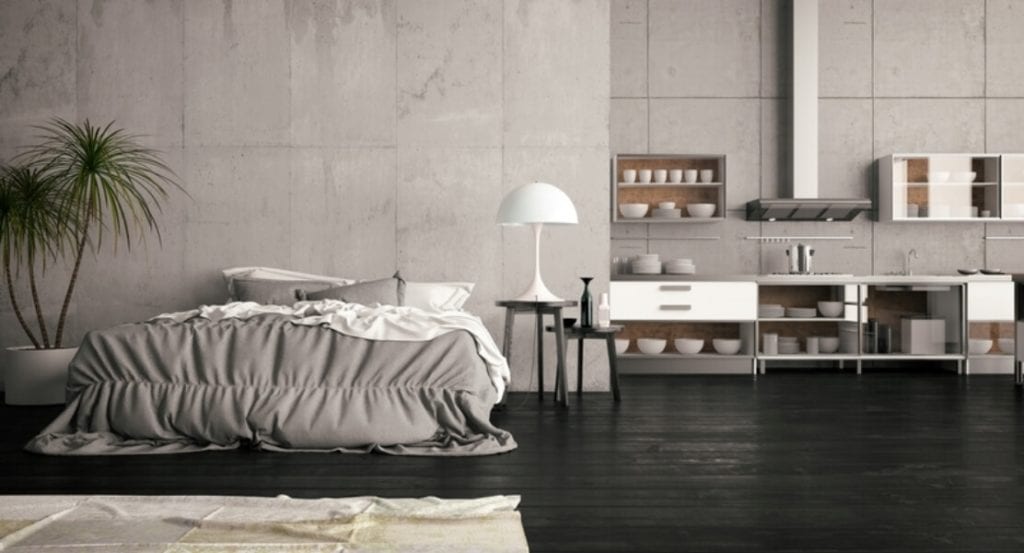 Few materials are as strong as concrete. According to the Cement Sustainability Initiative (CSI), concrete is the most used man-made material in the world. It's used more frequently than wood, steel and other building materials. In residential settings, concrete usually isn't exposed – except, perhaps, in a basement or garage. However, homeowners are starting to embrace the raw beauty of concrete walls in various applications.
Shop These Products Now: Indoor Plants – Table Lamp
There are several ways to use concrete walls in industrial designs. "Concrete comes in a variety of colors and finishes. These start from a very smooth and almost reflective surface, which is akin to Tadao Ando's masterpieces, through to the brutalist porous concrete which you might find in underground car parks," explains Michael Schienke, Director and Chartered Architect at VORBILD Architecture in London. "For interior applications, the more smooth or gently porous finishes are most suitable," he adds. "The color can be changed by adding pigments or changing the mixture ratio of the original ingredients."
Schienke designed the concrete bathroom in the photos immediately above and below. "In this penthouse apartment in a converted church, concrete-clad bathrooms are on both sides of the new kitchen," Schienke says. "The fully lit ceiling is made of plexiglass panels, and the walls and flooring are made of real concrete panels."
"We have a few successful projects that involved polished concrete walls and floors in bathrooms," Schienke says. "You install them just like marble, on reinforced walls, and as it's a natural material, it needs to be sealed," he explains. "They are of a timeless beauty, yet their appearance becomes that of a warm background, very stylish and sophisticated."
Shop These Products Now: Barn Door – Wallpaper
Concrete is also a strong material, which means you won't have to worry about decay or corrosion. It's also non-combustible, which makes it a popular choice for fireplace surrounds. In addition, concrete is a sustainable material. According to CSI, concrete walls (and floors) reduce temperature swings by slowing the passage of heat moving through the structure. And this can, in turn, reduce your heating and cooling costs. Also, concrete is one of the most energy-efficient materials to produce, using significantly less energy than aluminum, stainless steel, steel, glass, timber and brick.
Will Concrete Walls Help or Hurt Resale Value?
Shop These Products Now: Sectional Sofa – Tripod Floor Lamp
John Manning, Manager Broker at RE/MAX on Market in Seattle, WA, believes that the resale value factor will depend on how and where the concrete is used. "Bare concrete is often used as a feature in ultra-modern or industrial style architecture," he says. "Up here in Seattle, we value cozy and warm in winter, so we're not fans of bare concrete."However, when concrete is properly applied, he believes that it can work. "There are many visually appealing finishes and color treatments that can be applied to concrete, and modern insulation methods allow the use of concrete with great visual appeal."
Shop These Products Now: Glass Coffee Table – Area Rug
Patrick Garrett, Broker/Realtor at H&H Realty in Trussville, AL, doesn't think his buyers would necessarily be impressed with concrete walls. "In my opinion, concrete walls are a unique architectural feature that would only appeal to the eclectic homebuyer," he says. "I've seen a few homes with concrete countertops but, again, these homes only appeal to homebuyers seeking unique or uncommon decor."
Alternatives to Real Concrete
Shop These Products Now: Floor Lamp – Side Table
If you love the look of concrete but you're not sure if you want to commit to a concrete wall, there are several other options that you can try.Concreate makes concrete panels in a variety of colors, including natural gray, metal gray and bronze gray. The panels only weigh 1.3 pounds per square foot and are 1/8" thick.  Concreate panels can be applied to drywall, plywood, cement board and concrete.ConcreteWall wallpaper is another option to consider. Made of non-woven vinyl, the wallpaper is scratch resistant and can be cleaned by washing it with a soft cloth.