Hate That Brick Fireplace? 12 Ways to Make It Look Better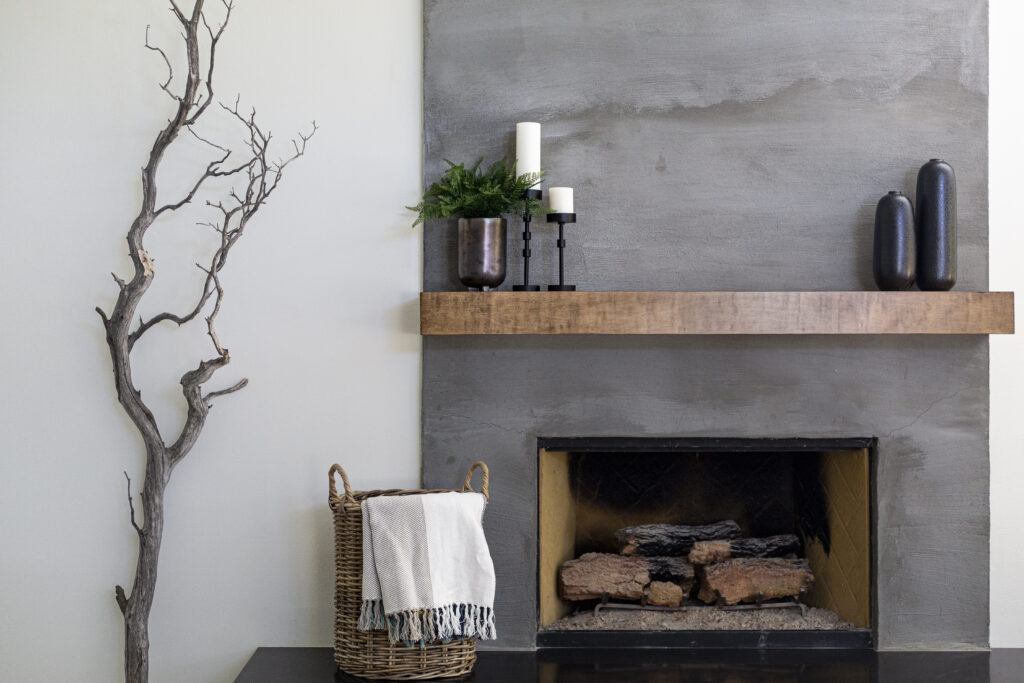 Your brick fireplace is a dependable source of heat and, if it's wood-burning, also helps keep your heating costs low. But the outdated design may have become an eyesore, and years of soot can make it look even worse. We found several ways to make your brick fireplace look better – much, much better.
Taco quartz tile
One way to update your fireplace is by covering it with tile. "Because tile requires a smooth surface, though, and brick is anything but, you will need to use a cement backer board," advises J.B. Sassano, president of Mr. Handyman. "This handy invention allows you to skip the torturous task of adding layers of mortar to create a level surface on which the tile can attach," he tells Freshome. "Instead, you attach the tile to the board and the board to the fireplace."
Porcelain tile
Shayla Copas of Shayla Copas Interiors in Little Rock, AK tells Freshome that floor-to-ceiling, large, textured tile surrounding a fireplace wall is trending. The design brings the outdoors inside.
Waterfall
Mike Nutter of Ply Gem recommends adding a stone veneer to your fireplace. Some stone veneer products have an interlocking system that doesn't require mortar. Also, he says stone veneer is lighter and less expensive. "When compared to real stone, stone veneer is up to half the weight, creating an easier installation process." Regarding cost, Nutter explains, "Stone veneer can vary in price from $6 to $9 per square foot, compared to natural stone cladding, which can cost $15 to $30 per square foot."
Stone
The light colored slab stone in this fireplace contrasts the deep grey color on the adjacent walls and ties all of the other grey tones together. Stone slabs like this one are available in marble, granite, limestone, marble, quartz, quartzite and onyx.
Stacked stone/stacked stone veneer
Shop These Products Now: Tripod Floor Lamp – Comfort Chair – Stacked Stone TilesNothing beats the look of a stacked stone fireplace, but a stacked stone veneer is easy to install and less expensive. And it's hard to tell the difference between the two.
Eco-friendly
Kiss your brick fireplace goodbye with this Ecosmart fireplace that uses bioethanol and is environmentally friendly. It produces no smoke and does not need a vent. Cleaning involves wiping it down with a damp cloth.
Concrete
A concrete fireplace surround fits well in this contemporary home. In addition to being a composite material, concrete can also add color. Concrete fireplaces are available in colors including limestone, taupe, pewter, graphite, dusk, charcoal and white linen.
Hot-rolled steel
In this contemporary design, the hot-rolled steel fireplace with black steel rivets creates an industrial vibe and makes a dramatic statement.
Paint
Issabel Williams, a crew member at Fantastic Services in London, recommends paint and art to update your fireplace. "You can give your plain brick fireplace a modern rustic makeover if you paint it white," she tells Freshome. Williams also recommends using the space above the fireplace to hang a painting.
Wood mantel with small tiles
"A wood mantel and substantial corbels can add a sense of warmth and provide visual separation between the fireplace's front and the upper wall," Williams says.
Floor-to-ceiling mantel
Williams also recommends extending the woodwork up to the ceiling. The black and white contrast works well in the photo above.
Mixed materials
Can't choose just one material? You don't have to with this fireplace that combines stone, tile and stainless steel, which work well against the warm, natural colors in the room.
In this modern home, polished concrete is used for the main fireplace hearth. The wall panel mantel is made of polished concrete strips, with wood above and below the fireplace.What are some of your favorite modern fireplace ideas?