10 Modern Micro-Apartments for Living Large in Big Cities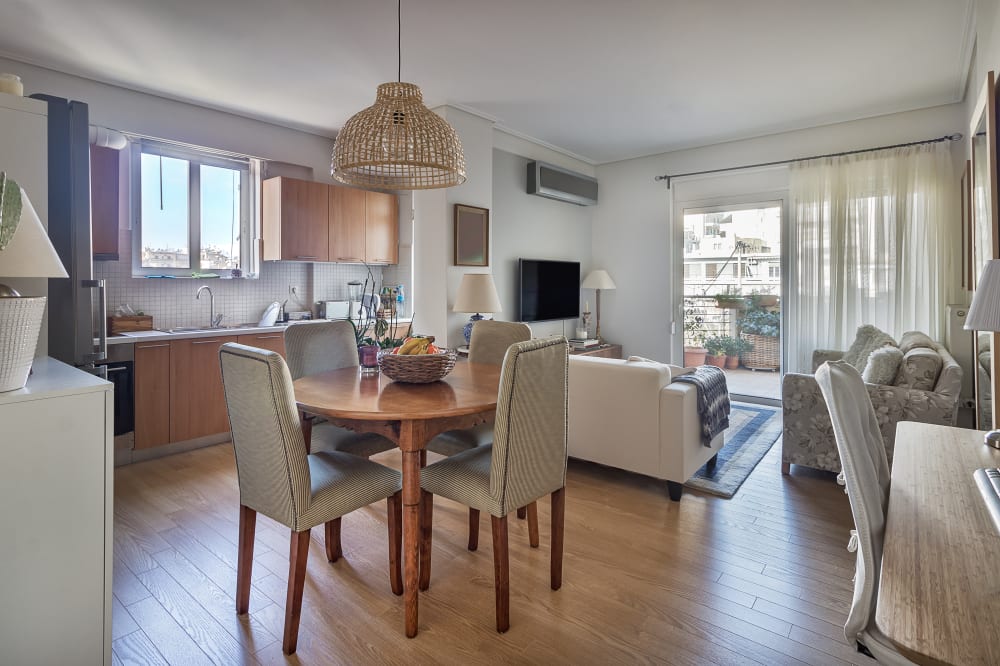 The micro-apartment. It's real estate's newest buzzword. At this point, we all know about the revolutionary "tiny house movement". Now, city dwellers are getting a taste of the tiny lifestyle in some impressive modern apartments. These new developments, smart spaces around 400 square feet, are rising in popularity as young professionals seek the best locations and luxury amenities. Unlike the tiny house movement, where a brand new tiny house can cost less than a typical down payment on a full-size home, micro living isn't always about saving money. In hot real estate markets, such as Boston and San Francisco, dollar per square foot doesn't actually price much lower than apartments that aren't made to be micro. But for millennials with money, the value of living with less goes far beyond the cost of rent.
Shop These Products Now: Throw Blanket – Comforter
Does living small have to be the opposite of living large? These apartments don't seem to suggest that is the case. From NYC to LA, we found our favorite new developments in ten cities across America that have us thinking about scaling down in style.
10 Micro-Apartments Worth Checking Out:
Shop These Products Now: Utensil Holder – Microwave Oven
New York City's Carmel Place
Smallest unit size: 264 sq ft  |  Website
In the heart of coveted Kips Bay, the brand-new apartments at Carmel Place perfectly achieve the micro-apartment lifestyle by giving residents a minimalist, serene space in the heart of the bustling Big Apple. The apartments themselves are clean, bright spaces. They maximize built-in storage, yet maintain a sleek and uncluttered look. This is largely due in part to the white on both the walls and the custom Italian cabinet faces, which pair beautifully with light hardwood flooring. If you don't have the furniture to fit the space or achieve the look, Carmel Place can make your experience turn-key, and even can go as far as to provide hotel-like cleaning and food stocking services with the help of the up-and-coming residential amenities program, Ollie.
Shop These Products Now: Wall Cabinet
Boston's Factory 63
Smallest unit size: 374 sq ft  |  Website
What once was an old shoe factory in Boston's Fort Point district is now a creative living space for artists and design enthusiasts. And with that renovated factory comes the modern industrial aesthetic that we don't see going out of style anytime soon. That means brick walls, steel-framed windows, and antiqued-wood ceiling beams. Despite these dark and heavy materials, these tiny apartments (dubbed "Innovation Housing") maintain a bright and modern look. And because they're centered around attracting young artists and designers, Factory 63 boasts impressive work and common space for residents. While the apartments themselves may be small, the live/work amenities pack a lot under one roof — not to mention the rooftop deck for sweeping views of Boston proper.
Shop These Products Now: Couch – Oven
Washington DC's Moda 17
Smallest unit size: 355 sq ft  |  Website
These brand new condos have a coveted address in the hip Adams Morgan neighborhood. Oak hardwood flooring and modern design complement the focal point of each apartment: stylish European kitchens with creative storage spaces. In the rest of the apartment, built-ins such as pocket doors and fold down beds maximize square footage. What's totally unique about Moda 17 is that each unit comes with its own reserved rooftop space. Residents can keep their own patio furniture in their spot and always have a place to grab some fresh air and a view of the neighborhood.Shop These
Products Now: Colorful Rug – Induction Burner
Denver's Turntable Studios
Smallest unit size: 339 sq ft  |  Website
Once an old hotel next to Mile High Stadium, Turntable Studios is providing micro-apartments in one of Denver's most iconic structures. The year 1967 is long gone in these modern homes, which include Juliet balconies, designer flooring and many of the modern amenities. Dual-toned, glossy kitchens pair beautifully with the punchy color palettes of these well-designed spaces.What's more, the cylindrical design of this once-hotel means that all apartments come with either a view of the skyline or the mountains. An outdoor pool and penthouse lounge round out what makes Turntable so desirable to Denver residents.
Shop These Products Now: Range Hood – Wall Shelves
Minneapolis's Coze Flats
Smallest unit size: 402 sq ft  |  Website
Situated in an up-and-coming neighborhood near the Mississippi River and downtown Minneapolis, these studio, one- and two- bedroom flats wowed us with their gourmet kitchens and a wide variety of layout options. We don't expect to get a walk-in closet in the bedroom of a micro-apartment, nor a stainless steel range in the kitchen — that's what makes these first-of-their-kind apartments stand out in our book. Minnesotans take advantage of every nice day, and what better place to do so that Coze's lush garden deck, or rooftop patio with both a projection screen and firepits?
Shop These Products Now:  Outdoor Plants
Seattle's Cubix Apartments
Smallest unit size: 225 sq ft  |  Website
Not every micro-apartment on our list exists for affordability, but Cubix does. Nestled in one of Seattle's most charming neighborhoods, these truly tiny apartments are score high for being priced low. Their tagline, "CUBIX. Everything you need. Nothing you don't." seems perfectly fitting. Residents here are equipped with compact kitchens and built-in storage, along with floor-to-ceiling windows and hardwood flooring throughout. There's a rooftop for residents to grill and chill, and with only 27 units in total, it's never going to be a crowded place.
Shop These Products Now: Throw Pillow Covers – Bricks Wallpaper
Portland's The Arthur
Smallest unit size: 193 sq ft  |  Website
These so-very-Portland micro-apartments aren't a new build but have instead become an eclectic version of their original footprint. The iconic hotel first opened its doors to guests in 1912. Nearly 100 years later, The Arthur has been modernized to become a perfect residence for downtown dwellers. Brick walls and original beams meet contemporary built-ins. Notably, hideaway beds that double as folding tables. The location is awarded a 100 walk score, so it's hard to beat the proximity to Portland's best in any of these 50 micro apartments.
Shop These Products Now: Round Table
San Francisco's Panoramic
Smallest unit size: 220 sq ft  |  Website
You guessed it, the views. This 11-story apartment building gives residents scenic vistas of San Francisco's SoMa neighborhood and beyond, the best from the rooftop garden. While they're some of the smaller micro-apartments we looked at, they pack in amenities such as bay windows, modern design, and stainless steel kitchens. The building itself seeks to lower more than just living sizes, with a focus on green living and energy efficiency. There is only one parking spot, and it's for a ZipCar. And there's rooftop yoga, because it's San Francisco, after all.
Shop These Products Now: Console Storage Table – Love Seat
Los Angeles's One Santa Fe
Smallest unit size: 343 sq ft  |  Website
Most of the complexes we've looked at have only contained a few dozen units, but One Santa Fe is certainly not the case. Sitting on four acres, this super-complex holds 444 micro-apartments. Designed by world-renowned architect Michael Maltzen, they're the perfect fit for LA's chic Arts District. Apartments are made up of stained concrete flooring and gourmet modern kitchens, and plenty have views of downtown LA and beyond. And if the interiors don't wow you, the amenities will: a saltwater infinity pool, a yoga studio, and complimentary bike checkout, to name a few.Shop These Products
Now: Coffee Maker – Wine Glasses
Houston's The Ivy Lofts
Smallest unit size: 304 sq ft  |  Website
Micro apartments and Texas don't quite seem to go together, but The Ivy Lofts have us firmly convinced that they do. These sophisticated spaces feature creative, urban layouts with designs that are borderline masculine, but firmly modern and stylish. The counter space is abundant, and the built-ins are the definition of luxury. The towering design means 360-degree views of the city, and amenities are second to none. The rooftop garden is an urban getaway, and the resort-style pool seems like it would make the Houston heat a breeze. Think you could make it in micro? What size apartment or home are you currently in now?