How to Make Your Partially Open Floor Plan Feel like a True Open Concept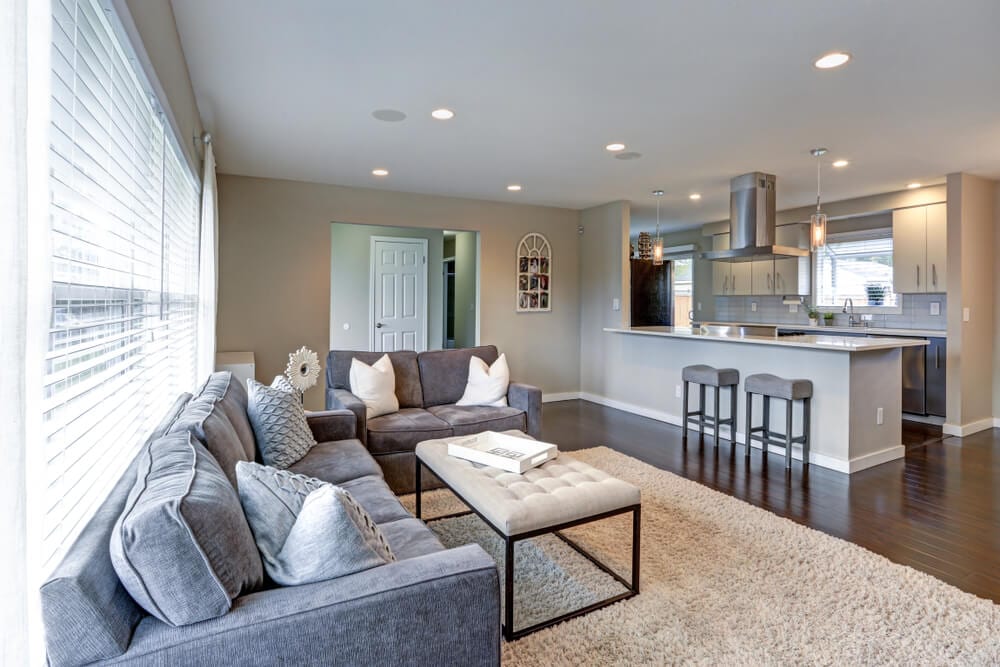 We can't all have the most open of floor plans. Many homes were built before open concepts were widely accepted. That means they often have loadbearing walls that can't simply be knocked down, leading to a partially open floor plan in many homes. Or you might have built or purchased a home that went for an open concept, but not a completely open concept.A partially open floor plan is basically having a couple of spaces that are open, rather than a whole open floor plan. For instance, a kitchen and sitting area might open into each other, and then the living room could still be its own separate space. Alternately, all rooms could be connected, but there are partial barriers between spaces.If you're in a home with a partially open floor plan but you wish your space could feel even more open, there are actually several ways to trick the eye. These are simple ideas that don't require a whole remodel or having to move. They're also relatively low in cost or free, such as $100 or so for a room divider. These ideas often only require rearranging the furniture you currently have or adding other small touches. And for most of these ideas, it will take only a few hours or so to plan and rearrange things. The overall goal is to make the most of the open space you do have.
Shop These Products Now: Area Rug – Tufted Coffee Table
Pay attention to how you arrange your furniture
Your first goal is to make the open space you do have feel as open as possible. That will lend to the feeling of a true open concept. And the easiest way to go about that is watching how you arrange the furniture.Typically, full open designs will create a measure of organization in the space by having furniture pieces face each other in a square pattern. That visually blocks off sitting areas as their own spaces, helping create structure.With a partially open floor plan, you don't have that extra open space to play with and organize. You have to manufacture a feeling of as much openness as possible. So to do that, simply place furniture so that it does not close off the space. A few ways to place furniture for a more open feeling include:
Have the sofa facing outward towards the rest of the space, ideally placed along a wall.
Keep chairs small and place them near the walls.
Avoid bulky pieces of furniture that visually separate the space, like extremely large sectional sofas or giant armchairs.
You might avoid elements like coffee tables or ottomans, which can visually clutter and separate the space more.
The theme here is keeping furniture minimal and open to the rest of the area. As long as you keep those principles in mind, just about any furniture aesthetic style could be fair game.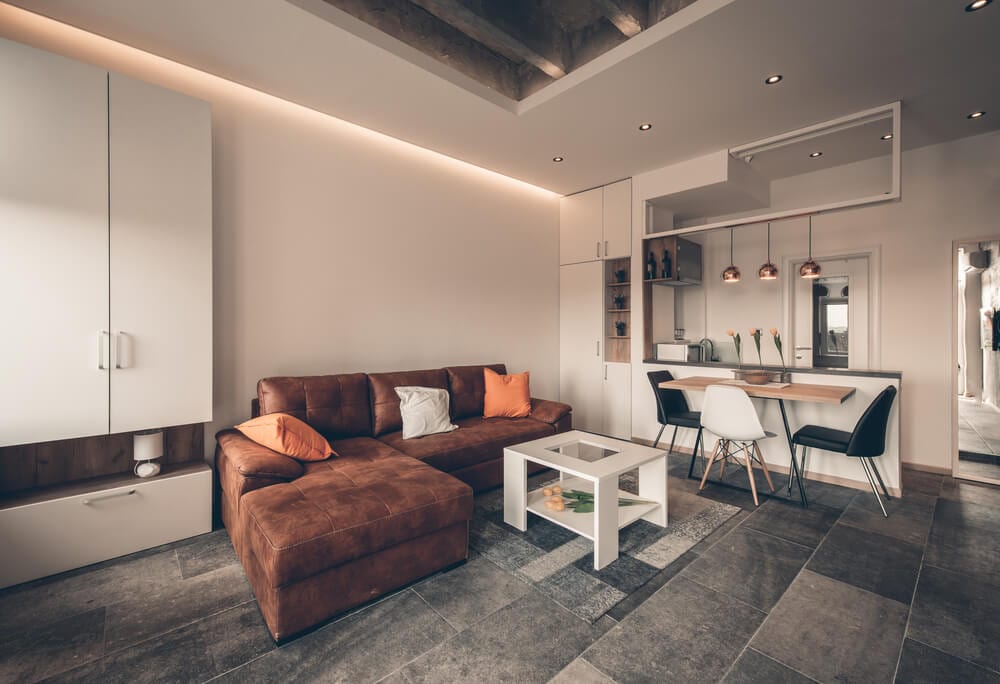 Shop These Products Now: Sectional Leather Couch – Dining Chairs
Find ways to create visual cohesion between spaces
Another trick to make that partially open floor plan look even more open is to decorate the spaces so that they have a similar aesthetic. It's common in truly open homes for spaces to share design elements like similar color schemes, patterns and textures. So to manufacture that feeling of cohesion, you can do the same with partially open designs. A few ideas for that partially open floor plan include:
Have the same color scheme on the walls between the spaces.
Go for one eye-grabbing element that works across all spaces, like rustic or dark molding.
Buy different pieces from the same art collection and evenly place them throughout the spaces.
Room dividers can even work here. If you place them along the walls where spaces meet, they can actually create a visual bridge linking the spaces together.
Use the same bold flooring pattern across multiple spaces. For greater ease, try a linking floor material that can go over your existing floor, often called a floating floor.
In short, the more you create a cohesive design between the connected spaces you do have, the more your home will resemble the full open concept design.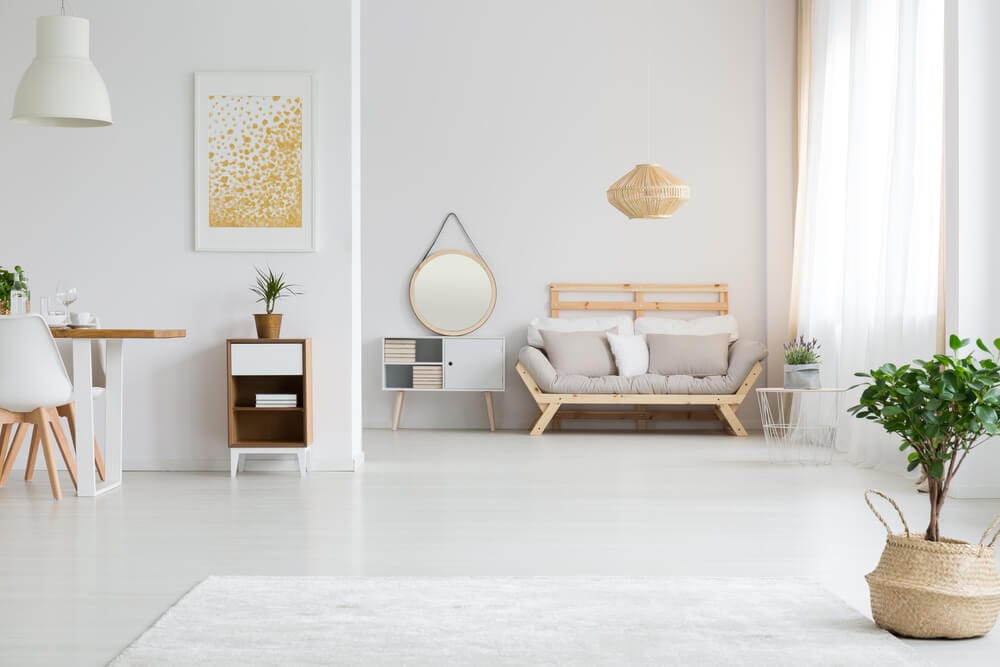 Shop These Products Now: Planter Basket – Hanging Wall Mirror
Go for a minimalist appeal in your partially open floor plan
Another easy idea to open up that partially open floor plan is to simply go minimalist. Spaces have a way of looking far more open if they're not cluttered (imagine that). So if you want a space that looks more open, you might want to embrace the spirit of minimalism.For instance, you might have just a single long sofa in the sitting area. Or you might opt for a minimalist bench design for a dining table. As mentioned above, you could keep the space more open by forgoing a coffee table. Or you could have a very small accent coffee table. Minimalism is fun in that it requires you to prioritize what you most value in a space.And remember, a good rule of thumb for opening up your partially open floor plan is to make sure each of the spaces is flowing into each other visually.