5 Ways to Create the Perfect Spa Bathroom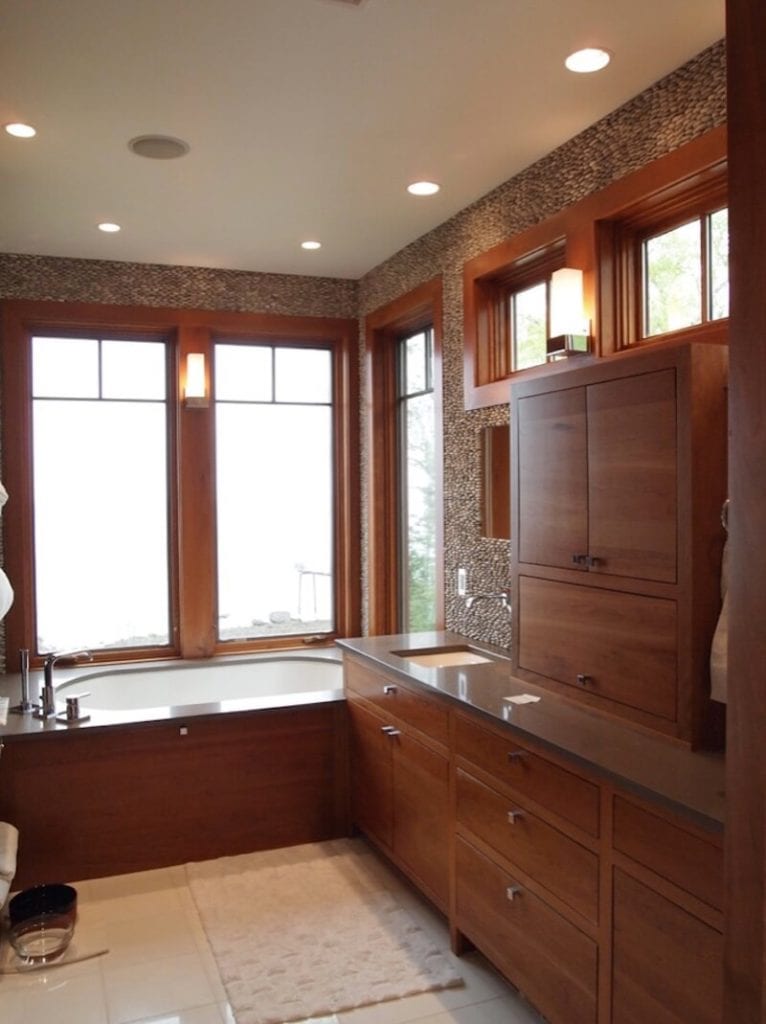 Spa days are a wonderful way to get away and relax. But they can get expensive, and it can be hard to carve out the time to head out to one. Luckily, there are several ways you can create a spa bathroom right in your own home. That way, every day can be a trip to the spa. You don't have to take time out of your schedule to travel to a traditional spa or pay the hefty fees. Your spa amenities are right in the comfort of your own home. Read on to learn how to make a relaxing spa bathroom.
Remodel using deep colors and natural textures
The overarching aesthetic of many spas is in their natural textures. Many spas use natural stone walls, deep wood coloring and other relaxing, zen-like elements such as potted plants to create a feeling of natural serenity. You can recreate this design aesthetic on your own for a spa-like bathroom. Aim for natural stone and warm wood textures, or anything else that seems natural and relaxing to you personally.Colors scheme-wise, you might also wish to opt for darker, muted colors like dark woods and dark gray stone. A darker color scheme can give a more laid-back feeling in a bathroom, instead of the intense energy of light and bright color schemes.
Separate the tub from the rest of the space
In order for your bathroom to feel less "bathroom-ey," think of ways to separate the tub from the rest of the space. For instance, place the tub in an arched space like above.  You could also put the tub behind a divider, either a literal wall or a temporary divider. For an added spa feel, go for a divider with a cultural/oriental design to it.What this achieves is a space that you can truly relax in, rather than staring at a toilet while you try to recreate the spa life. You'll feel more like you're in your own oasis – like a bathhouse or hot spring – that way.
Invest in a jacuzzi tub
If there's one way to feel like you're in a spa at home, it's recreating the feel of a hot tub right in the bathroom. Jacuzzis are great for adding things like essential oils and soaps, as the bubbling water will help disperse the natural scents. They also tend to generate steam more easily and can help give you a facial right in your own bathroom. Not to mention they're good for relaxing in while you let a hair treatment or face mask set, like you might in a real spa. The uses of jacuzzis for re-creating a spa at home seem endless.
Opt for artsy elements for a spa bathroom feel
Another way to make a home bathroom more spa-like is to go for those artsy fixtures. Spas make regular use of interesting and unique décor, so it makes sense to do the same if you want a spa bathroom. One such example is the sinks above, or other artsy sinks like raised leaf-shaped bowls and natural stone sinks. You might also want to try geometric mirrors, like the ones in the photo.The photo above also shows how houseplants give an instantly relaxed feel to the bathroom. Bamboo and small rubber plants are good choices since these have a more exotic look to them. And traditional spas love exotic looks.You could go even more wild by combining elements you wouldn't normally see in a bathroom, like a small fireplace for an added cozy feel like you'd get in a spa.
Make use of alcoves and other flat surfaces
Every decent spa knows how to make good use of candles for a more relaxing vibe. The photo above shows how well a basic alcove can be used to get that candlelight going. An alcove would also keep the candles out of the way of the water or dangerous shower curtains. Along the same lines, an alcove could hold items like reed diffusers or incense safely away from the water.If you do not want to do major remodeling, having special shelves or a tablespace for elements like scented candles, reed diffusers or incense is the easiest way to get an instant spa bathroom.What do you think? Do any of the above tip catch your eye? We'd love to hear how you plan on transforming your bathroom.