Why is 'Walkability' the New Must for Movers?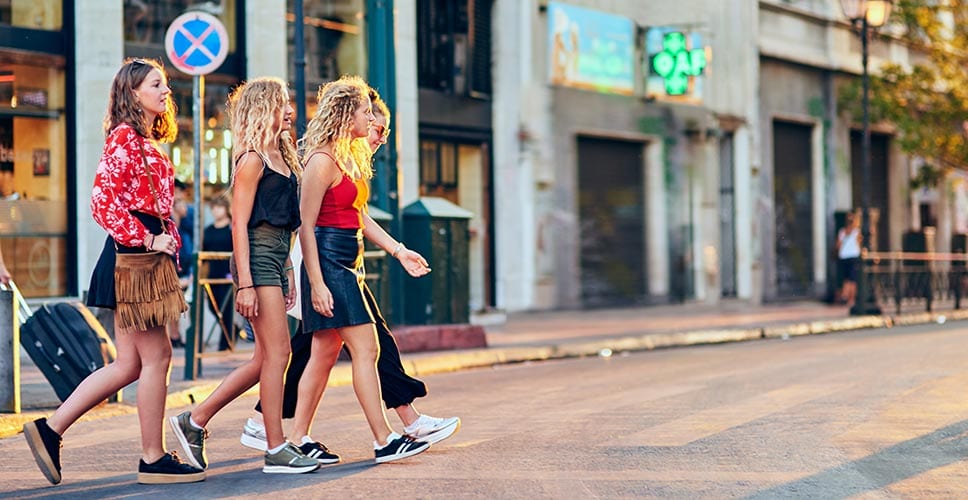 After house hunting for ages, you've finally found a home that boasts everything you're looking for: it's right in your budget, it's in a great school district, and it has great walkability?
Ease of enjoying your neighborhood by foot is a perk more and more movers are considering when shopping for a home. Study after study says home buyers — millennials, in particular — place significant value in a walkable living location. With the health, social, economic, and environmental benefits to be had from putting down your car keys and strapping on your sneakers, considering an area's Walk Score before moving is a step in the right direction.
What is Walk Score?
Walk Score is a product from real estate Web site Redfin.com to help promote the creation and utilization of walkable neighborhoods and cities, with the goal of prioritizing individual health, the economy, and the environment. It's become the world's leading measure of neighborhood walkability.
Using a methodology based on statistical and other evidence, WalkScore.com instantly calculates the walkability of addresses in the United States, Canada, and Australia (you can check your home's Walk Score here.) Additionally, the website calculates yearly scores for the largest 3,000 cities and over 10,000 neighborhoods.
A Walk Score is a number between 0-100, reflecting ease of access to an area's amenities by foot. The score also takes into account population density, block length and intersection density, among other metrics.
0-24 – Car-Dependent. Nearly all errands require the use of a car.
25-49 – Car-Dependent. Most errands require the use of a car.
50-69 – Somewhat Walkable. It is possible to accomplish some errands on foot.
70-89 – Very Walkable. It is possible to accomplish most errands on foot.
90-100 – Walker's Paradise. No car is required for daily errands.
The 2017 top 10 most walkable cities in America are as follows:
Health benefits of walkability
They're many, and they're undisputed. According to the National Institutes of Health, walking is a low-cost powerhouse activity with numerous health benefits, such as:
Decreased risk of developing heart disease and high blood pressure.
Decreased risk of developing diabetes.
Increased bone density, which helps strengthen bones and prevent breaks.
Elevated mood.
Improved muscle tone.
Burning calories to help achieve and maintain a healthy weight.
Social benefits of a high walk score
While the health benefits are substantial and important, but they are far from the only reason to be interested in how walkable a new neighborhood may be. Another important benefit of a high Walk Score is an increased opportunity to create a broad social network.
A paper published in the environmental journal, Sustainability, discusses the social capital implications of living in a neighborhood with high levels of walkability. The authors discovered increased social activity among individuals who lived in neighborhoods that could be categorized as "easily walkable." Participants self-identified as having more social interactions than they would normally have had, simply as a result of walking to their destinations more regularly. These interactions increased their social network and levels of overall satisfaction.
Living in a town or neighborhood with a high Walk Score brings back a sense of community that largely fell apart in urban areas throughout the 20th century. If you live in a neighborhood where you feel comfortable going outside on a regular basis, you'll be more likely to meet (and develop friendships with) the people who live closest to you. From there, it's easier to build a local support network that is immediately and reliably accessible in ways friends or family living across the country — or even across town — simply cannot be.
While the Walk Score of a potential location is certainly not the only factor one should consider when determining where to move, it should at least a consideration. Before you make your next move, check out the Walk Score of any potential locations and consider the ways each score could impact your enjoyment of a given location.