10 Simple Ways to Transition Your Home From Summer to Fall Elegantly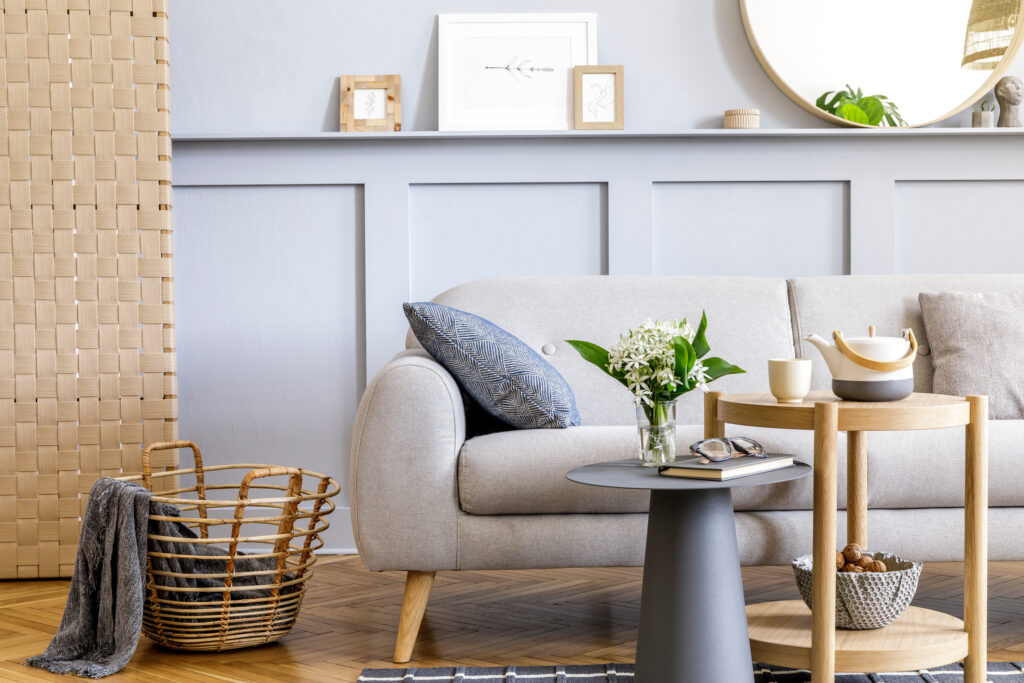 Take a cue from Mother Nature and change things up inside your home as fall season approaches. With cooler temps and new colors, a warm and cozy vibe is just the thing to pumpkin spice things up. Best of all, these simple design tips don't cost much and work with your current design. Think refresh, not a total redo. Enjoy!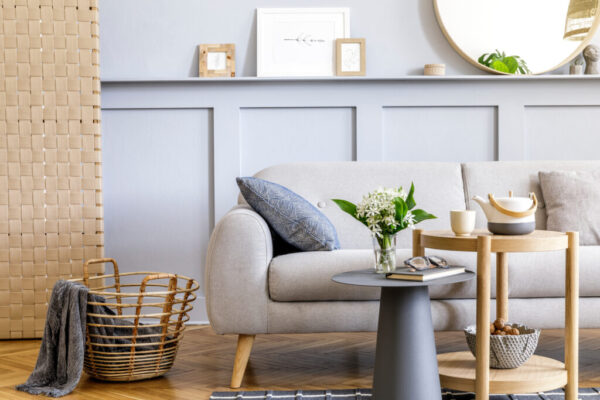 FollowTheFlow / Getty Images
1. In the living room switch out decorative pillows, slipcovers or curtains.
The living room above has is easily transitioned from season to season. The white couch and chair lend themselves to all the seasons with a quick change of the decorative pillows and the addition of the lovely orange Hermes blanket. The layering of the Zebra skin on top of the sisal rug adds a dimension of texture that creates a feeling of warmth.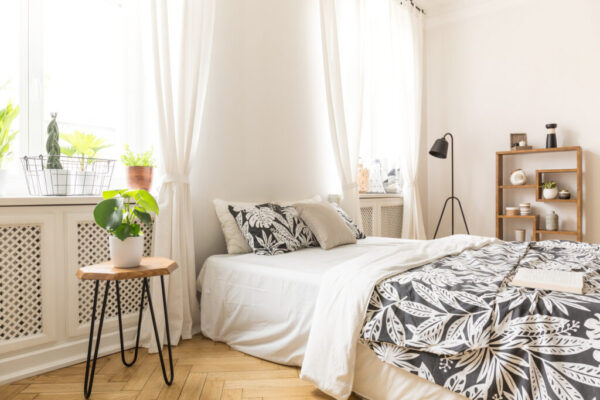 KatarzynaBialasiewicz / Getty Images
2. Make your bedroom cozier by removing the cool, crisp white duvets and linens for cozier fabrics and warmer textures.
The bed photographed above has an autumnal feel from the colors and patterns in the bedding. Beds are perhaps the easiest thing in the home to change for the seasons. Sheets are relatively inexpensive these days and so why not have a few on hand to accompany the changing of the seasons. Perhaps flannel is what you are after for a warmer, cozier feel during the cooler days of fall. Toss on a few blankets, even a faux fur throw to really welcome the fall!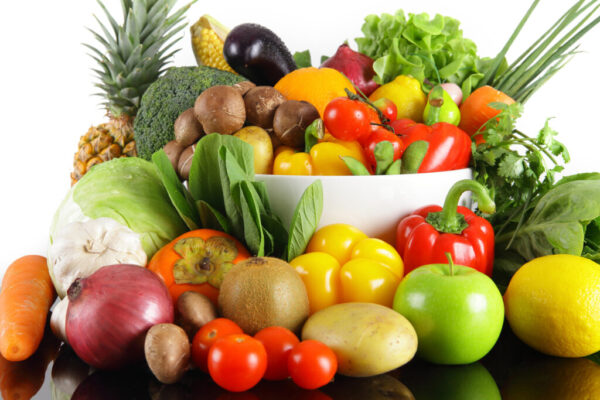 Pixtural / Getty Images
3. Place bowls of seasonal fruits, such as clementines, apples and pears, all around the kitchen and the house.
A trip to the grocery store is all it takes. Load your cart up with fresh apples, pears, berries and nuts and you will have a healthy and environmentally pleasing display. Other ideas are to bring the outdoors inside. Bundle sticks and branches together and place them by the fireplace or in vases and jars.  Pine cones of all shapes and sizes can look quite lovely in large glass or ceramic bowls. Autumn decor shouldn't have to cost too much.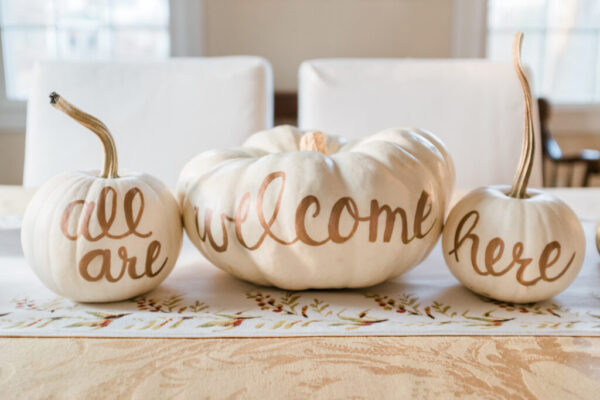 Melissa Ross / Getty Images
4. Create pretty displays with decorative pumpkins or gourds or pine cones if you are able.
Again using natural resources, you can create warm and visually appealing displays. Combine candles with fruit, pumpkins, gourds or nuts and arrange them in wooden boxes and crates, plates, platters or trays and place them around your home. The warm glow created by candle light makes any home feel comfortable and warm.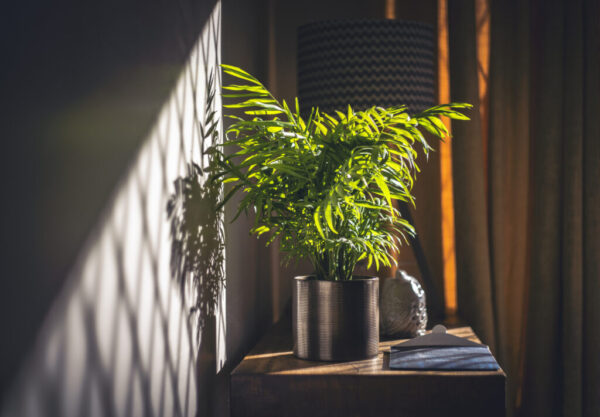 Chris McLoughlin / Getty Images
5. Purchase some seasonal plants like mums or hydrangea and place them by your entry way or mantel.
Or go out to your yard and cut a few branches to create a beautiful fall-like setting as in the picture above. Dried hydrangea in lovely glass jars, pitchers  or baskets as pictured above are the perfect transitional plant if you are not quite ready, this early in the season, to work with a darker palate.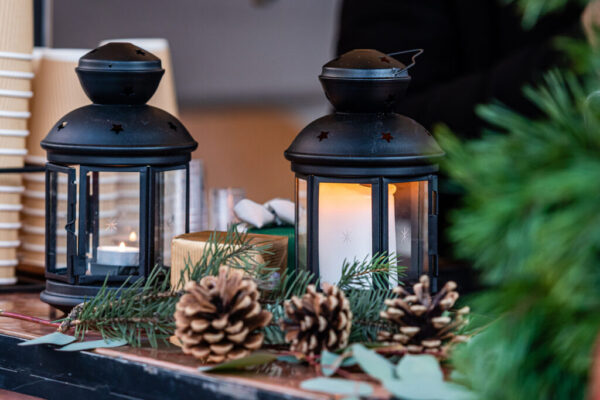 Askolds / Getty Images
6. Bundle candles together on a tray in assorted heights and sizes.
Light them when the sun starts to set, which is getting earlier and earlier now. Candles are the perfect accessory and can be easily switched up to change with the seasons. Here, displayed in wrought iron lanterns and coupled with fresh fall flowers a beautiful arrangement was created without much fuss. Change out the flowers and this look can be achieved year-round.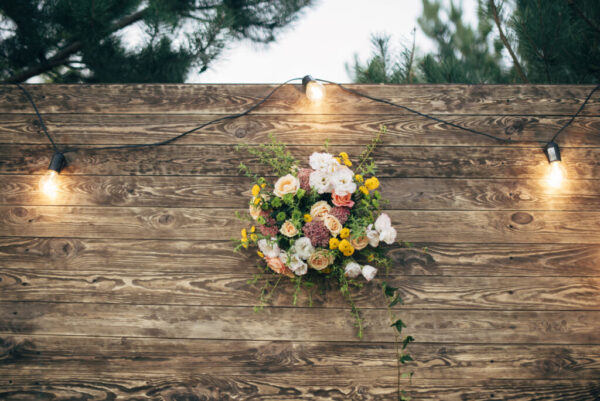 Iryna Yeroshko / Getty Images
7. Don't forget the outside of your home.
While the temperatures are certainly cooler, we will have many warm evenings ahead of us and therefore it is not too cold to stop entertaining outdoors. When the evening air begins to give your guests a chill, leave warm blankets available for everyone to use. Consider entertaining near a fire-pit or outdoor fireplace to generate some warmth and make your night that much more memorable.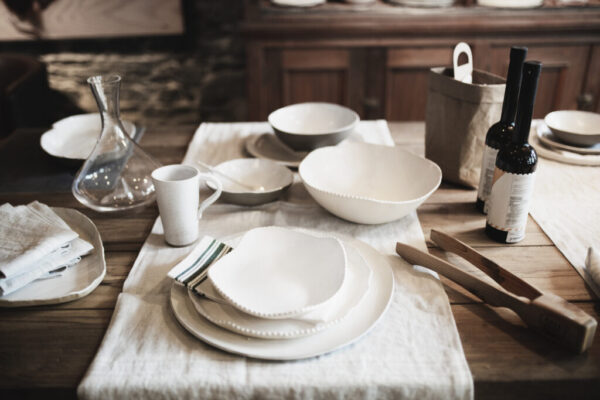 Linda Raymond / Getty Images
8. In the kitchen  or dining room switch out plates and table linens.
 Set your tables with warmer colors. Add candles and fresh fruit, gourds or pumpkins in autumnal hues. Above the hostess has spray painted her gourds and pumpkins in silver and gold tones, for a more formal look.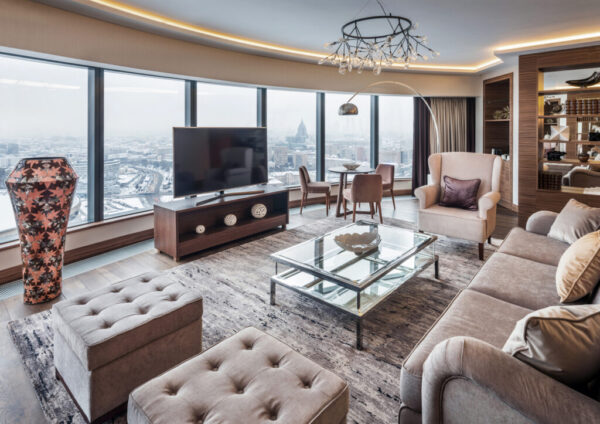 Vostok / Getty Images
9. Layer rugs and bring out the warm throw blankets.
A quick way to add warmth to your room without changing out furniture or changing your color scheme is to simply add some warmth and texture with a few faux-fur throw blankets and layered area rugs. Notice above the two patterns on the floor. Because there is no pattern anywhere else in the room, the layered affect, with these two busy rugs works beautifully.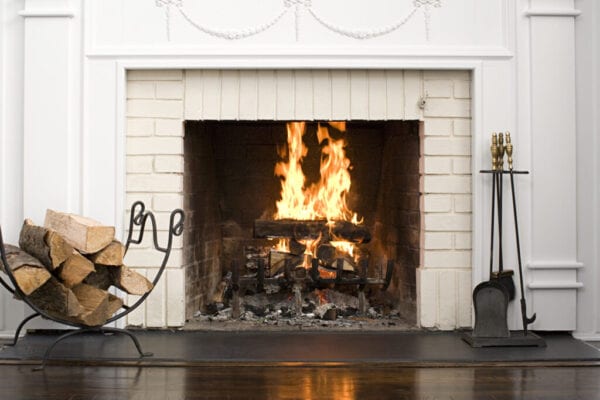 Image Source / Getty Images
10. Prep the fireplace for the cooler weather.
Nothing is as welcoming on a cool fall day as the inviting warmth and glow from a crackling fireplace. A working fireplace will pull the entire room together. It's perhaps the most perfect accessory offering a visual aesthetic , a personal touch and the ultimate in comfort. If you live in an area where it's still too warm to use your fireplace, a lovely arrangement inside with assorted pillar candles can achieve the same fall-like effect.
I hope this post has inspired you to get ready for the fall which is such a lovely time of the year. What will you do to your home to usher in the cooler season?