Storage Rental: Everything You Need to Know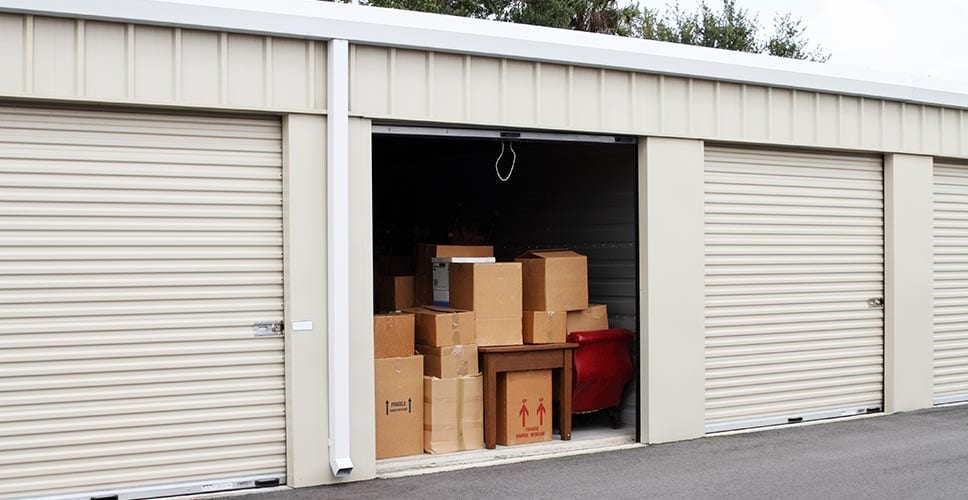 You've closed on your dream home (congratulations!) and your move-in date is quickly approaching. It's time to start thinking about loading up the moving truck.
To bring, or not to bring-that is the question as you look at your child's toy chest (that you still have even though she's now a teenager) and your favorite — albeit worse-for-wear — recliner.
Worry not. Instead of  resigning  yourself to getting rid of your things, a storage rental unit could be the solution. But, how does self storage work? .
Keep these 8 factors in mind when choosing a storage rental
1. Location, location, location
If getting to the storage space means maneuvering down one-way streets or crossing multiple lanes of traffic, you might want to find a storage facility that's easier to access — especially if you've elected to move yourself and it's your first time behind the wheel of a lumbering moving truck.
Take into account the facility's distance from your homes (both current and new). A storage rental may be perfectly priced, but if it requires an extra half hour to reach, the added gas expense may cancel out the savings. But you also don't want to store your belongings in a sub-par facility just because it's only a few blocks away.
2. Easy access to the storage rental
Most facilities offer 24-hour access, but not all. If you've found one that's nearby at the right price, but it's only open during regular business hours, be absolutely sure you're okay with limited access. You never know when you'll want to add to or retrieve things from your storage space (or when interior design inspiration could strike), and waiting for the storage facility to open could be annoying.
You'll also want a unit that's easy to get to within the facility. In multi-storied buildings, first-floor storage spaces cost more and are often the first to go, but if you expect to make frequent visits to the unit, the extra cost might be worth it.
3. Safety and security
You wouldn't (and shouldn't) trust your belongings to just anyone. "Security of belongings" is a major concern for most individuals looking for a storage space for rent. Before selecting a facility, check the crime rate in the area and research what security measures are employed.
What to look for:
Determine how your belongings will be protected. Common theft deterrents include coded entries, security lights, video monitoring, and even guards.
Is there video surveillance and, if so, who monitors it after business hours?
Are there alarms on individual units, or at entrance and exit points?
If there are gates to access the property, do they remain open during business hours? Do they close after a vehicle has entered, or can multiple vehicles enter the property once the lead car has opened the gate?
4. Natural hazards and pest protection
We're guessing you don't want your belongings chewed up, soaked, or set ablaze. For an added sense of security, look into each facility's protective measures against natural hazards, such as fire and water damage and rodent intrusion.
Inquire about fire prevention methods such as smoke detector locations, sprinklers, fire extinguishers, and fire department response times. It is unlikely a fire will occur, but knowing these precautions are in place can give you peace of mind.
Water damage and mildew are also concerns. Don't be afraid to ask about previous water damage incidents from storms, and how these issues were resolved. Additionally, items such as bedding, mattresses, metal, books, and photos can be susceptible to mildew or condensation damage — which a climate-controlled unit will most likely alleviate.
Rodents, roaches, ants, and other pests can be a problem in some storage units. Most facilities will have monthly pest control service, but we recommend you verify this with management, as infestations quickly spread from one unit to another.
Most importantly, find out if your belongings are protected with insurance should anything you own be damaged or stolen.
5. Rent and ancillary fees
In addition to your monthly rental fee and subsequent taxes, are there fees not advertised? According to the Better Business Bureau, there may be additional fees for utilities and security. What are the facility's policies regarding late fees? Is there a grace period before they're added to your bill? Are you required to rent a lock from the facility or are you able to purchase your own?
When you know the storage facility's fees and payment policies in advance, you can make an informed decision and won't run into any surprises when you get your first bill.
6. Technology to manage your account
Is there an app for that? Many storage facilities have online portals and apps to make it easier to reserve a rental space, access your account, and pay your bill. Some properties have a mobile app that can open the security gate without having to use the keypad.
7. Variety of storage spaces
Storage spaces can range in size from 5'x5' to 20'x20'. There are spaces with outdoor access, while other units are in climate-controlled buildings. There are even specialty spaces for wine storage. You can also find storage spaces for cars, trucks, trailers, and boats. But not every facility has all of these options available. Once you've determined what you'll be storing, you can narrow your search to facilities that can match your needs.
8. Reviews
Do a quick search on Google and Yelp to see what customers and staff have to say about the storage facility you're considering. If a review includes a problem, look to see how the facility resolved the issue.
Questions to ask
Armed with your newfound storage rental knowledge, you've shopped around and narrowed your list to your faves. Now it's time for the most important step: visit every facility on your shortlist. We've put together a list of key questions to ask management before signing on the dotted line.
What size units are available, and what is the cost for each size?
Can I see the exact unit I'd be renting?
Are there any discounts available?
How does the payment schedule work?
Is there a minimum lease length?
Is the price being quoted final?
Do you require a certain type of lock and, if so, do you provide it?
Do you require insurance and, if so, can I purchase it through you?
Visit. Ask. Repeat, until you find the facility and storage unit that perfectly fits your needs.
The bottom line
Renting a storage space can make your next move easier. There are eight factors to consider that will help you find the best storage facility for your needs.
Frequently asked questions
How safe are storage units?
The majority of storage facilities offer several layers of security, which can include a gated entry, security cameras, and 24/7 onsite personnel. Additionally, each unit will be individually locked. It's important to ask each facility you're considering about their security measures.
What do you need to rent a storage unit?
Storage facilities will require a government-issued ID, usually a driver's license or state-issued ID.
Is there an age limit on renting a storage unit?
Since renting a storage space requires signing a contract, you must be of legal age — 18 — to rent a unit.
Laurie Garrison contributed to this guide.
---
Everything for your move, all in one place
Curate your personalized moving checklist, set up TV & Internet, and more with a free MYMOVE account.
Save on your move and tackle upcoming to-dos with your free MYMOVE account.