The 5 Best Long-Distance Moving Companies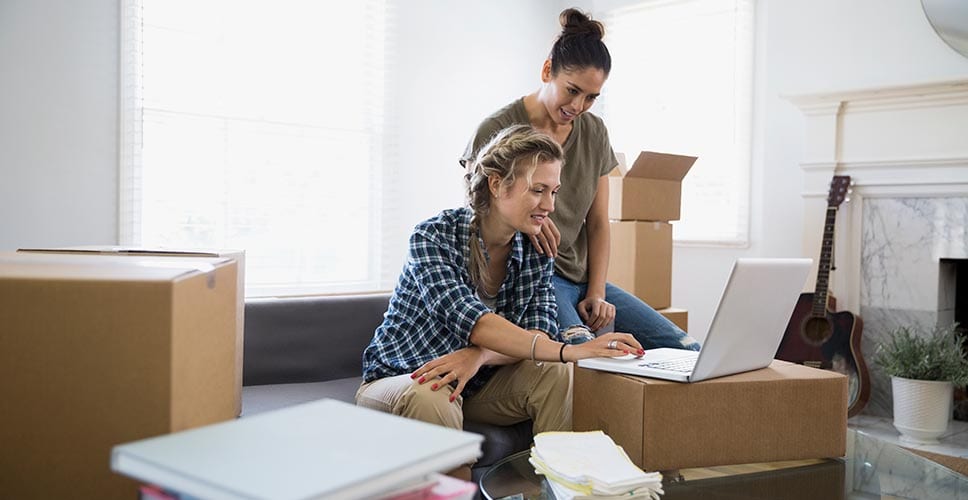 Hiring long-distance movers can be a long and tedious process, especially when you're shopping for cross country movers. It usually involves getting quotes from several top moving companies, scheduling an estimate, and then comparing those estimates and the services included to find the best long-distance movers. Sadly, even after all that, it's still hard to know how these professional movers will compare beyond price.
That's where we come in. Our expert MYMOVE analysts studied nearly 100 of the country's best long-distance movers to judge their quality, safety, customer satisfaction, and responsiveness.
Here's a look at how the five top moving companies compare.
The Top 5 Long-Distance Movers
| Company | Atlas Van Lines | United Van Lines | Wheaton Van Lines | NorthStar Moving Company | Stevens Worldwide Van Lines |
| --- | --- | --- | --- | --- | --- |
| Fleet Size | 2,917 | 5,221 | 1,052 | 19 | 390 |
| Aggregate Reviews Score | 2.89 | 2.23 | 2.29 | 4.77 | 2.64 |
| Number of Crashes Per Vehicle | 0.04 | 0.02 | 0.02 | .32 | 0.04 |
| Inspections with Violations | 1,442 | 1,697 | 543 | 26 | 304 |
| FMSCA Complaints | 55 | 83 | 15 | 1 | 22 |
| MYMOVE Rank | 1 | 2 | 3 | 4 | 5 |
After eliminating nearly three-quarters of the 98 companies reviewed, analysts ranked the final list of 27 best long-distance moving companies.
Atlas Van Lines
Atlas Van Lines services long-distance moves throughout the U.S. and Canada, working with over 430 Atlas Agent long-distance movers. The company also is equipped for international moves with seventeen international licenses and partnerships with over 300 preferred global partners. Atlas offers corporate and government moves, as well as auto transport, packing, and storage services. It also performs 13,000 military moves each year for families both domestic and abroad.
Through its program, SimpliCity, Atlas offers quick, efficient moving with upfront, all-inclusive pricing and free debris removal at delivery. The average move with Atlas costs between $3,000 and $6,000, but the cost may vary for your exact move. Atlas customers report that a local move for a three-bedroom house costs up to $3,000, while a move along the same coast can cost double. If you're planning on a more extensive, cross-country move,  you could be spending up to $15,000 and more, depending on how far you are moving, the cost of fuel, and the total square footage of your home.
If you're a member of AAA, you could enjoy an average savings of $600 off your move. Customers also receive built-in full-value insurance protection with all quotes. Atlas Van Lines charges full-valuation insurance at $6 per pound, but if you were to downgrade to basic coverage, you could save precious dollars off your move.
How to book an Atlas Van Lines move:
It can be a major inconvenience to book an in-home estimate with a moving company, especially if you're comparing several companies at once. However,  AtlasNEt® Video Survey lets you use your smartphone or tablet to create a virtual in-home estimate with an Atlas sales rep. After you fill out the online estimate or contact your local agent, you can set up your appointment for your Video Survey. From there, it's a simple matter of booking your move and hitting the road. There are excellent resources to help on their website, as well.
Atlas Van Lines pros and cons:
Pros: 
Cons:
Lengthy quote process
Will not transport pets
Uses affiliate movers
United Van Lines
United Van Lines is a company that boasts over 1.2 million moves in the last ten years alone.
It partners with movers in over 500 locations throughout the U.S. and is federally licensed for domestic and corporate moves. It provides international moving service through United International and is equipped for small moves, too, with its program SnapMoves.
United also offers packing and unpacking, vehicle shipping, cleaning and debris removal, crating, electronics installation, and short-term and long-term options. Its CityPointe program can even give you cash back for using a United-recommended real estate agent to buy your new home.
According to ConsumerAffairs, the average apartment move costs $4,000 with United Van Lines, with a household move costing about $7,750. A local move averages about $2,250 with packing services.
Full Value Protection is included with every United Van Lines move at a valuation of $6 per pound. For higher-value items, you can use the High-Value Inventory Form to report increased value, and you could receive a full-value replacement should that item become lost or damaged in the move. If you want to cut some costs on insurance coverage, you can opt for minimum liability valuation, which reduces coverage to just $0.60 per pound. There is also a handy selection of convenience service packages and shipping tracking for your move.
How to book a United Van Lines move:
To book a move with United Van Lines, you begin by either requesting a quote online or via phone at 877-740-3040. From there, you can schedule a survey for a company representative to perform either a video or an in-person survey estimate. You will also need to survey your belongings and submit that list to your moving company before you can receive a quote and book your move.
United Van Lines pros and cons:
Pros: 
All-inclusive service packages
Local real estate cash back program
GSA-approved carrier for military moves
Expansive network
Cons:
Logistical issues from a big network
Among the more expensive companies
Uses affiliate movers
Wheaton Van Lines
Like many of the others on our list, Wheaton Van Lines covers all kinds of moves, including local, long-distance, international, corporate, intrastate, interstate, and military moves. There are also corporate and military moving services, as well. In addition to regular moving services, Wheaton Van Lines also offers packing services, move coordination, loading and hauling, and storage. Wheaton is not a broker, meaning that it does not farm its services out to other moving companies, so you know exactly who you're working with from start to finish. Wheaton Van Lines holds an A+ rating from the BBB, but despite this, customer reviews are just mediocre.
Wheaton is one of the only companies to offer some sort of pricing upfront with its online ballpark tool. There are extra services like its Priority Relocation program, which will bump your move to the front of the line. For an extra fee, Wheaton can pull off a quick move with a built-in $150 guarantee that your shipment will be on-time. You can also save an additional $150 off the total cost of your move if you move during the off-season between September and April.
There are also many valuation plans that can affect the total cost of your move. Full value replacement is automatically included for all moves at the standard $6-per-pound rate, but you have the option to downgrade your coverage to just basic protection. This is something that is discussed during your in-home estimate.
How to book a Wheaton Van Lines move:
You can use Wheaton's online tool to provide a ballpark quote for your move. This gives you an upfront, general idea of what to expect with moving costs. Wheaton Van Lines also offers free in-home estimates, during which you can choose your valuation and protection coverage.
Wheaton Van Lines pros and cons:
Pros: 
Upfront ballpark pricing
Not a broker, so you work with Wheaton the whole time
Offers appliance services
Cons:
No storage services
No online shipment tracking
Mediocre customer satisfaction
NorthStar Moving Company
Since 1994, California-based NorthStar Moving Company has been performing local, long-distance, corporate, international moves for over 8,000 customers each year. There are also storage services and packing services available. NorthStar is also specifically experienced in the entertainment industry, counting production companies like Dick Clark Productions and The Jim Henson Company among its many customers.
Perhaps, that's why there are so many luxury add-ons that allow you to move like a movie star. Choose from packages, such as the Doctor Doolittle for a veterinarian house call or the Angelina, which provides child care. You can even choose the Mikey Phelps for kids swimming lessons, the Betty White for senior relocation, and the Julia Child for fresh-cooked meals. Home repair, organization, and decorating are available, as well as community programs for food and clothing donations. NorthStar also offers vehicle care, and if you have a yacht or any aircraft, NorthStar has people for that, too.
However, local moves are limited to just within the state of California. NorthStar does not accept any other local moves for customers in other states, because they do not work with any partners or affiliates.  Pricing can also widely vary given the sheer number of options to choose from, so it's important that you discuss your needs with a NorthStar rep in order to get the most accurate pricing for your move.
How to book a NorthStar Moving Company:
NorthStar offers free in-home estimates, or you can take advantage of a video chat estimate. It's an easy way to review your belongings and discuss moving logistics, as well as any packing and storage options that you may need.
NorthStar Moving Company pros and cons:
Pros: 
Luxury add-ons
Video chat estimate
Eco-friendly operations
Cons:
No local moves outside California
Can be very pricey
No online pricing tools
Stevens Worldwide Van Lines
Stevens Worldwide Van Lines is a powerhouse with over 110 years of experience and averaging 15,000 residential moves each year from their Indianapolis headquarters. They specialize in local, interstate, intrastate, cross-country, and international moves. They also provide personalized corporate relocation services, and are experienced in military moves, as well.
Local moves are assessed on an hourly basis of up to $45 per person per hour, depending on the season. Long-distance and other kinds of moves are calculated based on weight and distance, and you will need a customer rep to help you with the quote process.
Unlike other moving companies, Stevens relies less on the internet and more on in-person interaction for its moving services. There is just limited information about the company that is available online, so you will have to wait for your in-home estimate before you can get an idea of pricing and make any real advances with your move.
How to book a Stevens Worldwide Van Lines move:
Stevens partners with about 400 agents across the country and moving partners across the world to help you with your move. You can use the online request form to get a ballpark estimate for your move, and you will be matched with a local agent who will perform an in-home estimate. Although you will be matched with an affiliated mover, you do have a dedicated Stevens rep to walk you through the process.
Stevens Worldwide Van Lines pros and cons:
Pros: 
Online ballpark estimates
Personal corporate relocation consultants
Clear, itemized invoicing
24/7 customer support
Cons:
Uses affiliate movers
Limited information online
Key Takeaways about Long-Distance Movers
Most of the highest-ranked companies tend to be larger and have more vehicles in their fleet.
More companies at the top had useful information for customers, such as a section of frequently asked questions, a clear and easy-to-find description of services, physical locations listed on site, and a clear payment structure online.
The best moving companies tended to respond faster to online quote requests. Many of the lower-ranked companies didn't respond at all.
When it comes to all-around excellence, data show these companies were the best. Interstate moving companies sometimes accrue a bad reputation online, so when you start your search, keep these companies in mind.
Pro Tip: There are a number of questions you should ask your moving company when requesting a quote. Be thorough now, and save yourself the headache later.
Methodology
We began with 98 interstate moving companies and eliminated those that weren't certified with the Federal Motor Carrier Safety Administration for household moves.
Our study also eliminated brokers, agents of larger moving companies, and those that don't offer nationwide services.
The final ranking of the 27 top moving companies was based on a MYMOVE score, calculated this way:
Customer reviews — weight varied:
Customer reviews were aggregated from the Better Business Bureau, Yelp, Google, and mymovingreviews.com. The weight of review data varied based on the number of total reviews and on each company's fleet size.
The remaining score was weighted as follows:
60% – Quality and Accessibility. Analysts studied each moving company's website to judge whether we could answer "yes" to 19 questions about the company. This included how much information is available on the companies' websites, the services they offer, and how responsive they are.
10% – Safety Inspection. This data point accounted for the percentage of inspections that resulted in a violation.
10% – Safe Driving. The driving record metric takes into account the number of vehicle crashes each company had, adjusted for the fleet size.
10% – Customer Satisfaction. Consumers can report complaints to the Federal Motor Carrier Safety Administration. Those companies with more complaints per vehicle were ranked lower.
10% – Contact time. This takes into account the amount of time it took for each company to respond to an online quote request.
The bottom line on the best out-of-state movers
Finding the best professional movers for your cross-country move depends on a lot of factors, such as cost, convenience, and safety, just to name a few. However, many factors may be unique to your situation, especially if you're moving with pets or have a particular budget. It's important to do your research to ensure your move day is as smooth and stress-free as possible.
Lena Borrelli contributed to this post.
---
Everything for your move, all in one place
Curate your personalized moving checklist, set up TV & Internet, and more with a free MYMOVE account.
Save on your move and tackle upcoming to-dos with your free MYMOVE account.