Pest Control Near Me: How to Find the Right Exterminator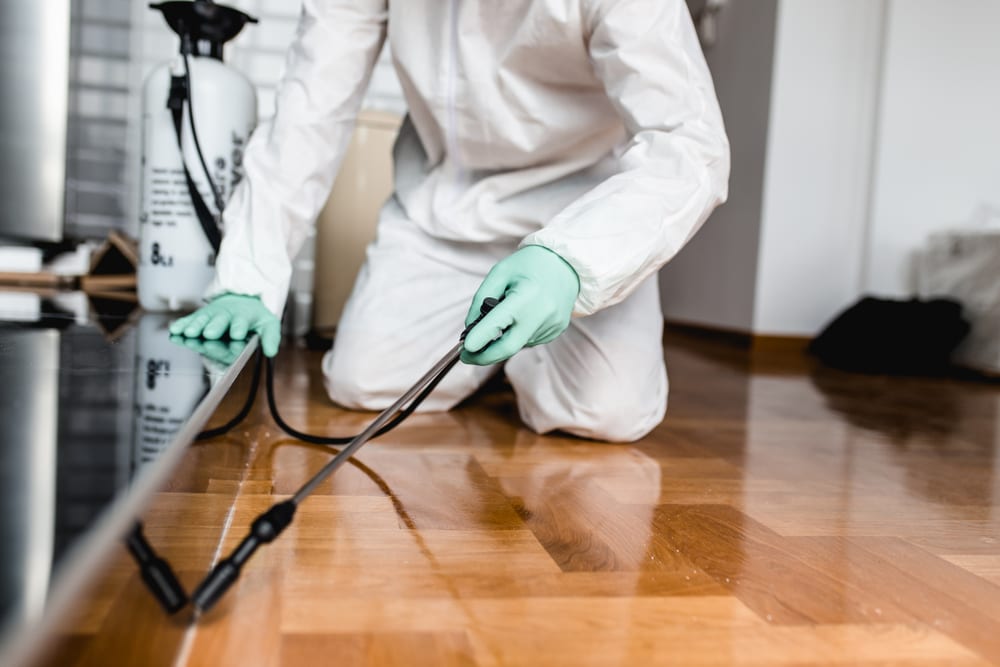 hedgehog94 / Shutterstock
A quick online search of "pest control near me" will provide you with more companies than you can possibly explore on your own. Simply looking for a bug exterminator to help you eradicate an infestation can turn into a long, drawn-out process that ends with you simply picking whoever is at the top of the list.
Getting overwhelmed and giving up on your search for the best pest control service is something you will regret down the road, because you may end up sacrificing quality. In order to successfully protect your home against pests, you need to find a high-quality and affordable local exterminator. To help you out with this process, use this guide to some of the top companies nationwide. Look at the extermination options near you and learn how to choose which one is best for your situation.
Pest control near me: Top exterminators by availability
To help with your pest control search, here's a list of the top five exterminators based on nationwide availability, as well as other key factors — like certifications, the diversity of treatment plans, and general customer satisfaction. For each company highlighted, you'll find details on availability, pricing, service guarantees, and more. Read on for more details on pest control in your area.
Methodology: We sourced our selection of the best pest control companies in the U.S. from the Univar Solutions Top 100 2019 list. We then distilled our top picks based on information available on each company website, and online customer reviews. Each pest control service was assessed based on wide geographic availability, price, diversity of treatment plans, certifications, licensing, service guarantees, and real customer reviews. We reviewed the provided on each website to assess customer satisfaction.
Orkin
Orkin is a giant in the world of pest control. So, chances are, Orkin will pop up in your search results if you type in "exterminator near me." The sheer size of Orkin's market presence can provide benefits to customers in terms of availability, brand awareness, resources, and convenience. Orkin also offers a long list of pest control services. Whether you want general pest control or help with a specific type of infestation, Orkin provides treatment options.
The Orkin website outlines the process that technicians follow in coming up with a unique treatment plan for each property. When you schedule a pest inspection and services from Orkin, the technician will investigate, protect, fortify, keep watch, report, and follow up to maintain the Points of Service standard that Orkin employs.
Orkin offers a 100% satisfaction guarantee, which means they will come back and treat your home again (without charge) if the first treatment was unsuccessful. In addition, Orkin offers a 30-day money-back guarantee if you have a pest problem that they cannot solve.
Availability
Orkin provides pest control services in 47 of the U.S. states and in several locations internationally, with over 400 locations worldwide.
Service pricing
Since Orkin customizes each treatment plan, pricing can vary. You will have to schedule a time for a free inspection and an estimate in order to get accurate pricing for your pest control needs.
Terminix
Terminix provides protection from pests, such as house ants, cockroaches, mice, spiders, rats, clothes moths, house crickets, paper wasps, silverfish, centipedes, millipedes, scorpions, and earwigs, as well as termite control and bed bug removal.
They offer a guarantee on all of their work and make the commitment to "do whatever it takes to solve your pest problem." This includes coming back at no cost to you for additional treatment if the first one was unsuccessful. The company also offers a money-back guarantee.
Quarterly pest control is a service that Terminix offers to keep your home protected from pests all year long. This service includes an initial treatment, and four more treatments spread throughout the year.
Availability
Terminix operates in 45 states in the U.S., with multiple locations in most states.
Service pricing
The company requires an in-person home pest inspection in order to give you the most accurate pricing. Once you have the initial inspection and treatment, you can get set up on a quarterly protection plan. Terminix offers the convenience of auto-pay, so you do not have to think about the logistics of paying for services every time your home is treated.
Arrow Exterminators
Arrow Exterminators is the sixth largest pest control company in the U.S. It's family-owned and operated since 1964, and expresses a dedication to going "Beyond the Call" for customers.
Arrow Exterminators has a proprietary program called STEPS® Sustainability Through Environmental Practices and Solutions™ that informs their choices when it comes to treatment options and applications. With STEPS®, Arrow Exterminators made the commitment to always choose the most environmentally friendly pest control treatments available.
Arrow Exterminators provide customers with a 100% satisfaction guarantee on all of the work they provide.
Availability
Arrow Exterminators are available in a total of 12 states throughout the U.S., including Alabama, Arizona, Florida, Georgia, Kentucky, Louisiana, Mississippi, North Carolina, South Carolina, Tennessee, Texas, and Virginia.
Pricing
You can get pricing from Arrow Exterminators by scheduling a free in-home evaluation. Arrow Exterminators also has a number of special offers that you can explore.
Home Paramount Pest Control
Home Paramount Pest Control is a family-owned company that has been around for over 80 years. One of the things that set Home Paramount apart is its dedication to having the most experienced and qualified professionals on staff. There are full-time entomologists, state-certified inspectors, state-certified technicians, and friendly customer service providers on staff at Home Paramount Pest Control.
Home Paramount Pest Control provides a pest library to help you identify which ones are causing you trouble. The pest management programs available from Home Paramount Pest Control can eradicate any current pest problems and protect your home going forward.
Home Paramount Pest Control offers a "BEE HAPPY Guarantee" on the services they provide. This guarantee provides you with additional services or reimbursement if your pest treatment is unsuccessful.
Availability
Home Paramount Pest Control serves seven U.S. states along the East Coast, as well as Washington D.C. The company website states it is ranked among the 20 largest pest control operators in the country.
Service Pricing
In order to obtain detailed pricing from Home Paramount Pest Control, you need to schedule a free home inspection. Home Paramount Pest Control offers an online payment option for your convenience. They also have a financing option available if you need to pay for your pest control services in installments.
Massey Services
Massey Services offers pest control for common household pests, as well as mosquitoes and termites. They will design a customized treatment plan for your home to remove any current pests with an initial treatment and keep them from coming back in the future with preventative services.
The vision of Massey Services is "to build long-term, trusting relationships with our customers through environmentally responsible and superior service." One of the ways that Massey Services shows its commitment to customer satisfaction is by providing the My Massey App for customers to quickly and easily manage their accounts.
They also offer a money-back, total-satisfaction guarantee, which includes additional services at no charge, if your pest problem persists between scheduled services. After 30 days, if you're still not satisfied, they will refund your last regular service payment.
Availability
Massey Services operates in seven states throughout the South and Southeast U.S., including Florida, Georgia, Louisiana, North Carolina, Oklahoma, South Carolina, and Texas.
Service Pricing
Pricing for Massey Services is available after you schedule and receive a free pest inspection.
How to choose the right exterminator
1. Don't rush in
If you see a roach, rodent, or some other type of pest in your home, it can be tempting to hire the first option that comes up on your online search. Feeling anxious by the presence of pests in your home is an understandable reaction. However, it's vital that you take your time when choosing to hire an exterminator.
Pest control is an ongoing process, which means you will regularly interact with the exterminator you choose. Take your time in the decision-making process to ensure you find a high-quality pest control provider. Get multiple quotes for your pest control needs and carefully compare the services provided as well as pricing.
2. Take a look at more than the price
Online reviews:
Looking a what other customers are saying online is a good place to start your research. Start by typing in "pest control near me" or "exterminator near me" into a search engine. As you explore local options, you can find online reviews and additional information about your options on sites like the Better Business Bureau, Consumer Affairs, Trustpilot, and the company website.
Recommendations of family or friends:
If someone you know provides a recommendation for an exterminator, it can give you confidence in choosing that particular pest control provider.
References provided by the exterminator:
You can and should ask for local references. Take the time to check out those references to learn about the exterminator's real reputation in the community.
Licensing credentials:
Never consider using an exterminator who does not have the proper licensing. You can learn about the history of contractors who are licensed but may not be able to get information about unlicensed contractors. A licensed exterminator will be happy to provide you with his or her licensing credentials, and you can check them out by contacting your state's department of agriculture.
Details about pesticides the exterminator uses:
There should be no secrets about the type of pesticides an exterminator plans to use in your home. Ask for details such as product names and the United States Environmental Protection Agency (EPA) registration numbers. This will help you make sure the exterminator is following EPA guidelines on how to apply pesticides, the proper application rates, and taking the appropriate precautions during application.
Your contract or commitment:
Carefully examine the contract or commitment you are asked to sign in order to receive services. Look at the time frame of the contract, the cost of services, and any guarantees that are made on those services.
Online resources for making payments/scheduling services:
Some pest control providers have online resources that make paying for and scheduling services quick and easy. If convenience is important to you, ask about the online resources at the pest control company you are considering.
Service guarantees:
Many pest control service providers offer a guarantee of services, which means they will come back to your home and provide additional pest control treatments if the first treatment application did not provide you with the expected results. Ask any exterminator you are considering if they offer any type of guarantee.
3. Write important things down
The information-gathering does not stop once you choose an exterminator to help with your pest control needs. There's important information you need to keep track of when you schedule and prepare for pest control services.
The exterminator you choose should be transparent with you about the products that will be applied to the interior and exterior of your home. All pest control products must be registered with the appropriate state and federal agencies. Ask for and write down the product names and EPA registration numbers of each product to keep for your records.
Write down the instructions the exterminator gives you to prepare for pest control services. The type of pest control services you receive will dictate the type of preparation you need to do. Some treatment options, like structural fumigation or bed bug heat treatment, require quite a bit of preparation. Ask your exterminator for detailed instructions on how to best prepare for your pest control services.
Red flags: Watch out for signs of pest control scams
There are people who will try to scam you out of your money. When it comes to pest control, scammers have a few tricks and tactics they use to get your money without providing a quality service. As you look at different pest control service providers, watch out for signs of pest control scams. The United States Environmental Protection Agency (EPA) provides some valuable information about common pest control scams you may run into.
If a pest control provider near you claims to be endorsed by a government agency such as the EPA or Department of Agriculture, it should set off alarms because these agencies do not endorse specific products or companies.
When you hear a pest control provider claim to have a secret formula, you are most likely being scammed. All legitimate pest control products must be registered with the appropriate agencies and list active ingredients.
If an exterminator will not provide a legitimate phone number or contact information, then you should beware.
Offers that bundle pest control with other services, such as home repair or lawn care, may be part of a scam. Read service descriptions carefully.
Beware of pest control providers who offer a special price if you have treatment completed immediately or try to pressure you into a quick decision.
The bottom line
When looking for a pest control service near you, spend the time necessary to find the right combination of quality, availability, and affordability. There are a lot of high-quality pest control companies out there to choose from. First, determine what type of service you need, then research and evaluate your options based on the factors outlined here to help you make a decision.
Frequently asked questions
Q:
Is it worth paying for pest control?
A:
Pests can damage your home, contaminate your food, and be an overall nuisance. It's worth paying for pest control to prevent these unwelcome consequences.
Q:
What questions should I ask an exterminator?
A:
Ask about services provided, pesticides used, pricing, certifications, and the training of technicians.
Q:
What is the best pest control service near me?
A:
The best pest control service is the one that is in your area, offers the services you need, has a good reputation, and fits into a price range you can afford.
---
Bring on the savings
Unpack unbeatable deals
We can't sugarcoat it — moving can be expensive. That's why we team up with your favorite brands to help you save on everything you need (and want!) for your new home. The best part? You won't find these deals anywhere else.
VIEW YOUR DEALS