The Best Pest Control Services of 2021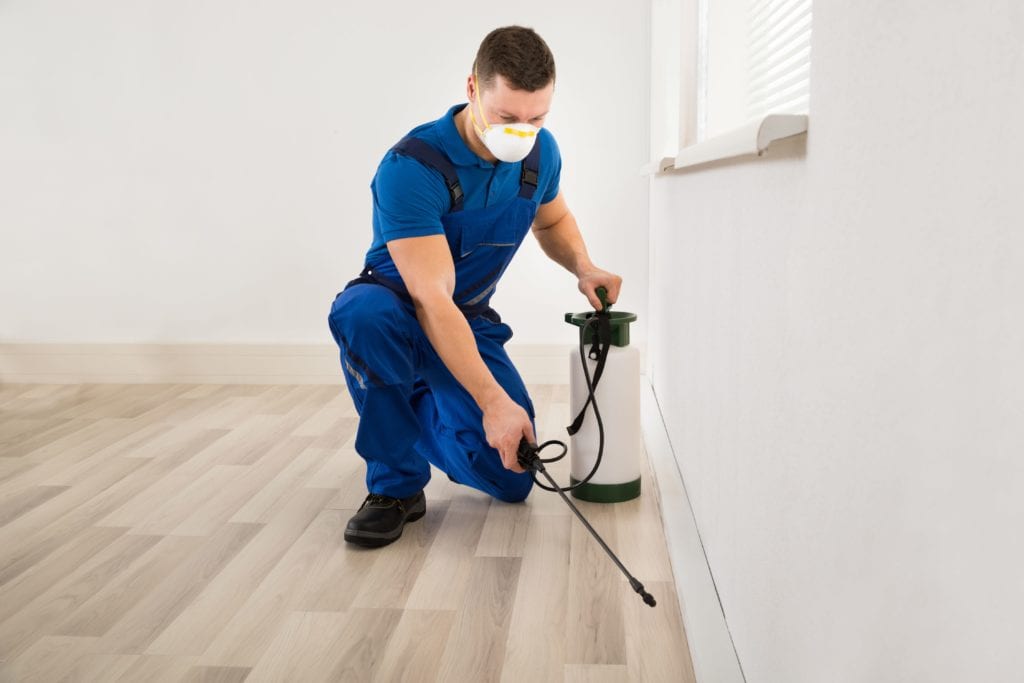 There is nothing quite as disturbing as walking into your kitchen in the middle of the night to see a cockroach skidding across the floor, or opening your garage to find a swarm of mating termites. But you can usually avoid such a scenario by finding a pest control company to perform routine preventative service. Many people wait until there is a problem before calling an exterminator, but big infestations can be costly to treat — especially termites.
When searching for "pest control near me," it is easy to be overwhelmed by the different options. Pest control companies vary when it comes to customer service, price, and environmental practices, which makes choosing the right bug exterminator a time-consuming process for some. To help you save some time, we've compiled a short list of the best pest control services to try in 2021.
The top 7 pest control services of 2021
To compile the list, we researched the 15 leading pest control companies by revenue. We analyzed their offerings and compared geographic availability, services, policies, and prices where applicable. We also considered online reviews from valid sources such as the Better Business Bureau and Consumer Affairs. Finally, a "best of" nomination was applied to the seven companies that stood out the most based on their respective strengths and weaknesses. 
Best overall: Orkin
Orkin is one of the largest pest control companies in the country, with coverage in 47 states and more than 400 locations worldwide. With a history dating back more than a hundred years, the company has built up a solid reputation as an eliminator of termites and other pests. The company has three out of five stars from reviewers on Consumer Affairs,  but with locations across the country, it might be a good idea to check out local ratings as well.
Orkin is a solid choice for pest control at your home due primarily to the wide range of services it offers beyond just termite treatments and general pest control. Orkin has specific services to treat carpenter ants, bed bugs, fleas and ticks, mosquitos, and stinging insects. Other services include attic insulation, lawn treatments, and moisture control.  The company offers a 30-day money-back guarantee if you aren't satisfied with the pest control treatment results.
Average price of services
As far as pricing is concerned, you must contact Orkin directly for a quote. Prices vary depending on location and the scope of the problem.
Best for termite problems: Terminix
Termites require specialized treatment compared to other bugs that invade your home, and Terminix is one of the best at dealing with these nefarious wood-eating insects. The company was the first to obtain a patent on termite control products back in 1932, helping the company become a major force in the pest control industry.  Terminix touts the strongest guarantee in the industry, which promises to cover treatments and repairs to your home for termites so long as you keep up with your annual treatment and fee.
Terminix also offers extensive general pest control options, including services that target bed bugs, ticks, and mosquitos. Terminix is widely available with locations in 45 states. Some locations offer chemical-free and natural treatments, which is a huge plus for customers with certain sensitivities or concerns about children and pets. Terminix has an average of two out of five stars from reviewers on Consumer Affairs.
Average price of services
Terminix provides online quotes for general pest control. For a house up to 3,999 square feet in Austin, Texas, Terminix quoted the price of an initial visit of $129, plus $109 for each quarterly visit after that. Quotes for termite treatment require a free on-site inspection.
Best protection plan: Ehrlich
Some pest control companies have catchy contracts or lackluster service plans, but Ehrlich offers one of the most comprehensive protection plans in the industry. The company's Pestfree365 plan offers protection from 36 common household pests, including bed bugs, which is usually a separate service when dealing with other companies. The plan offers unlimited service calls between scheduled treatments and includes an annual termite inspection. Best of all, there is no long-term contract involved.
Ehrlich is limited geographically to 20 states in the eastern U.S. Check local reviews as some locations have better reviews than others. The company is GreenPro certified, which means it emphasizes integrated pest management strategies such as habitat reduction and eliminating food and water sources.
Average price of services
Ehrlich does not provide online quotes.
Best on a budget: Massey Services
Orlando, Florida-based Massey Services proves you don't have to spend an arm and a leg for reliable pest control service. The company offers quarterly pest control, termite control, mosquito service, and landscaping services. Massey does not provide online quotes, so to get specific pricing ,you must contact them for a free on-site inspection. However, customers receiving quarterly pest control can expect to pay between $120 to $150 for an initial visit, and between $80 and $95 thereafter. Other sources put the price even lower at about $70 per visit.
Massey Services is widely available in Florida with 103 locations but also operates in Texas, Oklahoma, Georgia, Louisiana, North Carolina, and South Carolina. The company has mostly 3-star and 4-star reviews on Google, but reviews vary by location, so be sure to search for your local office to see how they fare. The company offers a money-back guarantee after 30 days and promises a 24-hour response time if you have pest problems between scheduled visits. The company has a policy of using "environmentally friendly mediums" when exterior spraying and avoids blanket spraying of pesticides inside the home unless it is targeting a specific pest.
Average price of services
Online sources indicate Massey Services costs between $70 and $95 per quarter, but you need to contact them directly for an exact quote.
Best for multiple needs: Arrow Exterminators
It is not uncommon for pest control companies to provide additional services such as lawn care or moisture control, but no leading company does quite as much as Arrow Exterminators. The Atlanta, GA-based company offers general pest control services in 11 states, mostly in the Southeast. It can take care of termites, bed bugs, mosquitoes, fire ants, scorpions, and other stinging insects. Arrow also offers wildlife control, including the management of squirrels, raccoons, bats, opossums, and snakes. In addition to lawn care and moisture control, it can also handle insulation and general handyman services. If you are looking for more than just a pest control company, Arrow is a good choice.
Another benefit is that the company has a focus on sustainable environmental practices and will aim to treat your problem in the least environmentally impactful manner possible. The company is GreenPro certified.
Average price of services
Contact Arrow Exterminators for a quote, which requires a free home inspection.
Best customer service: Aptive
While most pest control companies strive for good customer service, Provo, Utah-based Aptive Environmental goes the extra mile. In fact, that is part of its core values of delivering "Wow" to its customers. Another is "living by a moral compass of fairness and integrity." The commitment to customer service has helped the company's online ratings. For example, the company has a 4.5-star average review from Better Business Bureau users, based on more than 5,000 reviews.
Aptive operates in 25 states across the country, and Washington D.C. The company doesn't appear to offer a money-back guarantee, but it does promise to return as often as needed to fix your issue. It is also dedicated to environmentally conscious pest prevention methods. In addition, Aptive collects donations to fund mosquito nets and other malaria treatments for communities in Africa, Latin America, and the Caribbean.  One drawback for some customers, however, is that Aptive does not treat termites.
Average cost of services
Aptive provides online quotes. For quarterly service in Austin, Texas, the company quoted a price of $249 for an initial visit and $135 thereafter.
Best Natural Pest Control Option: Truly Nolen
One concern many homeowners have when choosing a pest control company is the effect that chemical pesticides will have on the health of their family pets. Truly Nolen is one of the largest pest control companies to adopt the use of natural insect repellants as part of its integrated approach to pest management. The company has researched the most effective botanical aerosols and uses them whenever possible. It also has adopted many chemical-free management techniques such as exterior web wiping and mechanical exclusion of insect entry points.
Truly Nolen operates 80 locations in seven states including, Texas and California, as well as more than 30 countries around the world. The company offers a 100% money-back guarantee. Its services also include termite control, rodent control, insulation, and lawn care.
Average cost of services
Truly Nolen offers a free online estimate for its quarterly Four Seasons Pest Control Service. The service includes four scheduled visits a year, plus unlimited callbacks and a 100% satisfaction guarantee. For a 2,000 square-foot home in San Antonio, the company's service options started at $275 for an initial visit and $38 a month thereafter.
Understanding the types of pest control
Preventative pest control: Eliminating food, water, and shelter sources that attract pests.
Biological pest control: Reducing pest populations by introducing natural enemies including, bacteria, fungi, and nematodes.
Chemical pest control: Applying synthetic or naturally-derived chemicals to kill and repel insects.
How to choose the correct pest control service
Choosing a pest control service is an important step toward protecting your home and family from unwanted pests. There are many companies to choose from, and some are better than others. Here are some things to consider before hiring a company to handle your extermination needs:
Price. Most pest control companies will determine the price after visiting your home. Rates vary from company to company, so it is a good idea to get multiple estimates.
Reputation. Find out how long a company has been in business and ask for references.
Licensing. The exterminator should be licensed or certified to perform services. Verify with your state department of agriculture if you are unsure.
Contracts. Service contract terms vary, so be sure to read anything you sign carefully. Make sure any contract includes regular inspections.
Pesticides. Pesticide use should be avoided unless there is current pest activity. Non-chemical methods should be used first.
Termites. Termite service is usually separate and should be guaranteed for one to five years.
Can exterminators get rid of pests naturally?
Not only can exterminators get rid of pests naturally, but it should be their first approach. This idea is summed up in the practice known as Integrated Pest Management, or IPM. This method emphasizes prevention by taking a holistic approach to managing the ecosystem and using chemical treatments only after other strategies have failed.
An exterminator practicing IPM will first seek to identify and remove potential food and water sources. For example, leaky pipes or piles of newspapers can draw in bugs, so they would advise you to address those issues. Another tactic is to close off entryways by caulking up cracks, installing drain screens, and adding weatherstripping to your windows. Glue traps are another chemical-free method of killing insects.
When the use of chemical agents is necessary, exterminators can opt for biological agents or botanical insecticides, which are derived from natural sources. These pesticides contain naturally occurring insect toxins that are fast-acting, quick to degrade and have low toxicity to mammals. However, just because they are naturally occurring doesn't mean there aren't potential health hazards. Essential oils such as cedar or citronella have also been shown to be useful natural insecticides, but may need to be applied more frequently. While generally safer than botanical insecticides, oil-based treatments should still be used with caution as they can cause irritation in sensitive individuals and pets.
The bottom line
Pest control is most effective and safest when you can find a company that takes an integrated pest management approach. When choosing a pest control company, consider your specific needs, budget, and the reputation of the company. Get multiple quotes if you can and ask for references. Whatever you do, don't put off taking care of pests, or they will become a much bigger problem down the road.
Frequently Asked Questions
Are pest control services worth the money?
With many pest control services, you are paying for their specialized expertise and the convenience factor of not having to do the work yourself. Weigh the cost to the time it would take you to properly and safely do it yourself to help you decide if it is worth hiring a company.
How much does pest control service cost?
A single pest control visit can cost $250 to $500. Quarterly service plans range in price from about $70 to $135, four times a year.
How often should you do pest control?
Most pest control companies provide service on a quarterly basis. The EPA recommends only using pesticides when there is an active infestation that cannot be treated by other means.
Do I have to leave the house during pest control?
You do not need to leave the house except in the case of tented fumigation. However, you should not allow children or pets to enter the treated area until any pesticides have dried completely.
What does integrated pest management mean?
IPM prioritizes the use of non-chemical pest prevention techniques first. This is achieved by eliminating food and water sources, for example. Chemicals are used only when needed.