How to Establish A Community in Your New Town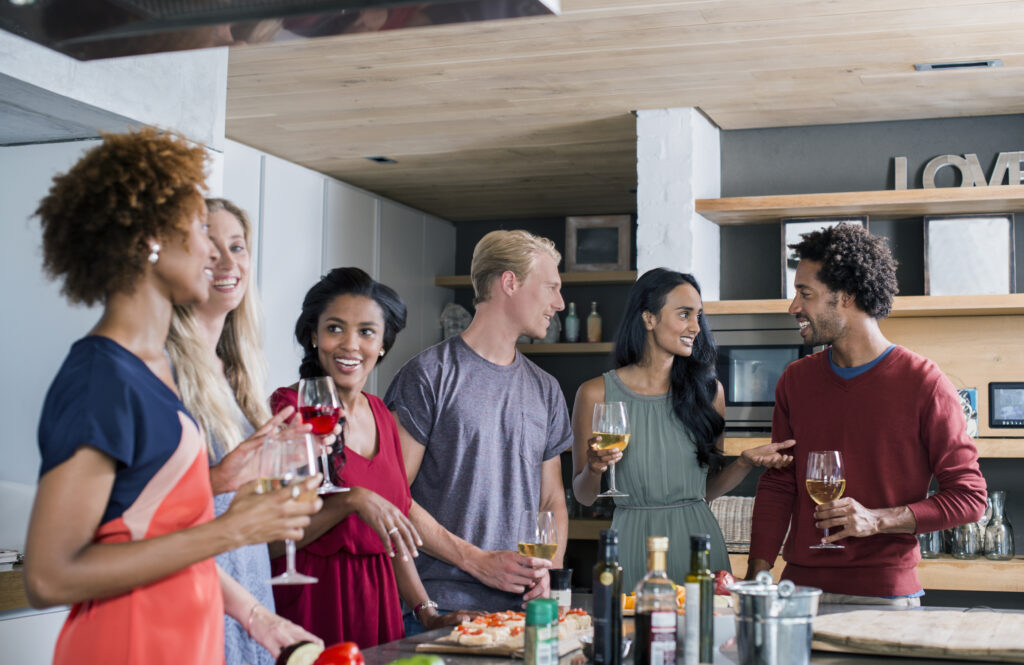 You may think making friends in a new city is challenging. However, learning how to meet new people in your area doesn't have to be intimidating. Follow some of these tips on how to meet people, and soon enough, your social calendar will be packed with exciting adventures.
How to find a community in your new town
Volunteer in the community.
There's something so satisfying about giving back. Whether it's volunteering at a pet shelter, food pantry, or a community clean up day, participating in making your town a better place boosts your feeling of being included. It's also a great way to meet new, like-minded people, and a surefire way of making friends in a new city.
Remember that your workplace isn't just for work.
Figuring out how to meet new people can be scary. An easy first step is getting to know coworkers at your job. Invite someone (or a few people) to lunch or cocktails. This may open up opportunities for after-work socializing and will let others know you're interested in getting to know them.
Join a recreational sports league.
Struggling with how to make friends in a new city? Recreational sports leagues are a great way to be a part of the team on and off the field. Find out if your town has a local softball, volleyball, or basketball league. You'll get to make new friends and exercise at the same time.
Visit a dog park.
Taking your furry companion (or volunteering to walk a shelter dog) to the local dog park is an excellent way to tire out your pooch and meet other pet lovers. Introduce yourself and start a conversation by asking other pet owners about their pet's breed, best grooming salon, and if there are any pet-friendly shops or restaurants in town.
Check out Meetup.
Meetup is an amazing online resource to locate events and groups that match your interests. Just plug in your ZIP code and see what's happening around you. Each event has a dedicated host that you can reach out to and introduce yourself. Attendees are often listed, and active conversations are usually happening, so be sure to join in.
Go to a game night.
Poker, bingo, and trivia game nights are fun ways to spark conversations. If you're stumped on how to meet friends in a new city, check out your local community center or pubs to see what game nights are offered. You don't have to be an expert; learning from others is an awesome way to connect.
Join your town's professional networking group.
Most cities have monthly networking groups for professionals. Connect over coffee or lunch to share your business background and learn about others in your community. While networking may sound business-oriented, it can be a great way to make connections that can turn into friendships.
Community resources for how to meet new people
Maybe you're all settled in and ready to make new friends but you're wondering exactly how to go about meeting new people. Don't stress, there are plenty of resources where you can find these groups.
Browse community Facebook pages, local and county websites, coffee shops, grocery stores, and library bulletin boards. Don't forget to chat up your neighbors — they can share insider tips on what's happening in town.
How to establish a community in your new town
Host a movie night.
Weather permitting, hosting a movie night in your local park or other open space is an outstanding way to bring the community together. Contact your local library about renting a projector, let neighbors know to bring along a blanket or folding chair, and get ready to sit back and enjoy the show.
Create a community garden.
Whether it's growing vegetables or flowers, gardeners love to get their hands dirty. Dedicating a common space for everyone to garden creates a sense of teamwork. After all, weeds need to be pulled and plants need to be watered. Gardening encourages those young and old to enjoy the outdoors. Ask your local hardware and garden centers to post flyers promoting the public garden.
Build a lending library.
Lending libraries are popping up in towns and cities all over the country, with the purpose of  promoting reading in a fun way. These little streetside libraries allow locals to both borrow books for free and donate books. Contact schools and recreational centers and ask them to share information on where the library is located.
Create a neighborhood social media page.
Socializing is at your fingertips thanks to digital media and is a great way to learn how to meet people virtually. Creating a neighborhood Facebook page or joining an existing one on sites like Nextdoor to share announcements, events, and even ask for recommendations, gets the conversation flowing. Inviting online local friends and encouraging them to do the same will help build up your online presence.
Host a food truck festival.
Food always brings people together, so a food truck festival is a terrific way to grab some grub while chatting with your neighbors. A park or picnic pavilion where people can congregate works best. Contact your mayor or municipal office to find out if they will help organize and promote the event, and make sure you have the proper permits.
Create an exercise club.
If you love to work out, an exercise club will bring together like-minded individuals. The club can be as specific or varied as you like, with the ultimate goal of meeting others who share your passion for healthy living. Post the information on your community's social media page with details on when, where, and what time your club will meet.
Throw a community block party.
Even if you've lived in your area for years, it's always beneficial to expand your friend group. Wondering how to meet new friends? Throwing a community block party is a fantastic way to meet and mingle with others. Talk to your town's municipal office to see if they will sponsor and promote this event.
The bottom line
Whether you're new to the area or interested in expanding your friend group, learning how to meet new people is easy when you have the right tools. Think about what truly makes you happy and, with a little detective work, you will find it (or create it) along with a fantastic group of new friends.