What is a Studio Apartment and Should I Live in One?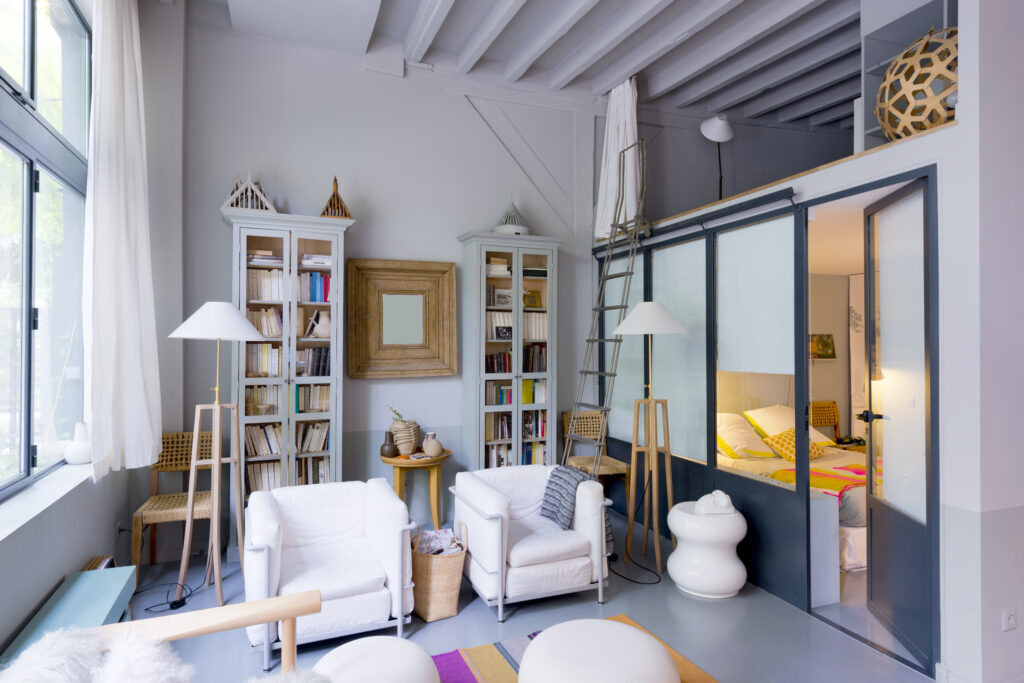 When you're looking for a compact place to live, a studio apartment is an excellent option. What is a studio apartment?
In this guide, we dig deeper into the studio apartment definition and outline the pros and cons of living in one. Knowing the details will help you find a cool studio apartment that suits your lifestyle.
For starters, what is a studio apartment?
If you're used to living in a one-bedroom apartment, you might be asking, "What is a studio?" While many believe the studio apartment meaning comes from its size, that isn't always true. A studio apartment definition is a living space with one big common area comprising a living room, bedroom, and kitchen. The only area that's separated by walls is the bathroom. (By law, bathrooms must be in a separate room.)
You can typically find studio apartments in large cities or other areas with a dense population. They're usually near universities, public transportation, or business sectors. These typically trendy and metropolitan areas offer convenience to those who like being near shopping, entertainment, and work.
What does a studio apartment look like?
Before you commit to a studio, you'll want to know what it looks like and its layout. One thing to keep in mind is that different studio apartments have a unique look and feel to their layout. For example, you might see one with small partitions separating the kitchen area from the rest of the living space. Or, in another, you might see a bathroom and closet area creating separation in the space.
Typical studio apartment layouts
A studio apartment's layout depends on the building's structure. For example, if you're looking at studio apartments in corporate buildings, they'll have a different look and feel than one in an old house conversion.
Some studio apartments may look like a long hallway, while others might have a separate loft sleeping area. You might also find some that look like one large room and others in the shape of an "L."
Do studio apartments have kitchens?
Studio apartments do have kitchens, but not in a separate living space. Instead, you might see a small, short wall separating the refrigerator, cabinets, and appliances from the rest of the room. In general, a studio apartment kitchen is part of the main living space, along with the living room and bedroom areas.
How much does it cost to rent a studio apartment?
Studio apartment rents vary by location. In the Los Angeles area, you can find a 120- to 450-square-foot rental for under $1,000/mo. But for the same square footage in Mississippi, you can find rentals for under $500 monthly.
Are studio apartments livable?
There are pros and cons to all small-space rentals, including what it's like to live in a studio apartment. If you've never lived in a studio apartment before, you might have to downsize by getting rid of at least half of your possessions. But, that reduction of items also means there's less around that you have to clean up. Let's take a closer look at several pros and cons of living in a studio apartment.
Pros:
Cons:

Less space means less cleaning.
There's less clutter or accumulation of "stuff."
Utilities cost significantly less.

If you're a messy person, you can't hide that.
If you're a pet owner, there isn't much space for them to run around.
There isn't any privacy if you live with another person.
Studio apartments vs. one-bedroom apartments
The most significant difference between a studio and one-bedroom apartment is that, in a one-bedroom apartment, there's a distinct separation between the bedroom and living space. In a studio apartment, the bedroom is in the open space with the rest of its amenities.
Studio apartments vs. efficiency apartments
Even though studio apartments and efficiencies are similar because they have an open-space concept, there are many differences. For example, an efficiency apartment has a smaller kitchen with smaller appliances and less counter space. There's also less square footage in efficiency apartments, and they don't have a separate loft sleeping area like some studio apartments do.
Studio apartments vs. micro apartments
Micro apartments are the smallest rentable living spaces available. These units are not small studios or miniature one-bedroom apartments. Instead, the living spaces blend the bedroom, kitchen, and living room into a tiny space. Because these units are small, they tend to have multi-functioning pieces of furniture.
The bottom line
Studio apartments are unique in their design and layout because they combine all of the living space amenities you need in one single room. The pricing depends on their location and, determining if it's right for you involves looking at the pros and cons of renting and living in a studio apartment.
Frequently asked questions
Is a studio cheaper than an apartment?
It's almost always less expensive when you rent a studio than a one-bedroom apartment. However, if you find a studio apartment in an upscale or in-demand location, those could have higher rental prices.
Can more than one person live in a studio apartment?
If you don't mind not having much privacy, it's possible to live with someone else in a studio apartment, particularly a significant other. If you decide to live in one with a roommate, you might find space and privacy challenging.
How much stuff can fit in a studio apartment?
Living in a studio apartment can mean downsizing your possessions and making the most out of the storage space available. Maximize the area by using small pieces of furniture and making use of wall space. How many possessions you can fit into a studio apartment depends on the square footage, if there's a sleeping loft, and the ceiling height.