The First-Time Renter's Guide to Apartment Living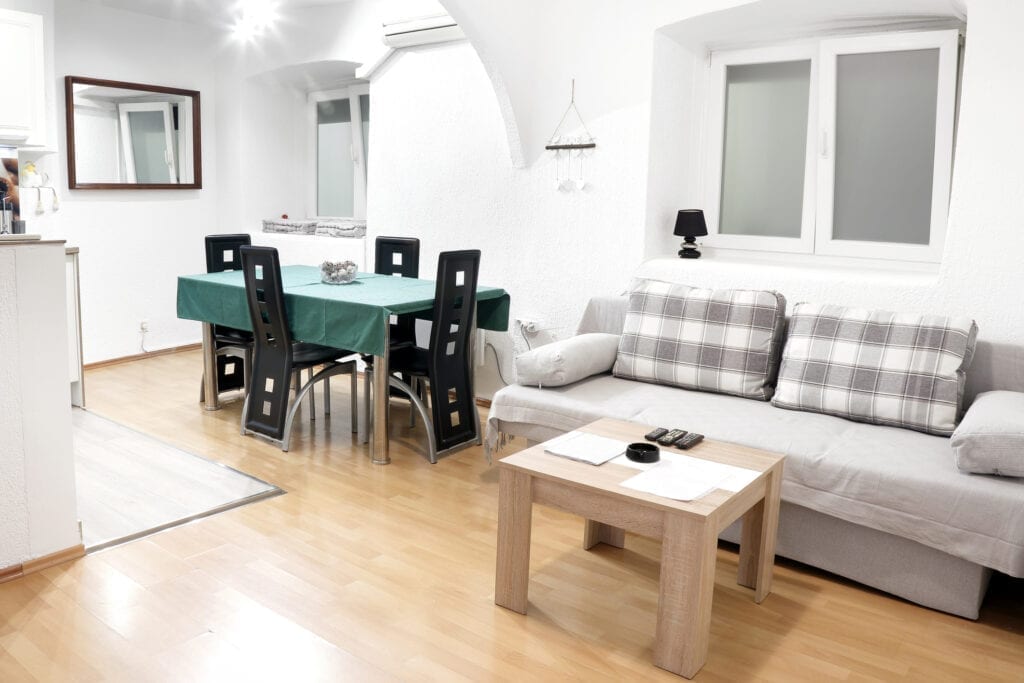 Congratulations! Moving into your first apartment is a major life step. As a new renter, you're probably feeling a lot of excitement, mixed with the awareness that life is changing in a big way. If you're feeling a little daunted, don't worry: We gathered up four of the most important tips for first-time renters. Follow these and you'll be loving life in your new space in no time!
First-time renter tip #1: Stay on budget
Getting your own place is a major financial step. It can make you feel either liberated or overwhelmed. The difference between the two is keeping a handle on your spending. To start, don't sign the lease on a place that costs more than 30% of your take-home pay. If you can get it lower than that, even better!
Don't stop with budgeting for your rent. You want to be able to enjoy your new apartment long-term, and that will be hard if you're stressed about money. There are a lot of great budgeting apps out there that take the work out of money management. Just sync up your accounts and they'll keep track of your spending for you.
First-time renter tip #2: Ease the transition
Think through what you might miss about your old living situation. Did your family or roommates cook for you? Was someone always playing music? Did you have easy access to a washer and dryer?
It's easy to move in and just "make it work," but being intentional about these changes helps you make the most of your new living situation. Maybe you invest in a cookbook or a meal subscription service. Maybe you make it a habit to put on some tunes when you walk in the door. Or maybe you make a standing date with a friend to meet at the laundromat. Noting what's changed now that you live in your own space helps you capitalize on the changes you like and minimize the challenges of the ones you don't.
First-time renter tip #3: Buy over time
While it's tempting to head to Ikea and decorate your entire apartment in one go, you shouldn't. When you're buying a lot of items at once, it's easy to settle. I can replace it with something better later, you think. And sure, you can. But at that point, you've wasted money on an item you don't really love. You also may be tempted to keep that first item in the interest of minimizing waste, ultimately cluttering up your apartment.
Instead, get the bare necessities in place. While you might want a rug for your living room, you can live without it for a few months. With the basics covered, take time to shop and think through furnishing and decorating the rest of your apartment. You'll be happier in your space if you fill it with things you truly love.
First-time renter tip #4: Get renters insurance
You may think that because you don't own your living space, you don't need to worry about insurance. And sure, if a fire swept through your apartment, you wouldn't need to worry about rebuilding the building itself. You would, however, probably want to replace your clothes, electronics, books … you get the picture. After the unthinkable happens, renters insurance will step in to help you get back on your feet. As an added bonus, it can also protect your stuff outside of your apartment (e.g. insure you if your laptop gets stolen from your car) and offer coverage in certain lawsuits (e.g. if someone trips in your apartment and sues you). Many landlords even require that you provide proof of renters insurance before move-in.
You might be thinking, You just told me to budget, now you're telling me to spend on insurance! We have some good news. Renters insurance is extremely affordable; it usually costs between $10 and $30 a month. For the cost of a few drinks, you can protect yourself in your new apartment.
If you want more inspiration to help you dial in your first place, check out these articles on apartment living. Gting set up in your own space is exciting – enjoy it!