How to Move to a New State and Settle In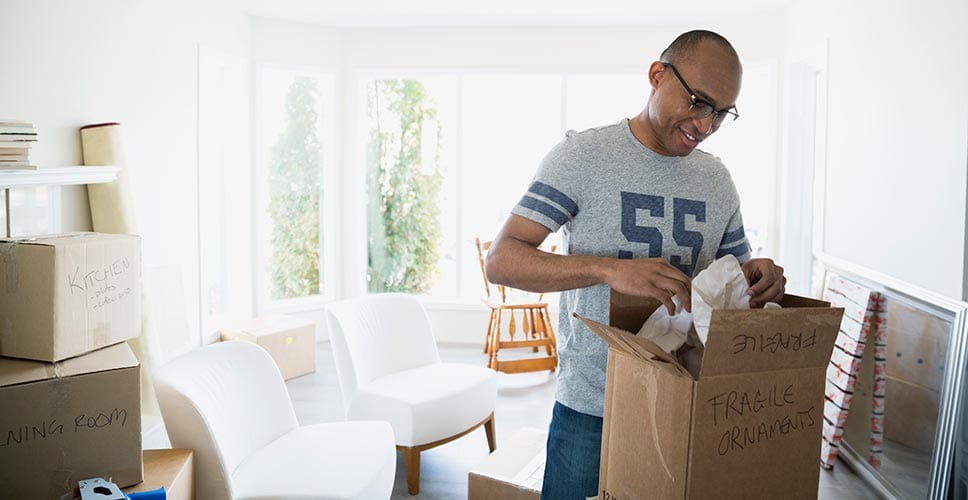 Moving to a new state offers some exciting possibilities: new job, new friends, new home, new surroundings, and just all around new opportunities. But it also comes with new challenges, particularly if it's your first move outside your home state.
However, a little planning can help you navigate these uncharted waters and begin to capitalize on your new location and the bright future it promises. Following is a guide and checklist for what you need to do when you move to a new state.
The Basics
First off, where are you moving? Do you have a job? Will your employer reimburse you for moving expenses? Answers to these questions will go a long way toward the moving strategy you adopt.
Where are you moving and why? Most people move to be near family or for a job. Being near family, of course, is its own reward. But moving for a job can mean that your employer will contribute to the moving effort. Make sure you get the details of the reimbursement before you start planning the move. You don't want to book a full-service move only to discover that your new boss only plans to pay for a rental truck.
What if you don't have a job? Most movers will want to find a job pretty quickly, and many will use the new city to jumpstart their careers, maybe in a new direction. The good news is that you probably have resources at your fingertips than you might think. Networking is the key. Start with alumni of the schools you attended who live in the new location. Expand that to Facebook friends. Still coming up dry? Put yourself out there with meetups for your professional group.
Tax implications. If you're choosing a location before you have a job, be sure you know the tax laws for your new state. See the chart below for the states with the biggest and smallest tax bites.
States With Highest and Lowest Tax Rates
| Lowest | State income tax rate |
| --- | --- |
| Alaska | 0% |
| Florida | 0% |
| Nevada | 0% |
| South Dakota | 0% |
| Texas | 0% |
| Washington | 0% |
| Wyoming | 0% |
| Highest | State income tax rate |
| --- | --- |
| California | 13.30% |
| Oregon | 9.90% |
| Minnesota | 9.85% |
| Iowa | 8.98% |
| New Jersey | 8.97% |
| Vermont | 8.95% |
| New York | 8.82% |
If an employer isn't paying for the move
Here's where your moving tactics come into play. You have four basic options:
Hire a full-service mover. Moving company employees will pack your stuff, load the truck, drive it to the destination, and unload it. This generally will cost the most, because you do the least!
You pack/they ship. Get out the boxes, bubble wrap, and packing tape. You'll need to pack your own boxes and load them onto a container or truck. Once you're done, the moving company will transport your stuff to the new location. Then you get to unload and unpack.
Rent a truck and do it yourself. And by yourself, we mean with a bunch of buddies plied with pizza and beer. This is the least expensive option, but you can see the potential flaws, particularly for a move to a new state.
The hybrid approach. Don't feel like loading the truck yourself? Don't trust your friends, especially after they start in on the beer and pizza? Don't have friends on both ends of the move? Consider what's being called hybrid moving – rent a truck from the moving company and hire muscle on both ends to load and unload your possessions.
Once you're in your new place
OK, your stuff has made the trip to the new state, you've unloaded everything, unpacked the boxes, hooked up the utilities, and you're ready to start living, right? Not so fast. There's still much to take care of before you can relax.
Did you change your address before you left? If not, you'll need to get on that. First stop: the U.S. Postal Service, which allows you to submit a change-of-address online. Even after changing that address online, you've got work to do: It's a great idea to let banks and credit card companies know your new address to make sure important documents get to the right place.
And you're still not done with the address thing. Your new state's DMV will require you to get a new driver's license, sometimes in as few as 10 days. In some cases, you can switch your voter registration at the same time.
One last thing about that address: Home and car insurance companies want to know when you change your address. The new location could affect your premiums if you've moved to a place that's much safer or much more dangerous. Rates can vary widely by state, as can coverage requirements.
These are just some of the ways moving from one state to another can be different than moving across town.
For more tips check out the following checklists:
The big takeaway: There's a little more planning on both ends when you're moving to a new state. But there's no reason to avoid taking on those challenges and ultimately reaping the rewards.
Frequently Asked Questions
Following are some of the questions that can come up when you move to a new state:
Is moving tax deductible?
Only if you're moving for a job, and then only under certain circumstances. Even if you meet these conditions, there can be some hang-ups. For example, you can't deduct moving expenses if your new employer reimburses you for them. If you have any doubt, get expert help from your accountant or lawyer.
How long do I have to change the address with the DMV? Can I do it online?
For both questions, the answer depends on where you're moving. Some states require you to change your address within 10 days of moving; others are much more lenient. Some allow the change to be made online or over the phone. Others insist that you go to the DMV office and get a new license and registration.
How much will it cost to move to a new state?
That depends on a number of factors, including the following:
How much you want the movers to do. A full-service move, where the moving company packs, transports, and unpacks your possessions will cost more than if you do the packing and the moving company on transports your stuff. You can save even more if you rent a truck, pack it and unpack it yourself, and drive it to the new location.
How far you're going and how much you're moving. Full-service movers base their prices primarily on those two factors. Moving to a neighboring state will cost less than moving across the country, all other things being equal. Similarly, moving possessions for a four-bedroom house will cost more than moving the stuff in a loft apartment.
Any extras you buy, such as movers insurance (for your stuff) or insurance for the rental truck.
Do I need movers insurance?
You might, but you might not. If you have homeowners insurance, your possessions – even while they're being hauled from one place to another – might be covered. But the operative move is might; check with your insurance agent to make sure.
Do I need insurance on the rental truck?
You need to check with your car insurance agent. You probably do, because most car insurance doesn't cover you when you're driving larger trucks. And while certain credit cards offer coverage for rental cars, they usually don't offer it for moving trucks.
How can I save money on moving to a new state?
Compare, compare, compare. Get at least three quotes before you make any decisions on a mover. But don't base your decision on price alone. A cheap move can turn expensive if your stuff gets lost or stolen during the process.
What are some things people forget when moving?
Different states have different requirements for bringing pets into the state. Be sure you know what is required before moving day. Check out MYMOVE's state-by-state rundown for moving with pets.
Request tracking. Especially if you're making a long-distance move, it's good to know where your shipment is at all times. Many movers offer real-time tracking. You'll sleep easier at night when you know exactly where your shipment is.
Transporting your vehicle(s). Getting your furniture, clothes, appliances, and so on is hard enough. But you also need to get your car or cars there. You'll need to make the proper arrangements well in advance.