20 Moving Hacks for People in Their 20s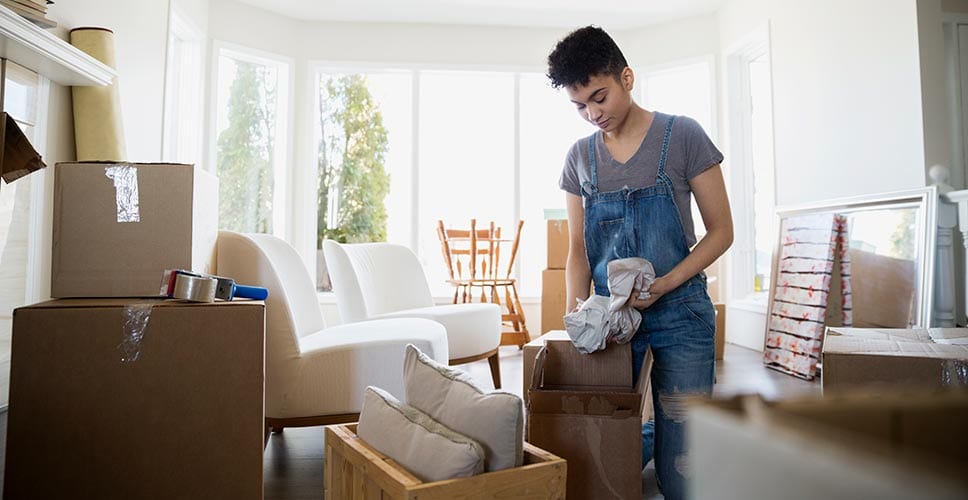 Ahhh…life in your 20s. You're young, and you've got your whole life ahead of you: there's no better time to see new sights, do new things, explore new cities and live new experiences. Unfortunately, your peak earning potential is also ahead of you, and financing a move and finding a place you love on an entry-level salary is no easy task. Here are 20 moving hacks to help you move without blowing your savings or settling for less-than-ideal living arrangements.
Finding a Place
1. Use the 50/20/30 Rule
Spend no more than 50% of your monthly income on rent and utilities. That leaves 20% of your income for savings and 30% for other living expenses, such as dining out.
2. Look into Housesitting
Need a place for the summer? Look into long-term housesitting gigs. You'll live rent-free while you look after the property.
3. Consider a Sublease
Subleases often require less commitment than a full lease. You may only be responsible for paying for your bedroom, and it may be possible to work out a month-to-month payment plan instead of a long-term contract.
4. Rent a "Granny Flat"
"Granny flats" are separate buildings behind a larger home. These properties often include utilities, plenty of privacy, and, best of all, more-than-reasonable rent.
Reducing Moving Costs
5. Ask Your Movers About a Cash Discount
It's true: many movers offer a discount if you pay in cash versus credit card.
6. Get Bids
Never hire the first movers you find! Always get (at least) three bids to ensure the best deal.
7. Never Pay for Boxes
Liquor stores and restaurants will often give away their old boxes, free of charge.
8. Ask About Getting Paid for an Early Departure
Does your new apartment lease begin three weeks before your old one ends? If your apartment manager can rent out your old place quickly, they may pay you back a few weeks of rent. It never hurts to ask!
9. Wrap Fragile Items in Towels
Stop buying bubble wrap when you have perfectly good hand towels at your disposal.
10. Avoid Moving on Peak Days
Stop moving on the weekend. Movers often receive more booking requests for Saturday and Sunday; you can save big by booking your move on an off day.
11. Leave Clothes on Hangers
Instead of paying for wardrobe boxes, cover your hanging clothes with trash bags and tie them off just under the hook.
12. Use an App
Need help with some last-minute errands? Use an app, such as TaskRabbit, to get affordable help with taking apart a table or picking up cleaning supplies.
Getting Settled In
13. Explore the Neighborhood Before You Buy Anything
Don't head to the nearest big box store just yet. Affordable furniture may await at a thrift store, just blocks away from your new home.
14. Choose Furniture That's Easy to Disassemble
Tables and bed frames that are easy to take apart mean faster moves and lower cost.
15. Don't Assume "Used" Means "Affordable"
Cross check prices before you click "buy" on a Craigslist find. You might find a new end table, at a better price, at your local furniture store's weekend sale.
16. Use Removeable Wallpaper
Renting? Don't repaint your walls (you'll just have to paint them white again before you leave). Go with removeable wallpaper.
Getting Your Deposit Back
17. Clean the Carpets
Rent a carpet cleaner or hire professionals (it's worth it). Giving your carpets a deep clean before moving out means your landlord can potentially avoid replacing them.
18. Return All Keys
If your landlord has to make another key because you don't turn yours in, you're getting the bill.
19. Put Towels Under Heavy Furniture
Don't scratch hardwood on your way out! Slide furniture on towels or blankets.
20. Snake the Drains
Clean out drains to prevent plumbing costs from being taken out of your deposit.