How to Choose (and Drive) a Moving Truck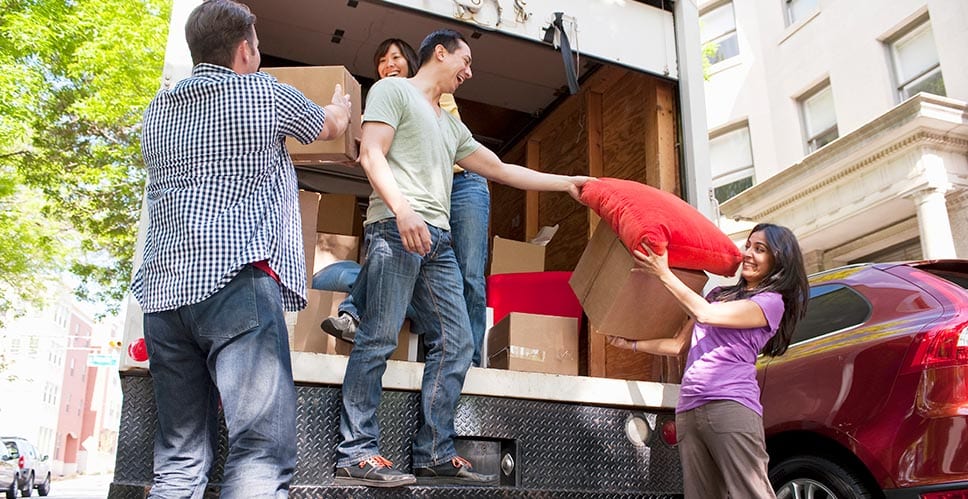 Driving a moving truck can be an intimidating prospect. The size alone is larger than anything most of us have ever driven. However, as it turns out, it's not that difficult to learn how to drive a moving truck when you have the inside scoop from moving truck experts.
Before You Rent
Don't assume all moving trucks are adequately equipped with safety features and security tools. Make sure these items are available in the moving truck you choose. For example, verify that the truck has straps and security tools to ensure your treasured items aren't just rolling around in the back. Plus, you really don't want your washing machine and dryer tipping and tumbling from side to side while you're driving down the road.
Lior Rachmany, CEO and Founder of Dumbo Moving + Storage, says it's a good idea to prepare for the unexpected, like a mechanical issue that leaves you stranded on the roadside.
"Make sure the truck is equipped with the Department of Transportation (DOT) grade tools, such as road triangles to reflect light and a fire extinguisher," says Rachmany. Finally, double-check that the body lights aren't burned out and that the wipers are working properly.
For further help, MYMOVE has put together a pretty intensive guide to help you pick the perfect truck for your move.
Get to Know Your Ride
We get it, you just want to get the moving process started and get down the road. Before you turn the key, take a few minutes to get acquainted with your truck. Walk around it and note the length and width.
"Moving trucks have a much larger blind spot. They have about two to three feet of blind spots on both sides," says Rachmany.
Next, take note: There is no center mirror.
"You will need someone to help you park and remember the side mirror on moving trucks shows you the length of the truck, rather than pointing out objects on your immediate side."
Once inside the cab, adjust your mirrors and get familiar with the dashboard. You're more likely to get pulled over for a burned-out tail light than for speeding, but stash the rental agreement, registration, and insurance in one place. Ultimately, the person listed on the rental truck is responsible for any tickets.
Driver's Training
Sperry Hutchinson II, a Moving Product Expert with U-Haul International, shares his best tips on how to drive a moving truck:
Slow down. "This is the most critical piece of advice I can give. Moving trucks are bigger and heavier than your everyday vehicle and they need more room and time to stop, turn and to change lanes.
Use caution turning corners. "The truck is wide and long and needs adequate room for the rear wheels to clear the curb and, more importantly, the pedestrians and gas pumps that are there. And note that right-hand turns are wider than left-hand turns in a moving truck."
Watch for overhead clearance. "Moving trucks are tall, so avoid tree limbs, roof overhangs — and skip the drive-through to prevent an expensive and embarrassing encounter. Look for decals in the cab to tell you exactly how tall the truck is."
Don't pass unless absolutely necessary.  "Driving slowly and carefully means staying in the right lanes, and if you must overtake a slower vehicle, use your signal, check your mirrors, and only do so when you are absolutely certain that you have the space to do so."
Consider where you park. "Try to park the truck so that you don't have to back out into a traffic lane. Pulling straight through a larger space will always be safer and easier. U-Haul trucks have a ramp to make loading and unloading easier, so you need to leave some extra room behind to accommodate this feature."
Take your time backing up. "Reversing the truck should only be done once you have made absolutely certain that there are no objects or people behind you, and having a helper behind you and visible in your mirror is even better. Roll your window down to hear your partner. Finally, a few short beeps on the horn before you start backing up will further ensure that you have the attention of anyone nearby."
Wear your seat belt and obey all posted traffic laws. "Having a safe and worry-free moving experience is best without a troublesome moving or parking violation, and moving to a new area may mean some new laws and signs, so keep your eyes peeled!"
Lock it up! When you park for the night, make sure to follow these tips to guard against theft.