How to Pack Jewelry for a Move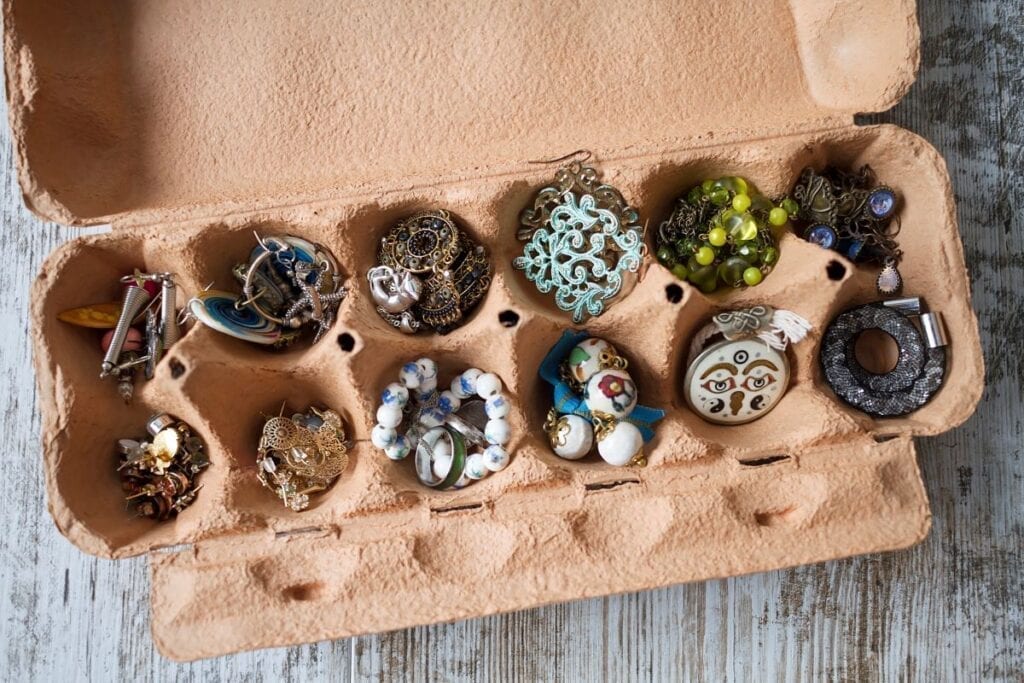 It's easy to get so bogged down in the big parts of moving that you forget to sort out the smaller details. Who among us hasn't wound up with seven "catch-all" boxes containing a charming array of orphan socks and mystery cords? Packing your jewelry drawer is probably not at the top of your to-do list.
If you're not careful, you could arrive at your new home to find your necklaces in a stubborn, intertwined ball and half of your earrings missing. Use these DIY tricks, and your jewelry will arrive at your new place intact and undamaged.
5 Ways to pack jewelry for your move
1. String necklaces through straws
When two necklace chains become intertwined, you have a better chance of successfully describing Snapchat to your aging parents than untangling the knotted links in this lifetime. String your necklace chains through a regular straw, bending the straw to clasp the ends together. Voila: Each necklace has its own homemade carrying case.
2. Stick earrings through button holes
Buttons have two holes and earrings come in pairs. Coincidence? Probably, but you should use it to your advantage. You can put the posts of your earrings through the button holes and secure the backs on the other side. Earring pairs will never get separated with this clever trick. Store the buttons in an egg carton for even more DIY goodness.
3. Put studs in a pill case
Small stud earrings (or cufflinks) will store perfectly in a pill case. The secure lids on a pill case ensure our earrings won't get lost, even if they're in a box that gets jostled around. Plus, your pairs will remain together at all times.
4. Put rings in a sunglass case
Rings won't get tangled, but they can easily fall out of the bottom of a loose box. They may also find their way into the side pocket of a makeup bag while you're packing in a hurry, and they'll remain misplaced for years. Use hard cases, such as a sunglasses case, to store your favorite rings in one place. You can also reuse the cardboard boxes from your make-up sample subscription as temporary ring storage.
5. Separate bracelets in Ziploc bags
Sandwich bags are for more than just your PB&J on the road. These household baggies are also a good place to put your bracelets when you move. Some bracelet chains can become intertangled with other jewelry, and bangles may scratch when thrown together. Use Ziploc bags to independently store your wrist jewelry while it's in transit, and you can reuse most of the bags once they're unpacked.
The bottom line
When you're getting ready to move, sometimes paying attention to the details makes all the difference in the world. Not only does packing your jewelry carefully means you won't lose a precious piece of family history, but it could save you hours of frustration. These five simple DIY tricks won't cost a thing, and you'll thank yourself later for being so organized!
Need help getting organized for your move? Use MYMOVE's Packing Checklist for Moving