Packing Clothes: How to Prepare Your Closet For Your Move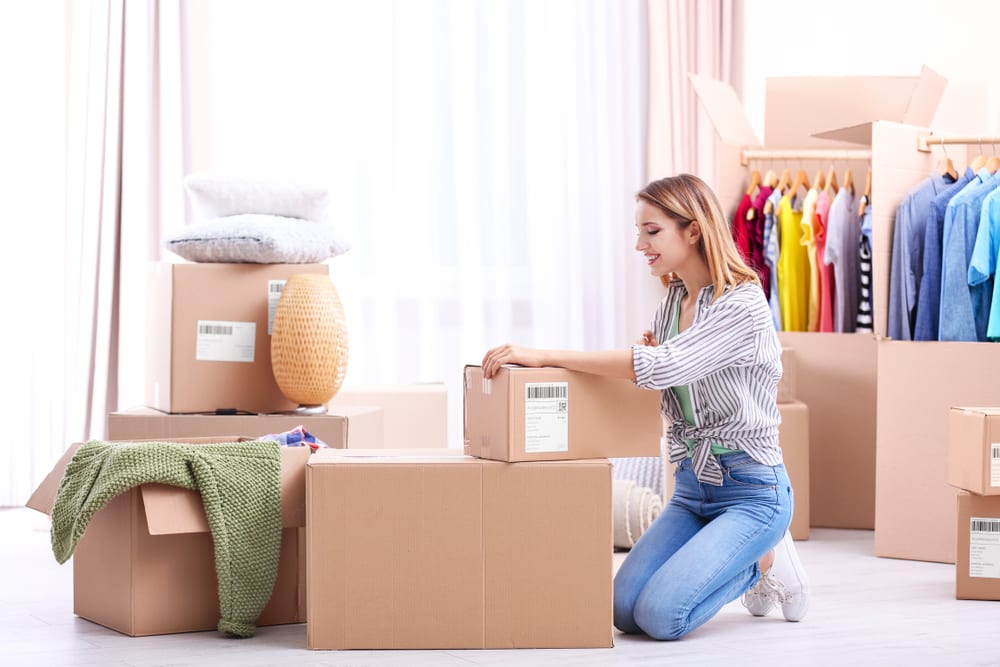 There is nothing like an impending move to make you confront your cluttered and jam-packed closet. Closet packing can be one of the most challenging aspects of packing for a move. Moving closet contents from one house to another isn't as straightforward as you might think.
Figuring out how to pack clothes for moving can be daunting. For one thing, your closet has likely become a depository for all sorts of things that you thought you'd get to later but never did, or clothes you haven't worn in 10 years. Do you really need to bring all that to your new house?
Another part of closet packing that can be a challenge is figuring out how to pack everything in an organized way. While it might seem easy to just toss all of your clothing in a box and call it a day, this will only make unpacking a nightmare. If you're organized with the way you pack your clothes, you can avoid unboxing wrinkled and mixed-up garments when you move into your new home. Ready to learn how to pack clothes for moving? Let's do it!
How to pack clothes for moving in 5 simple steps
Declutter your closet.
Pack your shoes.
Prepare delicate clothing.
Pack clothes on hangers.
Fold and pack remaining clothing.
Step 1: Declutter your closet
Decluttering your closet is a key first step for packing clothes. Packing items you aren't going to keep is a waste of time and takes up valuable space in your moving boxes. With some extra floor space (or your bed), use post-it notes to designate a "garbage" and a "giveaway" pile. Look through each item in your closet and pull out anything that doesn't fit or you haven't worn in more than a year; place these items in the giveaway pile. Keep the garbage bag on-hand for any debris you find along the way.
Once you've sifted through your closet, go and donate that giveaway pile before you change your mind! There might also be non-clothing items that are better packed separately, so it's a good idea to pull those out as you're going through whether or not you'll be packing your clothes.
What you'll need for this step:
Step 2: Pack your shoes
Packing your shoes first is beneficial because they tend to take up a lot of room, so you'll want to know how much space they'll take up early on. Shoes with their original boxes take up a lot of additional space. If you're attached to your shoe boxes, pack them together with the shoes in a medium moving box. For loose shoes, pack them together in a small cardboard moving box. Wrap each pair in acid-free packing paper or plastic grocery bags to prevent scuffs and scratches.
What you'll need for this step:
Step 3: Prepare delicate clothing
Not all of the clothes in your wardrobe are created equal. Take extra care to protect and prepare your most delicate pieces while you're packing clothes. For example, place a designer dress or a suede jacket in a garment bag to protect it from dust, moisture, or pests that, while unlikely, could conceivably get in during a move. Consider including a sachet containing cedar to repel pests like moths. Use silica gel packets to repel moisture and prevent mold. These precautions might not be necessary for every move, but if your items will be stored for a prolonged period of time, a little extra care goes a long way.
What you'll need for this step:
Step 4: Pack clothes on hangers
Keeping clothing on their hangers will not only prevent them from getting wrinkled, but it saves you having to re-hang everything, which means less work when you settle into your new digs. The easiest way to do this is with a garment box, which is specifically designed with a metal hanging bar inside. While they're sturdier than regular boxes, don't overload them to the point they are too heavy to move or bust open. Instead, use multiple garment boxes if you have to.
And if you haven't upgraded your hangers in a while, now is a good time to switch to a slimmer and more lightweight type. Note: If you'll be storing the boxes for a bit, make sure you place them opening-flap out in case you need to access any of your clothing quickly while stored.
What you'll need for this step:
Step 5: Fold and pack remaining clothing
Not everything needs to go into your garment boxes. Items like T-shirts, sweatpants, underwear, and jeans can be folded and placed into clothes storage bags for your move. Clothes storage bags are superior to boxes as cardboard can attract pests and retain moisture — two things that can destroy your clothes in short order. But if your move is local and you won't be storing items for an extended period of time, then boxes are fine.
What you'll need for this step:
Packing clothes pro tips
The bottom line
Packing and moving closet contents might seem overwhelming, but it's easier if you declutter and sort through your clothes first. If you pack your clothes correctly and with care before you move, you can efficiently organize your new closet in no time.
Frequently asked questions
How do you move a lot of hanging clothes? 
Use a wardrobe box. Alternatively, you can gather multiple garments together in a 30-gallon trash bag. Push the hanger hooks through a hole in the bottom of the bag. Fasten the hangers together with a twist tie and tie off the open side of the bag for easy transport.
How do you pack clothes? 
Pack clothes together by season for easy access when you move. Use either clothing storage bags, wardrobe boxes, luggage, or plastic totes.
How do you put together a wardrobe box? 
Fold the flaps at the bottom of the box into place and seal with packing tape. Pull down the flap on the front of the box and insert the hanging bar. Fold the flap back when you are done packing and seal shut.
Where can you find cheap wardrobe boxes? 
You can order cheap moving boxes online. Storage facilities and rental truck companies often carry them as well — call around to find the best price near you.