11 Box Alternatives You Can Use on Moving Day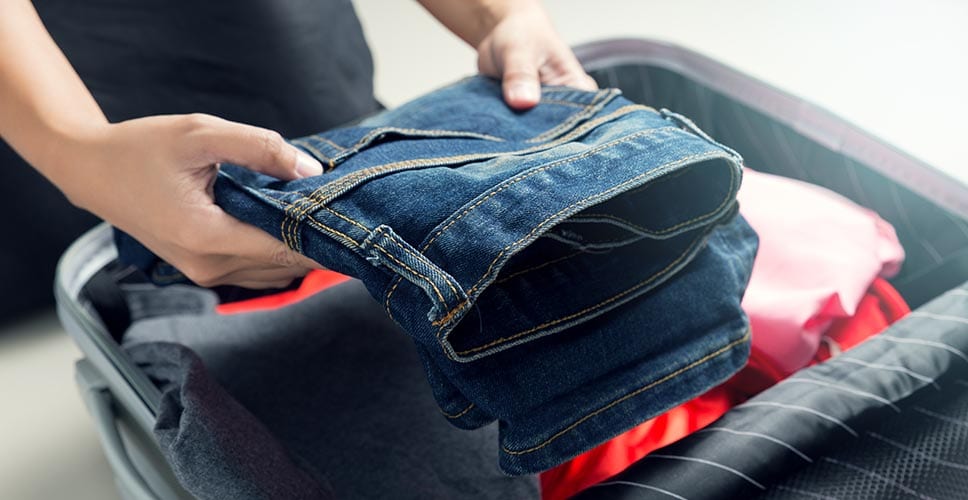 Chances are, when you think, "moving," you think, "boxes." They may be your best bet for packing household items, but they're not the only option. Why box up an empty vessel like a laundry hamper or wastebasket—for example—when you can fill it up with stuff?
Here are 11 household items you can reappropriate to make your move easier (and save you some money on boxes):
1. Suitcases with Wheels
 Sure, the obvious choice for utilizing a suitcase in your move is to fill it with clothes, but Regina Lark, certified professional organizer and founder of A Clear Path, has another suggestion. "Line the suitcase with blankets or pillows for computer monitors or picture frames," she recommends. Also, carrying a bunch of any heavy, compact items, such as books, in a tightly-packed box can be pretty tough on the back. It's a lot easier when you can roll them around in a suitcase with wheels.
2. Backpacks
 Easy to carry—and usually equipped with several variously sized compartments—backpacks are ideal for packing your electronics into, Lark says. "Wrap the cords in twist-ties and use tape to label each cord. Be sure to take a picture of the electronics so you remember how to reassemble them," Lark advises.
Find yourself packing up too much tech? Use these apps to sell it before your move.
3. Handbags
Why pack a dozen empty purses in a box when you use them to stash things? "You can use big handbags to pack small and clean items, like toiletries, or clothes, or some fragile items that don't belong in a box, like jewelry," says Kate Windleton, relocation manager at Strong Move.
4. Briefcases
Dust off your briefcase and use it to transport personal documents and moving-related papers, such as housing or lease documents, moving contracts, inventory sheets and receipts. It will keep those important documents easily accessible when you need them during the moving process.
5. Dresser Drawers
Professional movers transport dressers with clothing inside the drawers—why not use the same trick? Just use an 80-gauge heavy duty stretch wrap (found at most big box hardware stores) to keep the drawers from opening in transit.
6. Tote Bags
The possibilities are almost endless. Lark suggests an especially nifty trick for the kitchen: stack the plastic trays that hold utensils and flatware in totes and heavy-duty stretch wrap to secure the contents in each tray. When you're ready to cook the first meal in the new house, they'll be easy to locate.
7. Pots and Pans
 Before you place the large pots and pans in the moving box, fill them with your spice bottles. If they're glass bottles, use a kitchen towel to line the top and bottom of the pot. Use heavy-duty plastic wrap or stretch wrap to cover each pot; then wrap any lids in bubble wrap or packing paper.
8. Trash Bags
Sturdy garbage bags are inexpensive, and work well to transport soft items such as clothes, linens, draperies, throw rugs and pet beds. Plus, you can use them like a dry cleaner bag, to cover all your clothes on hangers.
9. Wastebaskets
Clean the wastebasket and line it with a small trash bag or shopping bag. Lark recommends using smaller wastebaskets to hold shower products, such as shampoo, conditioner and soap. "Put smaller products into a gallon-sized baggie and add to the basket," recommends Lark. Or, use the wastebasket to transport the toilet brush and other bathroom cleaning supplies.
10. Laundry Hampers
Tall table lamps, brooms, mops and tall plants are items that don't fit well into the confines of a standard box, but they do fit nicely in a laundry hamper (Lark recommends lining a hamper with a plastic bag before adding the plants).
11. Linens
 Beach towels, sleeping bags, blankets, curtains, kitchen towels and even old rags may work well as an alternative to bubble wrap—just be careful of what you're wrapping. "Items with sharp edges can damage linens and towels. Also, do not use your linens or clothes to wrap items containing liquid, such as cooking oils or liquid soaps, since they may spill and ruin your linens during the move," advises professional organizer and owner of On Task Organizing, LLC. Nancy Haworth.
Cardboard boxes and bubble wrap are the gold standards for moving because they help ensure your cherished items arrive safely, which is why—if you're using the alternatives mentioned above—Haworth has some suggestions for using them wisely. "When using alternatives to boxes, be careful not to overload the containers and bags, so they do not tear or break during the move. These alternatives to boxes may not stack as easily in your vehicle or moving truck, especially the containers without lids, so be very careful when loading them.